Любов в действие
Due to a boundary dispute, the inhabitants of the village Bawock in Bamenda , Cameroon were left homeless in early March, and had to seek refuge in the Bamenda Congress Hall in the capital city. On March 22 and 23, Golden Year 4 (2007) Cameroon fellow initiates delivered blankets, mattresses, baby napkins, stationeries, biscuits, farm tools, water buckets, soap, detergent and slippers to them.

---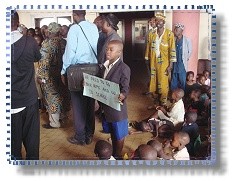 Дете държи табела с надпис: "ТРЯБВА ДА СЕ ПРИБЕРЕМ В КЪЩИ И ДА ХОДИМ НА УЧИЛИЩЕ"
Due to a boundary dispute, the inhabitants of the village Bawock in Bamenda, Cameroon were left homeless in early March, and had to seek refuge in the Bamenda Congress Hall in the capital city.
Upon hearing of the poor living situation of Bawock people, Cameroon fellow initiates decided to render their help as much as they can. After asking the relief committee what their most needed items were, on March 22 and 23, Golden Year 4 (2007) we delivered blankets, mattresses, baby napkins, stationeries, biscuits, farm tools, water buckets, soap, detergent and slippers to them.
The Bawock people were so happy to receive God's love and presents, especially after such a shock of losing their houses. We could see smiles on every face, both the young and old. Even other charitable groups that visited them stopped their activities, wanting to know which group was this that came with such a huge amount of aid.
More smiles appeared on people's faces when we started distributing Master's flyers and sample booklets. People crowded us for their copies. Some were begging for the sample booklet with all sincerity and love. When all the precious books had been given out, we promised to bring more books soon. At our departure we saw how joyful the lovely people were through the uncountable hands they raised waving us goodbye. Some embraced us to show their gratitude.
Когато се върнахме на 23 март, за да донесем още помощи и книжки, хората от Бауок ни помахаха с радост. А помощният комитет ни благодари многократно.
Много благодарности за Божията любов към тези чудесни любящи хора!


Хората ни наобиколиха, за да вземат копие от образеца на книжките на Учителя.
Божия любов към най-нуждаещите се хора
Репортаж от сестра-посветена Муко Флоранс, Камерун
(Оригиналът на английски)
Божия любов към най-нуждаещите се хора
Репортаж от сестра-посветена Муко Флоранс, Камерун
(Оригиналът на английски)