Вегетарианска епоха
Интервю със
стогодишен генерал
От Новинарската група в Тайпей (Оригиналът на китайски)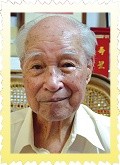 General He Zhi-hao is a renowned calligrapher and painter as well as a respected expert in the arts and literature. During his life-long military career, he has composed poems and songs whenever inspired, and conducted in-depth research in history. He has published books and earned doctoral degrees in twenty-eight different fields of studies including literature, law, philosophy and history. He encourages an extension of aesthetics, folk music and dance into a life of beauty, compassion and Truth.
In 1968, the general was named Poet Laureate and awarded a certificate by an international association of poet laureates at the International Poetry Festival, becoming only the second Chinese poet to receive the honor after Mr. Yu You-ren. In 1970, General He's musical composition "From Darkness to Light" won another Laureate Prize and was published in an Italian encyclopedia. This gave international recognition to his exceptional talent and achievements in music.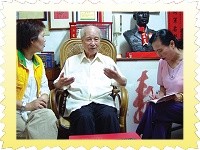 From a very young age, General He emulated his mother in studying Buddhism and worshipping the Buddha. He once studied under Master Taixu in China's Yunnan Province and has been a life-long vegetarian. The general believes that if the grass-eating horses and cows can grow big and strong, then humans, whose digestive system is not suitable for the meat diet, can only remain fit and healthy on a vegetarian diet. Even though he had fought in several wars and had to survive in the wilderness, he had never wavered in strictly observing a vegetarian diet in the face of formidable circumstances. General He is a well-known centenarian in Taipei. When the Double Ninth Day* comes around each year, this honest and thrifty old man donates the annual monetary gift and occasional golden ring that he receives from the city government to charitable organizations.
The secret to longevity is "a simple life, no greed, no killing, having a clear conscience, and living with peace of mind," said General He. He emphasized that a light diet of vegetarian rice porridge plus daily walks are a key to good health. Now even at the age of 105, he continues to move about at ease. Following the ancient teaching that "a lack of desire makes one strong", he enjoys a peaceful mind and a life with few desires. The first thing he does upon getting out of bed is to walk three kilometers, which uplifts his spirit instantly. "If one wants to live, one must exercise," he said. The health tips from General He are daily exercises, no meat, no alcohol, no gambling, doing simple chores in his spare time, interacting sincerely with friends and family, and keeping a joyful mood.
Impressions of Supreme Master Ching Hai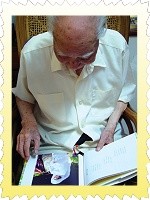 General He lives in a house provided by the government and which has a small and simply furnished living room. When we came to visit him, he warmly greeted us at the door, saying cheerfully, "Those who have met Supreme Master Ching Hai are very blessed because She is an enlightened Master."
He has read Master's books and longs to meet Her personally. "Supreme Master Ching Hai wears her hair and dresses like ordinary folks. Her appearance brings Her closer to the people," he said. "The Supreme Master is a living Quan Yin Bodhisattva, a merciful Savior whose great compassion and power can help alleviate the suffering of sentient beings. She has accumulated great merits since Her childhood and has immense power. Her transcendental bodies can be either male or female depending on the needs of sentient beings, which is incredible!"
Our conversation immersed in wisdom and spiritual inspiration ended amid a pleasant atmosphere. A sister initiate presented him with Master's poem anthology and the book "Coloring Our Lives". We hope General He will always remember the living Quan Yin Bodhisattva in his heart and his wish to meet Master will come true.

* The Double Ninth Day, so named because it falls on the ninth day of the ninth lunar month, is celebrated in honor and respect of the elderly.