Report from Indonesia

Raging Floods Cannot Overwhelm the Spirit of Brotherhood

By the Indonesian News Group (Originally in Indonesian)
In early January 2006, torrential rains fell on Java, producing flooding and landslides in some areas of the island's East and Central Provinces. In the district of Jember, East Java Province, the downpours made rivers overflow, triggering flash floods that swept away hundreds of dwellings, destroyed local roads and other public facilities and caused heavy loss of life.
Upon learning of the floods, fellow initiates in Surabaya and Malang immediately formed a relief team and prepared to deliver relief supplies including food, drinking water, towels, blankets, medicine, sanitary items and daily necessities etc. Then on the following day the team traveled to the disaster-stricken areas. Before conducting their aid effort, the initiates contacted the Indonesian Red Cross to determine where and how to distribute the supplies to the victims, and a Red Cross staff member recognized our Master and Association as he had worked with fellow practitioners from the Bali Center during an earlier relief project in East Nusa Tenggara Province. Thus, the initiates were immediately allowed to distribute the supplies to the organization's refugee camps.
Meanwhile, in the early morning of January 4, 2006, a major landslide caused by the continuous downpours hit the district of Banjarnegara in Central Java Province, affecting more than a hundred local residents. As the incident occurred at a time of day when most people were still asleep in their homes, many died because they had no chance to escape.
After receiving a phone call from the Jakarta Center about the disaster, fellow practitioners from the nearby district of Purbalingga immediately took action, collecting relief supplies such as milk and biscuits. And upon completing the necessary preparations, the initiates drove 61 km in three cars to the disaster-stricken areas.
While traveling, the sisters and brothers encountered numerous obstacles such as traffic jams, narrow roads and heavy rain. In addition, two trucks had stalled causing the initiates to be stuck in traffic for approximately three hours with only another two kilometers to go before reaching their target destination. However, thanks to Master's powerful blessing, a local man arrived to help the initiates' cars pass the two trucks and guide them across the overflowing river.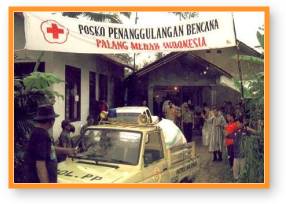 Upon reaching the flood-affected areas the relief team unloaded the materials and the local Red Cross staff members expressed their sincere gratitude for the timely help. The initiates were also grateful to Master for allowing them to express Her compassion to their compatriots during their time of need. ♥