The Sentient World of Animals
Respect and Care
for Every Sentient Being
By initiate Lucky, Formosa (Originally in Chinese)
One day when taking a walk with a fellow initiate on a neighborhood street, a small stray dog suddenly ran out from the grass, wagging her tail and licking our feet in a friendly way. We noticed that the dog seemed infected with a serious skin disease; eighty percent of her fur was gone and she emitted a terrible smell. Her condition was truly pitiful. I suddenly remembered Master's words: "I cannot take care of millions of dogs all around the world, but those dogs that I meet and need help, I feel I have to take care of and help." (From News #164, "Window on Master's Life") Therefore, we immediately contacted the local Red Collar Stray Animal Association, whose representative suggested we take the dog to a technically advanced animal hospital to receive medical treatment.
Thanks to God's grace and everyone's loving care, as well as the vegetarian diet, the three-month-old white dog has grown back all her fur and has become quite beautiful. She is friendly and very understanding, especially towards the elderly. Whenever she sees them, she happily jumps up and licks their faces, seemingly knowing that they need more love. While we were taking care of her, we noticed that she could instantly perceive human's thoughts and feelings almost 100%, except when she was too busy playing to pay attention to us.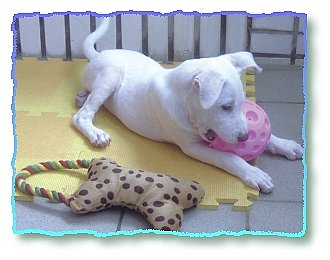 During the time we were trying to help her recover, members of the Red Collar Stray Animal Association lent a lot of assistance and taught us much common knowledge about caring for dogs. This association was established by a group of volunteers concerned about animal welfare who fight for the dignity and living rights of our animal friends. Their help to stray animals includes providing meals to them every day, assisting with medical treatment and sterilization for the animals. They encourage people to help through direct adoption of stray animals, by offering financial help or by joining as members. The association has also cooperated with other animal organizations to spread such positive concepts as non-abandonment and the importance of pet sterilization. Animals that are not able to find keepers right away are given red collars for their identification; they are allowed to continue living in the neighborhood and are fed regularly by the local citizens or volunteers. Some stray dogs from Red Collar are even trained to become neighborhood guards.
The work of the Red Collar Stray Animal Association is commendable. We wish that all can extend hands to help stray animals so that their lives can be respected, their need for food and shelter can be satisfied, and so that humans and animals live in harmony, in order to achieve the true essence of the Golden Age.