Reports according to Master's order and rating

Cuba
♥♥♥♥♥♥
A Country's Compassionate Commitment
By United Kingdom News Group (Originally in English)
Cuba is long-known for its exotic flora and tropical beauty. But more recently, the country's ongoing commitment to delivering social services has become the story behind its success.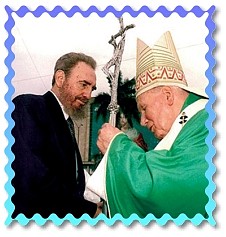 Cuban President Fidel Castro and Pope John Paul II
In 1998, Cuba welcomed its first visit from a reigning pontiff, Pope John Paul II. This showed the country's openness toward religious beliefs. One month following the Pope's visit, President Fidel Castro spoke out against the use of abortion as a form of birth control. In December 1998, Castro also formally re-instated Christmas Day as an official holiday, meaning that, for the first time since 1969 Cubans, could once again celebrate Christmas and openly hold religious processions.
In 1989, the World Health Organization recognized the Cuban health care system as a "model for the world." Cuba was also reported by the United Nations Children's Fund (UNICEF) to have the world's third-lowest rate of infant mortality and some of the world's highest rates for child immunization (96 percent) as well as school enrollment (94 percent). It has the most complete infant immunization coverage in the developing world.
Good public health is a priority for the government, as reflected in one of its most recent initiatives. Despite the fact that the cigar culture goes back five centuries, the Cuban government banned smoking from restaurants in February 2005. This is additionally impressive because the tobacco and cigar industries generate huge income for the country. The new law also bans the sale of cigarettes at stores less than 100 yards from schools and to children under the age of 16.
Cuba's world-class education system is free to all Cubans up to the highest university level. From elementary age, students are schooled in all disciplines to equip them with the skills to become productive citizens so that they can contribute to helping the nation improve. This emphasis on education has resulted an almost zero level of illiteracy.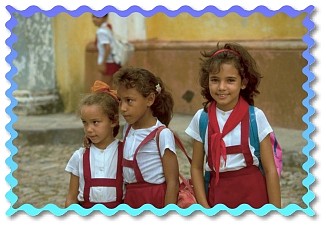 Cuban schoolchildren in free education system
Cuba has also implemented progressive and often innovative initiatives that are now being modelled by other countries. Besides its world-class health care and education, Cuba's agricultural system features the development and use of local, organically grown produce. As a result, Cubans can purchase nutritious food at affordable prices, or receive it free of charge in schools, hospitals and homes for the elderly. The Cuban government has also made large commitments to scientific research, which in turn benefits the people.
Furthermore, the government buys a set quota of food from the local farmers and they can sell any surplus for profit, thus guaranteeing their ability to earn a living. Figures produced by the UN Food and Agriculture Organization (UNFAO) indicate that hunger in Cuba fell from 8% in 1990 to 3% in 2004. Cuba's agricultural system is a working model for countries that want to adopt organic, non-intensive farming practices rather than follow a large-scale, industrial agriculture system.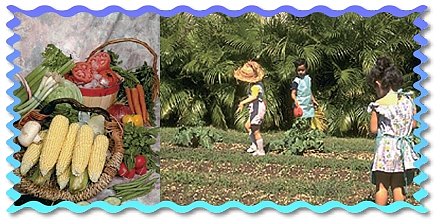 Cuba's organic agriculture
Cuba has become increasingly involved with providing foreign aid, particularly in health. The country is famous for educating doctors and sending them to where they are most needed. The Latin American School of Medical Sciences (LASMS), established in 1999, provides free medical scholarships to young people from Latin America and the Caribbean with a commitment to educate a minimum of 500 doctors each year. In 2001, President Castro offered an additional 500 medical school scholarships annually to help solve the health crisis in many impoverished African-American communities in the US. The only requirement is that the students return to the US after medical school to serve African-American communities in need. Today, more than 12,000 students from around the world are studying medicine in Cuba completely free of charge, and their numbers continue to grow rapidly.
 In 2004, Cuba brought its free eye surgery program, Operation Miracle, to Africa and Asia. The enormous task of training 200,000 healthcare professionals over a ten-year period, then sending them to preserve and restore sight to no less than six million people from Latin America and the Caribbean, is unprecedented in the world. More recently in December 2005, Castro sent 100 medical aid workers to Botswana, where they have played an important role in Botswana's fight against HIV/AIDS.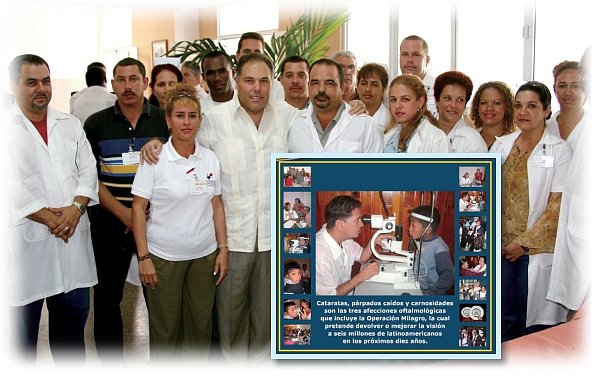 Cuba's free eye surgery program, Operation Miracle,
restores sight to millions of people.
Through its quietly effective example, Cuba is showing the world that serving the public is the best and most important priority for a government.