Media Reports
Acknowledging Thanks for Godís Love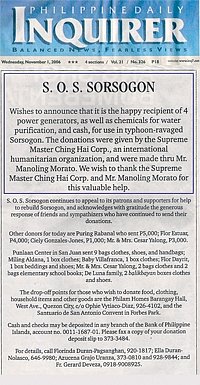 S. O. S. SORSOGON, published in The Philippine Daily Inquirer, expresses the gratitude of the Sorsogon people for Masterís loving care in restoring their water supply after a typhoon hit the area.
Philippine Daily Inquirer
November 1, 2006 (Originally in English)
S. O. S. SORSOGON wishes to announce that it is the happy recipient of 4 power generators, as well as chemicals for water purification, and cash, for use in typhoon-ravaged Sorsogon. The donations were given by the Supreme Master Ching Hai Association, an international humanitarian organization, and were made through Mr. Manoling Morato. We wish to thank The Supreme Master Ching Hai and Mr. Manoling Morato for this valuable help.