Panorama of Events
Formosa
Film Exhibition Inspires Love for Life
Reported by College Group of Taipei Center (Originally in Chinese)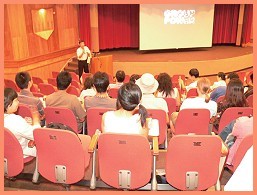 [Taipei] With the goal of introducing a healthy vegetarian diet and inspiring love for animals, the National Taiwan University (NTU) Light & Sound Society and the College Group of Taipei Center held a Love for Life film exhibition on September 18, Golden Year 3 (2006) at the Second Activity Center in NTU.
The event attracted about 100 students and guests. First in the program was the screening of "Farm Animals and Us." Produced by the UK-based organization, Compassion in World Farming, this film aims to strengthen an understanding of animal intelligence and sheds light on the true picture behind meat products. Following was the screening of "The Cow and the President," a cinematic work by renowned French director Philippe Muyl. This film tells the story of Lucas, a little boy living with his father Romain and pet calf, Maeva, in the countryside of southern France. As mad cow disease grows rampant, Maeva is in danger of being slaughtered. To save her life, Lucas convinces his dad to go with him to Paris and plead for presidential amnesty for Maeva. The trio—father, son and young cow—set out on an adventurous trip marked by many heartwarming incidents.
The movies captured the audience's full attention. Afterward, fellow initiates presented an analysis that showed the importance of a vegetarian diet from many perspectives, such as the love and intelligence of animals, ecological and economic considerations, physical and mental health, as well as spiritual development. Excerpts from the DVD "The Real Heroes" were also played to give the audience a more comprehensive understanding of vegetarianism. Alternative Living document folders were distributed to all students. A survey conducted at the end of the event revealed that over half the audience members were willing to try the vegetarian diet, with two people deciding to become vegetarian immediately.
This exhibition marked the first time that a film screening, food tasting and seminar were incorporated into one event to promote vegetarianism among college freshmen. Moreover, the touching films shared uplifting information in an entertaining style. We believe that the idea of mercy and love for life is taking root in the hearts of the student youth.