School's Enlightened Policy
Improves Well-being and Performance
Reported by Formosa News Group (Originally in Chinese)
For the past two years beginning in Golden Year 1 (2004), an elementary school in southern Formosa has been serving vegetarian lunch twice a month to its 3,000 teachers and students. The arrangement has been highly praised, attracting schools from other cities and counties to observe and emulate the practice.
Recruit Nutritionist to Provide Healthy Diet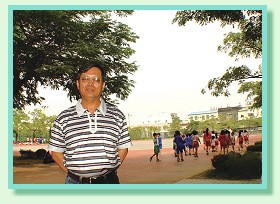 Principal Chen Tai-xiang
Four years ago, Chen Tai-xiang was appointed principal of Tainan County Kunshan Elementary School after three decades of previous educational service. His motto is to ensure students health, happiness and hope. In the belief that a healthy diet brings good health, he recruited the school's first-ever nutritionist despite the limited budget allocated for school lunch. He incidentally discovered that the nutritionist, Mr. Lien Jun-qin, had been a student of his 20 years earlier. Thus, they worked closely together to create a healthy diet at the school.
Mr. Lien, whose major had been food science, said that nutrition studies today focus primarily on western science-based food analysis and pay little attention to the eastern philosophy that vegetables are medicines. The westernized diet has resulted in excessive meat intake and caused many chronic diseases. He referred to a book he once read, "Hope's Edge: The Next Diet for a Small Planet" by Frances Moore Lappé and Anna Lappé. It jolted him into an awareness of the importance of vegetarianism and the relationship between ecology, global famine and meat diet.
Eating Less Meat Is Healthy and Costs Less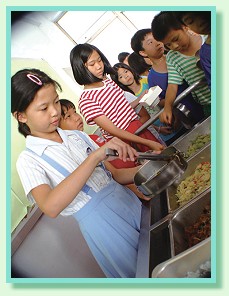 Children on a vegetarian diet have beautiful complexions and enjoy a natural maturation process.
The first step to better health is to increase vegetables and fruit in the diet while reducing deep-fried food. Expenses are less when using vegetables and fruit instead of the more expensive meat, as well as using less oil. The simplicity of preparation also improves working conditions and makes the kitchen easier to clean.
In the third year of nutritionist Lien's tenure at the school, Principal Chen found that 60 of the students were long-term vegetarians. Therefore, he decided to provide vegetarian meals to all students on the 1st and the 15th day of the lunar month. Since all the teachers and students had in the previous two years become accustomed to lunches containing abundant vegetables and fruits, they adjusted well to the vegetarian food formulated professionally by the nutritionist. The school now even has surplus funds from its limited lunch budget to buy some supplementary health foods.
Students' Well-being and Performance Improves
| | |
| --- | --- |
| | |
| Nutritionist Lien Jun-qin (left) with vegetarian students. | Nutritionist Lien Jun-qin with kitchen staff who prepare vegetarian meals for children. |
Nutritionist Lien said that vegetarian meals not only lower costs, they also prevent bird flu and food poisoning caused by pork made from ailing pigs. Humans can acquire protein from beans, he added. Nowadays, livestock is given growth hormones to meet a speedily increasing market demand. The intake of these meats results in premature puberty, making children easily agitated as well as less capable in school. Lien observed that students who have been long-term vegetarians do not have these problems.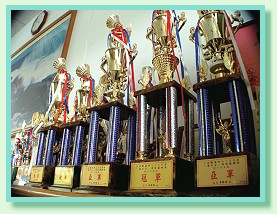 Vegetarianism has enabled students to make all-round improvements and win awards in inter-school contests.
Principal Chen also discovered that after four years of serving lunch with more vegetables and fruit and less meat, the school has seen a decline in obesity and irritability among students. Children have shown an all-around improvement in language, science and physical education. For example, the school has won two national badminton championships and achieved distinctive performances in language-related contests. Chen is hoping to serve vegetarian meals more days in the future.
Former teachers who now serve at other schools often visit Kunshan to learn more about serving vegetarian lunches. For Mr. Lien, his greatest achievement in the last four years has been to offer a beneficial service with a supportive principal determined to implement the right policy.
Offering a vegetarian meal twice a month to 3,000 people means that many animals are saved from the slaughterhouse. Hopefully more schools will follow this excellent example and join in the effort to reduce global famine, protect the ecology and elevate the spiritual level of the Earth.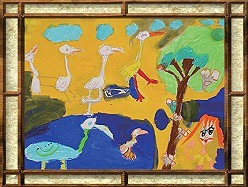 Children's painting depicts a harmonious world with animals.