Beautiful People and Beautiful Events
Mr. Cao Qing, a Compassionate Guardian
of PVS Patients
♥♥♥♥♥♥
By Taipei News Group, Formosa (Originally in Chinese)
Mr. Cao Qing, dedicated in taking care of PVS patients.
Mr. Cao Qing, a humble retiree from public service, established the Genesis Social Welfare Foundation, the only group in the country dedicated to caring for "patients in a persistent vegetative state (PVS)." Receiving no aid from the government or entrepreneurs, he simply traveled throughout Formosa, knocking on people's doors to raise the funds.
In the beginning, he secured several unused sickbeds in a countryside hospital in the central region, and hoped to obtain a subsidy from the government. At that time, he approached all the high and low authorities and was told that the government had a similar plan, but there was no fixed timetable. Even then, Cao Qing was not discouraged; he continued to seek assistance from various organizations. He wrote to nearly two hundred Foundations and personally visited many of them, but his efforts were futile.
In 1980, carrying his backpack, he embarked on a five-year trip throughout Formosa calling on innumerable strangers for support. Unfortunately, most people regarded him as a "lunatic" or "swindler." In the end, he successfully convinced more than seven hundred kind people to leave their contact details on his "sponsors' list." After a tedious trail blazing process, the first Home for PVS Sufferers was established in November 1986. At that time, Cao Qing didn't even have the money to buy sickbeds. However, one of his neighbours happened to be renovating their house and abandoned some cabinets by the roadside. Cao Qing retrieved them, attached some flat boards to them, and put beddings on top to be used as improvised sickbeds.
Throughout the years, with the kind help of the general public, the Home for PVS Sufferers overcame many difficulties and was blessed with many miracles. For instance, their expenditures for the first month were NT$130,000, and the donations that they received were also exactly $130,000. The following month, their expenditures were $180,000 and they also received the same amount in donations. In the third month, their expenditures of $230,000 were also offset by the same amount of donations! These series of coincidences led Cao Qing to believe that God is taking care of these needy people quietly.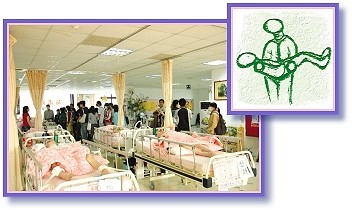 After the PVS care had been firmly established, Cao Qing began to extend concern to solitary old folks and homeless street friends. Currently, the services provided by the Genesis Foundation for solitary old folks include: daily greeting telephone calls, house visits and establishing a "Home for the Elderly and mentally challenged." Regarding the care for homeless, beginning in 1991 the Foundation started a Peace Port for Street Friends in the Wanhua area in Taipei to provide warm clothing, food and meals, as well as to help them to get medical treatment.
Mr. Cao Qing's perseverance and unconditional love has brought dignity and deserved care to the PVS sufferers. In order to provide the best for this group of patients who are constantly in a deep coma, Cao Qing only goes home once a week, even though his lives merely five minutes away. He regards this "home" as his true home. His saintly self sacrificing spirit really sets a wonderful example for everyone to follow.

Reference: http://www.genesis.org.tw/story.htm  (Chinese)
http://zh.wikipedia.org/wiki/%E5%89%B5%E4%B8%96%
E5%9F%BA%E9%87%91%E6%9C%83 (Chinese)