A Lighthouse in the Darkness
Master Sends Love and Encouragement to Inmate Kang

By Korea News Group (Originally in Korean)
A very touching letter was written by a Korean inmate and appeared in "Their Souls Are Free." (please see News magazine #187) Knowing his sincere longing, Supreme Master Ching Hai asked the Korean initiates to bring some loving gifts to the inmate Kang.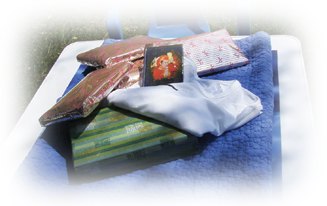 According to Master's caring suggestions, Association members from Andong Center visited him, bringing with them bedclothes, T-shirt, a set of underwear, vegetarian food, red ginseng candy and soymilk for him. He was so happy to hear that Master had sent this care and love after reading his letter, and he deeply appreciated Her kindness.
He has already read all of Master's books, and finds them full of wisdom. Sentenced to life, he has been in prison for 18-and-a-half years and is expected to be released in another year and a half. He wishes to get initiation as soon as possible. We hope he can enjoy God's grace and love every moment of his life.