Letter of Appreciation from Mayor of Kashiwazaki City Niigata Prefecture, Japan
(Originally in Japanese)
September 14, 2007
Dear Sir,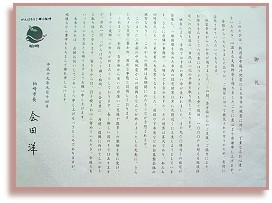 We are wholeheartedly grateful to you for rendering timely and compassionate aid and relief materials to the victims of the recent Niigataken Chuetsu-oki earthquake.
Complying with your request, the relief items provided by you have been delivered to the stricken households where most certainly they will be well used.
It's been two months since the earthquake. During this time, thanks to the support and aid from all directions, our daily lives have, towards the end of August, finally returned to normal. More than 1,000 households are moving into modular houses. The daily life of citizens has generally recovered.
During this period, enormous relief efforts from all over the country and from all circles together with innumerable support and encouragement have helped Kashiwazaki City to stand on her feet again. Although it is a long and tedious journey ahead, our citizens, united under the slogan of "Work Harder! Let Kashiwazaki shine again!" and with concerted effort, have devoted themselves to the rebuilding and recovering task. In the future, we hope that you would continue to lend us your support and encouragement.
I should have visited you to express our appreciation in person, but please understand our situation and forgive me for conveying our gratefulness in simple writing.
Hiroshi Kaeda

Mayor of Kashiwazaki City