Vegetarian Era
Vegetarianism on Wheels --
A Mobile Way to Share the Good News
By sister-initiate Helen Holroyd, Surrey Center, UK (Originally in English)
After some years in the mobile catering trade, having witnessed changes and various food fads, I have never seen such a rapid growth as with the rise in popularity of vegetarian foods this summer. Two years ago, I sold my business, to further my meditation practice. One year later I got a call that I am sure was Master's arrangement, because I found myself back out there doing the same thing. However, this time the intention had changed. Even though the business was a means of supporting myself financially for the essentials in life, I now found such freedom in the thought that perhaps the financial aspect didn't matter as much as how many people we were reaching with the vegetarian food!
Though it was still demanding work, I realized that I had been blessed with such a great opportunity as the work took on a different meaning. In my "renewed" business, I had a 20-foot banner made for the top of the trailer with Master's Quan Yin Flag also there for all to see! Flyers for Supreme Master Television were also placed in prominent positions to share with all customers.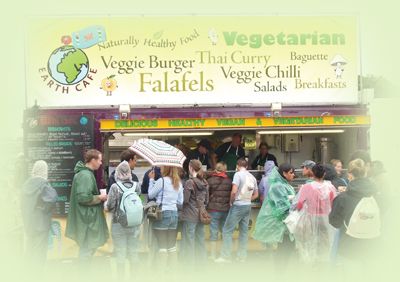 Since re-opening, our trailer has had the good fortune of many people lining up to buy food, even when most others around had but a few customers. People who were not originally seeking vegetarian food have come to sample some of the good things from our venue. We have had many uplifting conversations with the public and find that a number of people are looking to change toward the concept of Alternative Living.
On numerous occasions, we find ourselves greeting someone who has wandered up to our trailer, not really paying attention to the fact that we are selling vegetarian foods. The person almost always agrees, after gentle persuasion, to sample something vegetarian. Not once has a customer been disappointed, and in fact we often see them return later for more.
In general, requests for vegetarian food in the mobile catering trade have accelerated incredibly. Even though on festivals our trailer has always been quite popular, never have we seen the numbers of people that are now looking for and speaking of healthier, more compassionate ways to live and eat.
Due to Master's love, blessing and grace, this is an incredible time as we enter the Golden Era. We thank Master so much and promise to endeavor, even more so now than ever, to reach as many people as we can with our vegetarian foods.

Author's Note:
In case anyone wonders about vending food to honor Master's request that we all find ways to make vegetarian foods more available, I would just like to point out that what we have done here is being accomplished from within a mere trailer. For as little as approximately £5000, anyone can purchase something similar. Although festival work can be rather expensive, there are many other places that might allow you to sell food more freely: markets, book fairs, parking lots in outdoor shopping centers, transportation stations, or, if you have offices in your area, you can prepare the food in the trailer and take it to them for lunch. There are also many small outdoor events that take place all summer in the UK and surely in other countries, too.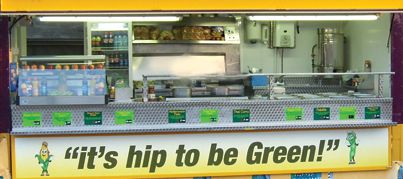 Making the trailer look appealing and colorful with some clear advertising designs is important. Once you have purchased and decorated the trailer, you just need to register with the local health officials, and they will come and check to see that you comply with their regulations. With this and possibly a few other things done, you can start going out and letting people know of all the wondrous things they can consume without causing any suffering to our animal friends!
A multitude of thanks to Master for all that She does.