Beautiful People and Beautiful Events
Dr. Akif Mehdizade -
A Noble Saint of Azerbaijan
By sister initiate Essassani, Formosa (Originally in English)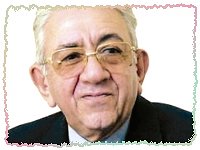 While working on a project to introduce Supreme Master Television in Central Asia, I came to know Dr. Akif Mehdizade through a news agency. Though I'd never met him in person, through several months of contact with him via the Internet, I came to realize his saintly qualities.
Dr. Mehdizade, who passed away on November 15, 2007, was an official of Azerbaijan's Ministry of Foreign Affairs, and also served as Chief of the Azerbaijan Translation Academy. Respected and viewed as a father-figure by all his colleagues and students at the Academy and very much admired for his noble character by the people of Azerbaijan, he will be dearly missed. Besides selflessly serving his country for many years, Dr. Mehdizade also translated the recently released Azerbaijani translation of Supreme Master Ching Hai's The Key of Immediate Enlightenment sample booklet, the website www.godsdirectcontact.az, as well as the "Vegetarian Nobel Laureates and Scientists" and "Alternative Living" flyers. He once said, "I will help your organization till the end of my life!"
Although my contact with Dr. Mehdizade was brief, his loving kindness and supportive spirit have made a deep impression in my heart. He advised me to write newspaper articles about Master, our organization and upcoming events to spread Master's teachings in Azerbaijan. He added, "If you have any problems I can help; I have many friends in all of the nation's newspapers. I am sure the Azerbaijani people will be interested to learn about enlightenment." One day, he told me that he wanted to organize a course or study group to introduce Supreme Master Ching Hai to the students. Also, when he learned that the "Alternative Living" flyers were available in Azerbaijan's capital Baku, he asked, "Can I have 2,000 flyers? I will put them at the entrance of our Academy so that everyone can see them and take one."
| | |
| --- | --- |
| | Various informative materials translated into Azerbaijani language by Dr. Akif Mehdizade. |
Whenever I needed help, Dr. Mehdizade always assisted me promptly. For example, when Supreme Master TV recently began broadcasting on ten additional satellites worldwide, he instantly translated the update to the announcement into Azerbaijani even though he was on a world tour at that time. He also directed his assistant, Ms. Mahiyya Shahidova, to work with Academy translators in contacting newspaper agencies in many neighboring countries. So in a very short time we were able to post the announcements in the top two newspapers in Georgia, Kyrgyzstan, Kazakhstan, Tajikistan, Turkmenistan, Uzbekistan, Afghanistan and the Islamic Republic of Iran. Although Dr. Mehdizade is no longer with us physically, during his time here with us, he led a noble life and opened a great door through which his people can gain enlightenment. May God bless Dr. Akif Mehdizade and the citizens of Azerbaijan.