| | |
| --- | --- |
| | Shining World Compassion Award |
| | |
Water for Peace, Wisdom for Life –
The BARKA Foundation
♥♥♥♥♥♥♥♥♥
By Burkina Faso News Group (Originally in English)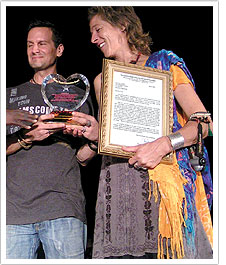 The BARKA Foundation, based in Massachusetts, USA, and Burkina Faso, is a non-profit organization co-founded by Ina and Esu Anahata that reaches out to the people in West Africa to improve the quality of their lives. BARKA is an African word meaning "thank you, please," an expression of blessing and gratitude. In 2004, after making several trips to Africa, Ina and Esu Anahata decided to do something to help the people of Burkina Faso, a small country with a population of 15 million in West Africa. They established The BARKA Foundation and set out to assist the country in achieving the United Nations Millennium Development Goals by 2015. The first step the Foundation took was to provide the local people with a steady source of clean water. Neither Ina nor Esu had any background in doing humanitarian and organizational work. Yet, they set aside their careers and changed their lives with great courage to follow the call from deep within their hearts.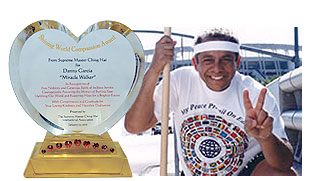 To raise funds for building water facilities and to spread the peaceful message around the world, The BARKA Foundation launched "Walk for Water" events in both the US and Burkina Faso. In spring 2009, while planning an event for their first water well in Burkina Faso, Ina and Esu met Danny Garcia, founder of the charity Global Walk and an ordained minister as well as a vegetarian. Over the past 13 years, he walked over 40,000 kilometers across five continents, promoting world peace and children's rights. Together, Global Walk and The BARKA Foundation launched the Peace, Water & Wisdom Walk to raise funds, in particular for drilling this first water well.
Thank you letter from Mr. Danny Garcia
The 800-kilometer journey of the Peace, Water & Wisdom Walk started at the United Nations Plaza in New York City, USA, on May 11, Golden Year 6 (2009) and culminated in Bangor, Maine, on May 30, passing through 20 northeastern US cities in 20 days. It was during the Walk that the collaborating groups received news about Supreme Master Ching Hai's contribution of US$20,000 in support of their compassionate, noble work.
When describing the moment he heard the news, Danny said emotionally, "I just collapsed, and I put my arms on the door, and I started to cry, because I felt that God had heard my prayer." "I believe that God created everyone," he said regarding his walks, "and I walk for all people. It doesn't make a difference what religion they are, what color they are, what country they come from."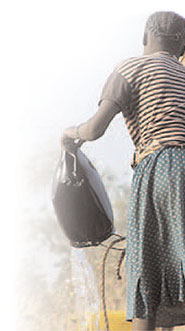 Ina commended, "This is beyond our wildest dreams. This whole evening, the gifts of everyone who has been involved, and Supreme Master Ching Hai really affirmed to us that what we're doing is truly living life on purpose and watching out for our brothers and sisters around the planet who do not have clean water to drink. This means all the world to us and it's just the beginning."
In appreciation, Esu said, "Thank you, Supreme Master Ching Hai. We are deeply, deeply touched by your generosity, by your willingness to do something very extraordinary, to make a very generous donation to a group of people that you didn't even know before, and just must have sensed or had some kind of faith that what we were doing was good. We were touched by your extraordinary act of generosity and we are full of gratitude. Our hearts are overflowing."
| | |
| --- | --- |
| | Thank you letter and receipt from The BARKA Foundation for Master's US$20,000 contribution |
From September 18 to 21, 2009, The BARKA Foundation launched another walk, to celebrate the Peace, Water & Wisdom Concert & Festival in Burkina Faso. This Walk was accompanied by performances that presented the beauty of traditional cultural spirit. The event also overlapped into The International Day of Peace. To mark the first day of the Walk, The BARKA Foundation was honored with the Shining World Compassion Award from Supreme Master Ching Hai. With heartfelt joy, Ina and Esu expressed their thankfulness again to Supreme Master Ching Hai and in reply, Master conveyed the following message to them:
You're a blessing to our world. God knows it all. God connects us all.

With all my love & respectful salute.

CH ♥♥
And to Mr. Danny Garcia, Supreme Master Ching Hai also conferred the Shining World Compassion Award for all his altruistic and courageous efforts in creating a kinder world.
The co-founders of The BARKA Foundation will always imagine a brighter, fulfilling future for the people of Burkina Faso and in doing so, help to shape a more joyous world. May Heaven continue to bless your great dreams and laudable endeavors with resounding success, until peace is the center of every human life on Earth. May more people be awakened to live a noble life, as Esu put it, "to find what gift you have for the world and to not judge it, but to just go and live it to the fullest, because the world needs your contribution."

To watch Supreme Master TV's interview and coverage of this Award presentation, please visit: http://video.Godsdirectcontact.net/magazine/EE1178.php

If you wish to know more about the beautiful things happening in our world, please check out our archives of awards presented over the years, including the Awards of the Month, at the following URL address:
http://award.godsdirectcontact.net