| | | |
| --- | --- | --- |
| | Burkina Faso | |
Relief Team Brings Master's Aid to Thousands
By Burkina Faso News Group (Originally in English)

On September 19, 2009, Association members in Burkina Faso, West Africa, received financial aid from Supreme Master Ching Hai to purchase necessary items for the affected people of recent flooding in their country. The floods were caused by the area's heaviest rains in 90 years, and resulted in loss of lives and damage to infrastructures as well as approximately 24,000 homes.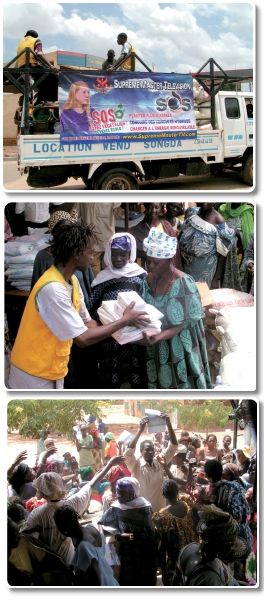 Our Association members immediately formed a relief team, contacted local officials, bought the most urgent relief supplies, and distributed them at Samora Marcel School three days later. Mr. Yacouba Pafadnam, President of the Relief Management Committee, graciously thanked them and expressed sincere gratitude to Master for Her compassion and generous help.
Following that, the team delivered supplies to Saint Michael School and Sacred Heart School in Dapoya, where the ladies showed deep gratitude, especially for the clothing, as many had lost all their possessions to the floods. Ms. Djènéba Maïga, representing the women, thanked Master for Her noble gesture and sent Her wishes of good health, longevity and success in Her work.
---
Expenditures by Supreme Master Ching Hai for
Flood Relief Work in Burkina Faso
Description

Amount (XOF)

Receipt

Food (beans and sugar)

Relief materials (clothing, buckets, school supplies, etc.)

3,201,150

A

Miscellaneous expenses (gas, packaging, publishing newspaper articles, etc.)

118,700

B

Total

XOF 3,319,850 (US$ 7,501)

*Throughout the relief operation, the team members paid for their own transportation, food and accommodation.
To view the Humanitarian Relief Activities by the Supreme Master Ching Hai and Her International Association, please visit:
http://www.GodsDirectContact.org.tw/humanitarian
(The list can be sorted by year, country/region and type of events.)