| | | | |
| --- | --- | --- | --- |
| | | USA | |
Celebrities and Health Professionals Lobby Congress to Support Vegetarian School Lunch Options
By Virginia News Group (Originally in English)
[WASHINGTON,D.C] U.S Representative Jared Polis from the 2nd District of Colorado, along with the Physicians Committee for Responsible Medicine (PCRM), a non-profit health organization, recently hosted a presentation made to Congressional members, as well as doctors, researchers, educators and students, on how nutritious school lunches can improve children's health and reduce overall healthcare costs. The seminar was timely given as The Child Nutrition Reauthorization Act of 2009, which regulates the National School Lunch Program and School Breakfast Program, will soon come up for congressional review. Several presenters and audience members alike had previously attended the Washington, D.C., Climate Change Conference entitled "Humanity's Leap to the Golden Era" held on November 8, Golden Year 6 (2009). When approached for feedback on both events, local musician and author Zaccai said, "It is plain and simple. Vegan children will save the world!"
---
Making the Transition to a World Sustained by a Plant-Based Diet
By San Francisco News Group (Originally in English)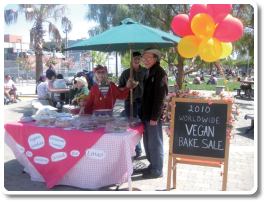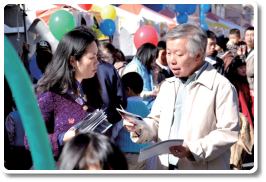 [San Francisco] After attending the 14th Annual San Francisco Vietnamese Tet Festival in February, celebrating the Year of the Tiger, our Association members organized a Meat-Out seminar entitled "Eating Our Way to World Peace" in the Koret Auditorium at the San Francisco Main Library on March 20, Golden Year 7 (2010). Featured speakers included Dr. Will Tuttle, author of The World Peace Diet; Dr. Michael Klaper, health and nutrition expert; Ms. Joyce Tischler, co-founder and general counsel of the Animal Legal Defense Fund; and Mr. Bob Linden, host of the weekly radio program "Go Vegan with Bob Linden." Many people came to listen to the inspiring presentations and to watch video clips that revealed the cruelty of the livestock industry and its dire consequences for our planet. They also had the chance to taste vegan delicacies offered by Loving Hut. Many expressed their appreciation for Association members' efforts and hoped that more events like this would be organized in other cities in the future.
In April, our Association members participated in the Cesar E. Chavez Holiday Parade and Festival 2010 in San Francisco. They marched directly behind supporters of California State Assemblywoman and Speaker, Pro Tempore Fiona Ma. Two weeks later, they joined with members of the San Francisco Vegetarian Society to participate in the 2010 Worldwide Vegan Bake Sale at the intersection of Hayes Street and Octavia Street in San Francisco. Passersby were delightfully surprised by the superb taste of cookies and cakes made without any animal ingredients. Many customers gladly agreed to have their initial reaction recorded for Supreme Master Television. Proceeds from the event were given to the San Francisco Vegetarian Society.
Monday in San Francisco is officially the meat-free day of the week. The Board of Supervisors unanimously approved legislation on April 6, declaring the first day of the week Meat-Free Mondays, now known as Vegetarian Day or Veg Day. "With this resolution, San Francisco can join the growing list of communities that have taken action to encourage citizens to choose vegetarian foods as a way to protect the planet and their health," said Supervisor Sophie Maxwell, a vegetarian for 40 years who introduced the resolution. We are thankful for the efforts of the San Francisco Vegetarian Society and In Defense of Animals that resulted in our city and county being the first in the U.S. to pass a Veg Day resolution. May the collaborated work of like-minded groups quicken humanity's transition to a world that is sustained by a plant-based diet and God's boundless love.
---

Celebrating Berkeley's 40th Earth Day

By San Jose News Group (Original in English)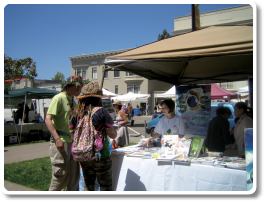 [San Jose] As an annual event to celebrate the environmental movement and creatively challenge the destruction of our planet, Berkeley's 40th Anniversary Earth Day was held on April 24, Golden Year 7 (2010), at Berkeley Civic Park.  Featured activities this year included demonstrations of biodiesel and electric cars, solar power, farmer's market, climbing wall for kids, vegetarian food, crafts, and community booths.
Our San Jose Association members handed out SOS flyers and DVDs as well as Alternative Living info, which were happily received by the visitors. One sister dressed in a cute animal costume with the "Be Veg, Go Green, Save the Planet" slogan sticker on the front which attracted much attention. They also designed a fun and challenging game titled "Test Your Eco Food Print IQ" that required participants to find the answers from the display board next to their booth. Dr. Penny Norman, the president of Science Wiz, and Mr. Mohamed Attali, the president of A&B Clean Planet, a recycle company, also stopped by their booth to express their appreciation for all the work Supreme Master Ching Hai has been doing for the planet.
It seemed that many people at the event are already on a vegan or vegetarian diet, and more people are aware of the global warming crisis. The initiates sincerely believe that with Master's amazing wonders, this beautiful world is at the turning point of being the magnificent home it was meant to be.
---
World Wide Vegan Bake Sale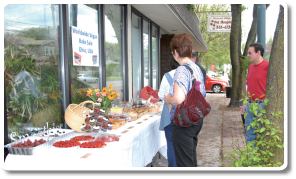 By Ohio News Group (Originally in English)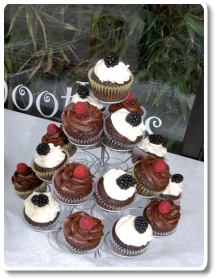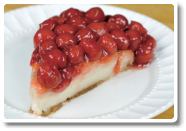 [Ohio] On Saturday, April 24, Golden Year 7 (2010), members of the Supreme Master Ching Hai International Association in Ohio participated in the Worldwide Vegan Bake Sale.
The bake sale was held outside of the Vegan Café on a busy street and attracted the attention of many passersby. The public library next to the bake sale permitted our Association members to put up a poster and offered their support, saying the cause was close to their heart. The wide array of delicious donated vegan goods such as cherry cheesecake, raspberry chocolate chip cookies, and banana walnut muffins raised a total of $500! The proceeds were used to buy gifts that were given to the homeless at the Drop-In Center in Cincinnati this past Mother's Day.
Customers were so happy to try the delectable vegan cakes and cookies that they had never tasted before. One lady in conveying her enthusiasm said how wonderful it would be to have a vegan bake sale every month. Many people expressed that now they can eat baked goods without contributing to the cruelty caused to animals by using milk, eggs and butter.