| | | |
| --- | --- | --- |
| | | |

Working Together Helps Speed Tornado and Flood Recovery
By Paraguay and Argentina Relief Teams (Originally in Spanish)
Tornado Relief

On September 7, 2009, a tornado damaged homes in several areas of Paraguay, with its strong winds and hail also destroying crops. Thankfully, the situation was not very serious and the government provided aid supplies, including metal sheets to repair roofs. A relief team of our local Association members traveled to the affected areas to deliver Master's love, blessings, SOS flyers and sample booklets as well as to explain the cause of such climatic events and their solution.
The tornado moved on to Argentina, reaching full force when it hit the town of San Pedro, seriously damaging some 200 homes, injuring many residents, taking 11 lives, and destroying an area of approximately 25 square kilometers. The victims received assistance from the Argentine government and from several other countries in reconstructing and repairing homes, along with medical aid and sufficient food to last for three to four months. Supreme Master Ching Hai also provided US$800 in relief funds, which our team offered to the most severely affected families. We thank God that all those need have been given the necessary governmental assistance and are working together on the path to recovery.
Flood Relief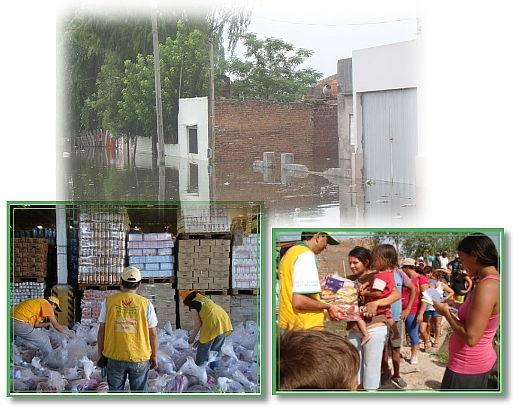 In November 2009, after the heaviest rainfall in over two decades, Brazil, Uruguay and the Argentine Provinces of Entre Ríos and Chaco experienced severe flooding that caused the river on the Argentina-Uruguay border to overflow, forcing 8,000 inhabitants from their homes. Upon learning of the disaster, Supreme Master Ching Hai contributed US$10,000 and asked Association members to assist the victims.
Our relief team from Argentina and Paraguay arrived in Concordia, Entre Ríos on November 30. After speaking with local officials about the situation, they went to the coastal areas of Cordaroli and San Lorenzo where those affected were living in plastic tents and cardboard shelters. The team quickly delivered much needed supplies such as hygiene items, nappies, food and insect repellent along with SOS flyers to inform public of the causes of such disasters and the easiest way to curb them, that is, by adopting a meat-free diet.
The situation was most serious in Resistencia, Chaco, where people were living in unsafe, mud-filled homes. The relief team promptly distributed more emergency supplies amid the recipients' applause, tears and smiles to thank Supreme Master Ching Hai for Her love and kindness.

Expenditures by Supreme Master Ching Hai and Her International Association
for Flood and Tornado Relief Work in Argentina and Paraguay
Description

Amount (US$)

Receipt

*Food (cooking oil, rice, flour, sugar, noodles, mineral water, etc.)

*Hygiene supplies (detergent, chlorinated water, nappies, insect repellent, etc.)

9,735

A

Cash Contribution

800

NIL

Miscellaneous expenses (air tickets, accommodation, transportation, etc.)

1,153

B

Total


US$11,688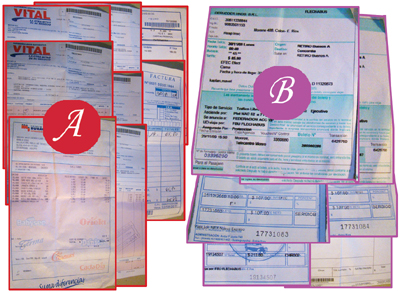 To view the Humanitarian Relief Activities by the Supreme Master Ching Hai and Her International Association, please visit:
http://www.GodsDirectContact.org.tw/humanitarian
(The list can be sorted by year, country/region and type of events.)