| | | |
| --- | --- | --- |
| | | |
Cumbria Flood Victims Feel Master's Love
By Surrey News Group (Originally in English)
The town of Cockermouth in the Cumbria District saw the worst floods in its history, after days of unusually heavy rainfall in late November 2009 triggered the Cocker and Derwent Rivers to overflow, damaging homes and making bridges unsafe. Upon hearing of the tragedy, Supreme Master Ching Hai asked our local Association members to go to the flooded areas to offer aid, lovingly contributing £10,000 for the purchase of relief items, and £1,175 for the family of Police Constable Bill Barker, who lost his life in the flood.

On November 24, the relief team arrived in Cockermouth and offered Master's heartfelt concern to the local citizens. Many shopkeepers were given £100 each to purchase emergency supplies. Financial assistance, food, clothes and sleeping bags were given to those most in need, bringing tears of gratitude to the eyes of the recipients. Our relief team lovingly prepared thousands of vegan sandwiches, fresh fruit and nuts as well as thermos flasks to hold hot drinks for the workers. The community was deeply grateful for the gifts and information on how the vegan diet can help avert such disasters in the future. Their spirits were high as people volunteered to join the clean-up work and help those most affected by the flooding. The local church served as a shelter and communications center, in addition to providing hot food to the public.
Learning through the national news about the difficult situation the Doyle family with three young children was facing, the team later travelled to Worthington and offered them £1,000. The grateful family wrote a touching letter to Master, saying,

"We can never put into words the thanks and appreciation we owe to you after the very sad and heartbreaking time we went through whilst in the Cumbria floods. Your present was greatly appreciated and we can never thank you enough. It kept us living day by day. We managed to put carpets in our temporary house and buy a few Christmas gifts for the children. Thank you very much, from a very grateful family."
Joe and Shelley Doyle, Kieren (12 years), Aaron (5years), Corey (5weeks old)
We thank all the volunteers who assisted with the relief work, and pray that the world soon adopts the vegan diet to minimize the frequency of such events and to create greater harmony for our planet.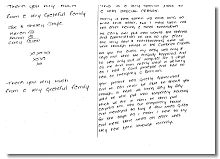 Thank you letter from the grateful Doyle family
Expenditures by Supreme Master Ching Hai for Flood Relief Work in Cumbria, UK
Description

Amount (GBP)

Receipt

Food and supplies (fruit, baked goods, hot drinks, utensils, etc.)

324

A

Cash contribution to the affected

5,000

Nil

Total

GBP5,324

(US$8,630)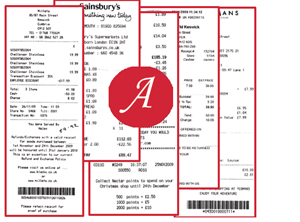 *Throughout the relief operation, the team members paid for their own transportation, accommodation and food.
To view the Humanitarian Relief Activities by the Supreme Master Ching Hai and Her International Association, please visit:
http://www.GodsDirectContact.org.tw/humanitarian
(The list can be sorted by year, country/region and type of events.)