| | | |
| --- | --- | --- |
| | | |
Sending Warmth in the Freezing Weather
By India Relief Team (Originally in English)
Saris and food given to 50 ladies in a senior citizens home in Agartala
Last winter, gravely cold weather and dense fog claimed the lives of over 500 people in India. Among the worst affected were the states of Uttar Pradesh, where nearly a fifth of its 180 million residents are homeless, as well as Jammu and Kashmir, where many roads were closed or blocked due to heavy snowfall. Knowing the fatally cold situation, Supreme Master Ching Hai contributed a total of US$10,000 and requested that our Association members go to bring warm blankets and other needed supplies to the most vulnerable.
In January 2010, as soon as conditions permitted, our local relief team first traveled to Uttar Pradesh. There, the regional police from Bahraich District assisted in their distribution of 3,000 blankets to the afflicted in the most remote areas. The relief team then went to Srinagar in Jammu and Kashmir State, where they gave out 900 heavy blankets to appreciative residents.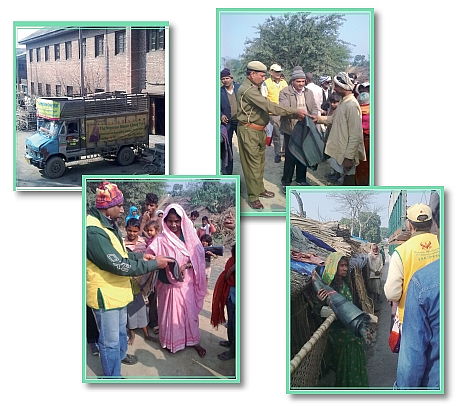 Delivering Timely Relief Supplies after Storms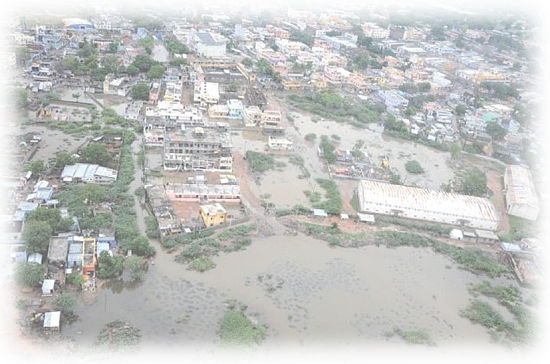 A series of destructive storms bringing rains, strong winds and hail in mid-April swept across the northeastern states of West Bengal, Assam, Tripura and Mizoram destroying tens of thousands of homes. More than 130 people lost their lives and hundreds were injured from trees that fell on vehicles and wind-borne debris.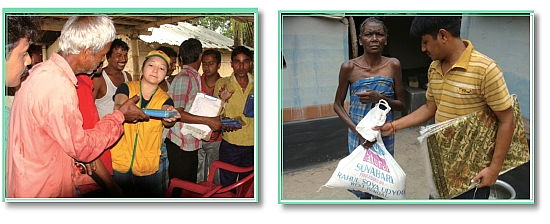 Upon knowing of the calamity, Supreme Master Ching Hai conveyed Her heartfelt condolences and prayers, as well as contributed US$10,000 in emergency aid. Our Association's nearest relief team in India learned that the local governments had provided some food, but the victims were in need of daily necessities. Within less than a week of the disaster, the team was able to deliver large supplies of clothing and basic foods, including rice and chickpeas, to the storm affected in five districts across Assam, Mizoram and Tripura States.
During the following two weeks, our Association's relief team also distributed more materials, with the help of local volunteers, to indigenous tribal people in the North Bengal area who were especially in need. The villagers were touched by Supreme Master Ching Hai's loving support from afar. We appreciate the kind help of the Indian government personnel and volunteers, and pray that such turbulent events are eased through our steps toward more harmonious living.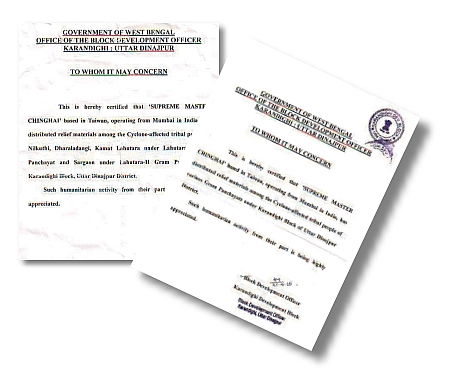 Letters of Appreciation from Goverment from Uttar Dinajpur. West Bengal
Expenditures by Supreme Master Ching Hai for Freezing Cold Weather
and Storm Relief Work in India
Description

Amount (INR)

Receipt

Food and clothing supplies (rice, beaten rice, chickpeas, soya food products, biscuits, sweets, water, sweetener, plus ladies dresses and men's lungis, etc.)

334,205

A

3,900 blankets and related transporting fee

484,700

B

Miscellaneous expenses (travel, food, lodging, labor, etc.)

152,919

C

Total

INR 971,824

(US$ 21,367)

To view the Humanitarian Relief Activities by the Supreme Master Ching Hai and Her International Association, please visit:
http://www.GodsDirectContact.org.tw/humanitarian
(The list can be sorted by year, country/region and type of events.)