Mongolia
Mongolians Blessed with Heavenly Gifts
By Ulaanbaatar News Group (Originally in Mongolian)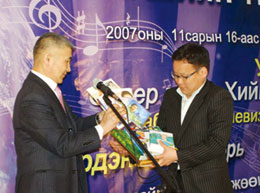 Mr. Enkhtuvshin. Ts, Director of MNBC Cable TV received a thank you letter and gifts.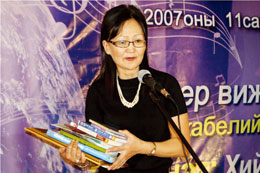 Ms. Javzandulam. N, Organizer of Ekh Oron TV Station received a thank you letter and gifts.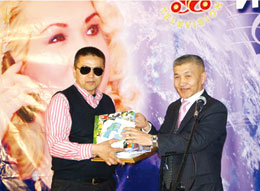 Mr. Ganbat, Vice Director of Khiimori Cable TV received a thank you letter and gifts.
[Ulaanbaatar] To officially thank 21 cable TV companies in Mongolia that broadcast Supreme Master Television, Loving Hut Ulaanbaatar hosted a dinner party on May 3, Golden Year 7 (2010).
During the gathering, our Association members introduced to the directors and representatives from these cable companies the constructive and entertaining programs from Supreme Master TV as well as the founder of this global TV station, our beloved Supreme Master Ching Hai. All guests were surprised and sincerely grateful to receive a framed thank you letter from our Association, along with a selection of Master's spiritual books, CDs and DVDs.
Thanks to the noble work of these TV companies, almost every Mongolian, including many famous people in Mongolia, has heard about Supreme Master TV and its very important messages. In particular, Ekh Oron TV station, sponsored by the well-known Mongolian Sumo wrestler Batbayar, is very supportive in advocating vegetarianism and Master's teachings.
Thank you, the caring personnel at all the cable TV companies. May your enthusiastic service bring about the fast transformation of society to a bright vegan lifestyle. May God continue to bless Mongolia and her pure-hearted people.
Grand Opening of the Khutul Loving Hut
[Khutul] On August 28, Golden Year 7 (2010), Khutul town's first Loving Hut restaurant was opened. Fellow initiates from Darkhan, Erdenet and Ulaanbaatar cities came to help organize an exciting vegan food sampling event to spread the news. The occasion, broadcast through a local television station, was attended by many local people and distinguished guests who spoke on the subject of global warming. Notable VIPs also present were: the former Governor, Mr. Munkhtuya; member of the National Security Board, Mr. Jargalsaikhan; famous actress, Ms. Purevmaa; and the well-known violinist, Mr. Duinherjav. They appealed to the people to change their diet to save the planet and their children.
Bringing the Go Vegan Message to Prison Inmates
Since early this year, a group of our Association members have been traveling throughout Mongolia and have visited eight prisons in the country, meeting about 2,700 inmates and 580 staff. They took the opportunity to inform everyone about the global warming crisis, its plant-based diet solution and the benefits of practicing meditation. They also demonstrated how to prepare some vegan dishes and provided free samples. Their presentations were enthusiastically received by all the participants and the head officials of all the prisons promised to add vegan food to the menus for the inmates.