Zach and His "Little Red Wagon"
♥♥♥♥♥♥♥♥♥
Zach proudly displays
his new Hero Jacket
By Florida News Group, USA (Originally in English)
An ordinary kid with a natural inclination to attend to others' concerns and needs, Zach Bonner of Valrico, Florida, at the age of six took his little red wagon door to door to collect clean water for the victims during Hurricane Charley in 2004. After four months, he had collected 27 truckloads of sundry items for the homeless shortly after the storm devastated the Gulf Coast. A year later, Zach's post-Katrina efforts raised US$600 in donations for the Red Cross and US$7,000 more in new toys and sporting equipment for the homeless children living in the Red Cross shelters.
As a result, the Little Red Wagon Foundation was born in 2005 out of the need to continue his noble work more efficiently as his charity work became known around the country and attracted more and more monetary donations. Since then, Zach Bonner has helped countless underprivileged children in the US through his many efforts. "My plan is to help as many kids as I can, to have fun and to keep it simple," as he put it.
Zach Bonner was a recipient of Volvo's "Alexandra Scott Butterfly Award" from which he received $25,000 for his foundation. In 2006, Zach was awarded the "Presidential Call to Service" by President Bush. In 2009, Zach accomplished yet another incredible feat; "My House to the White House," a 1,225-mile walk from Tampa, Florida, to Washington, D.C., which raised money and awareness for the nation's estimated 1.3 million homeless children.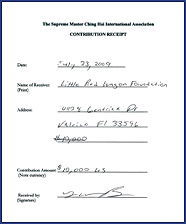 Receipt from Zach for the US$10,000 contribution
from Master
When Supreme Master Ching Hai learned about the compassionate deeds of this 11-year-old boy, She extended Her wholehearted appreciation to him with the Shining World Hero Award. It was presented to him in Tampa, Florida, on July 23, Golden Year 6 (2009), together with a US$10,000 contribution in support of his noble endeavors. "We can only imagine in awe of what you could accomplish later on, given your strong will and devotion to selflessly helping others," Master wrote in the Award letter.
Thereafter, Zach has gone on to complete yet another cross-country walk in September 2010, this time nearly 2,500 miles from Tampa to Los Angeles, California, on behalf of the less fortunate kids. Big hats off to Zach Bonner for your compassionate heart and remarkable achievements. May your loving care for the vulnerable inspire more to lend helping hands in bringing comfort and hope to youths in need. And may your little red wagon keep rolling into a brighter, heavenly future for all kids.