Center Event
A Tribute to Posthumous Animal Astronauts
By Formosa News Group (Originally in Chinese)
With the development of space science, many scientists have been using animals in space research for decades. During this research, the animals are confined in a very small cabin space for long periods of time, with all kinds of medical detectors and sensing instruments attached to their bodies. Sometimes they are even trained to operate instruments so that the experts and scientists on the ground can gather information from space. Countless animals have lost their lives in these operations. Animals that have taken part in space studies and experiments include monkeys, dogs, cats, fish and spiders.
To thank them for their selfless sacrifice, the Supreme Master Ching Hai compassionately instructed our Association members to build a permanent monument marked "Hero Award for Posthumous Animal Astronauts" in the Rainbow Garden of Hsihu Center to commemorate the innumerable animal heroes who have given their lives in space experiments.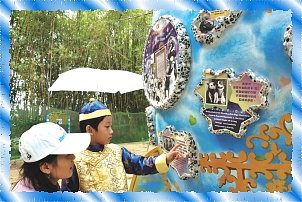 Fellow initiates explain the heroic and touching stories of the animal astronauts to the children.
The monument, unveiled at an inauguration ceremony at the Hsihu Center on November 7, Golden Year 7 (2010), is designed as a children's slide in the shape of a rocket, decorated with many glittering stars, a shining moon, and a dazzling sun with each one of them recording the heroic deed and touching stories of each of the posthumous animal astronauts.
The sacrifices and contributions of countless heroic animal astronauts have made it easier for humans to explore the mysteries of space. We offer our wholehearted gratitude and respect to these noble and benign beings for their bravery, dedication and outstanding contribution to the space development of humankind.

Fellow initiates and children dress in traditional costumes for the inauguration ceremony of the monument for Hero Award to the Posthumous Animal Astronauts.