| | | |
| --- | --- | --- |
| | Guatemala, Honduras, Nicaragua, Costa Rica | |
Sending God's Love and Timely Assistance
to the Destitute
By Costa Rica Relief Team (Originally in English)
From September to November 2010, torrential rain and tropical storms hit many countries in Central America, with the resulting floods, landslides and mudslides bringing much destruction to crops, buildings and the lives of the people. Supreme Master Ching Hai contributed a relief fund of over US$52,000 and our Association members from Costa Rica travelled to the affected regions several times to render aid and comfort the hearts of the suffering people.
Landslide and Flood Relief in Guatemala
At the beginning of September, a series of landslides and floods caused by weeks of rain in Guatemala caused extensive damage to infrastructures. Over 50 lives were lost and more than 18 people were missing. President Álvaro Colom declared a national emergency and the government organized relief efforts. In addition to extending Her love and prayers, Master provided US$15,000. Then with the assistance from CONRED (Coordinadora Nacional para la Reduccion de Desastres) and the Red Cross, our Costa Rica relief team distributed a total of 480 bags of food along with SOS flyers in six communities in the two most critically devastated municipalities in the Department of Izabal. Everywhere they went, the children were very happy to receive the sweets shared with them.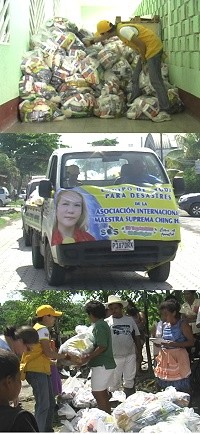 By September 25, the heavy rains that came with Tropical Storm Matthew arrived in Guatemala. Many rivers overflowed, several departments were flooded and over ten thousand people were evacuated to shelters. Supreme Master Ching Hai contributed US$5,000 and in early October, with the assistance from CONRED and the local government, our Costa Rica and EUA relief team went to severely damaged Department of Santa Rosa to deliver much needed drinking water and food to 425 families in four villages.
As if hearing the prayers of the struggling people, in November, Master provided another US$10,000 fund and asked our Association members to check if additional urgent items were required such as clothes and blankets for children. Our relief team from Colombia and Costa Rica arrived in the Petén Department and were informed by the Director of CONRED, Mr. Yobani Martinez, that indeed, more families were still waiting for aid. The team immediately purchased enough food for one week for 550 families and with assistance from the military and CONRED staff, they offered the relief packages to the needy, who were deeply touched by Master's love and great compassion.
Storm and Flood Aid in Honduras
As Tropical Storm Matthew moved northward to Honduras, the government issued a nationwide red alert and dispatched the military as well as 3,000 Red Cross workers to help, after thousands of families had been evacuated from flooded areas. Many people lost everything including their crops, to the rising waters. With Master's US$10,000 contribution, our Costa Rica Association members joined our local fellow initiates to carry out the relief work. They contacted the Head of the Honduras Fire Department, General Carlos Cordero, who kindly gave them guidance on the best way to organize the relief effort, assigned firemen to help pack the purchased food in the Fire Station and arranged the transportation as well.
In October, the relief team visited six communities in Pespire, Department of Choluteca and three communities in Nacaome, Department of Valle, helping more than 800 families in total. Extremely happy and grateful, because for many it was the first aid they had received since the emergency, they sent Master blessings, hugs and many thanks.
Storm and Flood Assistance in Nicaragua

Strong rains during the months of September and October increased the water flow of rivers and Lake Xolotlan Managua in Nicaragua, which has been elevated about 12 meters higher than the normal level. More than 60 people lost their lives and over 10,000 were relocated to government provided shelters. Our Association's relief team from Costa Rica quickly prepared enough food to feed 1,000 people for a month as well as some hygiene items with the US$5,000 fund provided by Master, and delivered everything to six major shelters, along with SOS flyers and Sample Booklets. They received assistance from Father Fabio, a Catholic priest who greatly appreciated Master's loving contribution and who accompanied them to visit the biggest cable company in the country, Claro TV, and two TV stations, Canal 10 and Canal Ecologico, to urge them to spread the vegan message as the best, quickest and fastest solution to global warming.
Heavy Rain and Mudslide Relief in Costa Rica

In early November, heavy and continuous rains caused mudslides across the nation. At least 20 lives were lost, 12 others were missing and approximately 1,500 people were evacuated to temporary shelters. The government declared a red alert, as emergency crews and citizens rushed to clear the debris.
With the US$7,500 contribution from Supreme Master Ching Hai, our Costa Rica relief team distributed a total of 900 hygiene kits to families in four communities in the most affected Parrita Canton on November 5. They also visited shelters in the Escazú area to hand out SOS flyers and cook delicious vegan food for the volunteers and people staying there.
Our Costa Rica Association members thank all the officials and emergency crews for their caring actions to ensure the safety of the affected people. They send their deep sympathies to those who lost loved ones and pray that such extreme conditions are lessened with humanity's greater respect and kindness toward all beings and the environment.

Expenditures by Supreme Master Ching Hai
for the Disaster Relief Work in Central America
| | | |
| --- | --- | --- |
| Description | Amount (US$) | Receipt |
| Guatemala Relief: | | |
| Food (rice, beans, spaghetti, cornmeal, cooking oil, flour, noodles, soy mix for babies, drinking water, etc.) | 27,193 | A |
| Travel expenses (airtickets, hotel, etc.) | 3,763 | |
| Honduras Relief: | | |
| Food (rice, beans, spaghetti, cornmeal, sugar, cooking oil, salt, etc.) | 9,766 | B |
| Travel expenses (airtickets, hotel, etc.) | 235 | |
| Nicaragua Relief: | | |
| Food (rice, oats, wheat, chocolate peanut grain mix, bananas and sugar) and supplies (soap, bleach, T-shirts, etc.) | 4,818 | C |
| Travel expenses (airtickets, hotel, etc.) | 313 | |
| Costa Rica Relief: | | |
| Supplies (hygiene items, soap, toothbrushes, toothpaste, towels, disinfectant and bedspreads) | 7,500 | D |
| Total | US$53,588 | |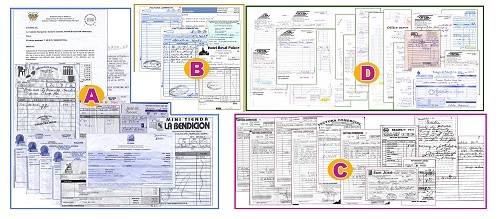 <<
>>

Refer this page to friends
To view the Humanitarian Relief Activities by the Supreme Master Ching Hai and Her International Association, please visit:
http://www.GodsDirectContact.org.tw/humanitarian
(The list can be sorted by year, country/region and type of events.)