| | | |
| --- | --- | --- |
| | Philippines | |
God's Love Graces
the Devastated Philippine People
Combined reports by relief teams from the Philippines and Formosa
(Originally in English and Chinese)
Fire Affected Touched by Master's Boundless Love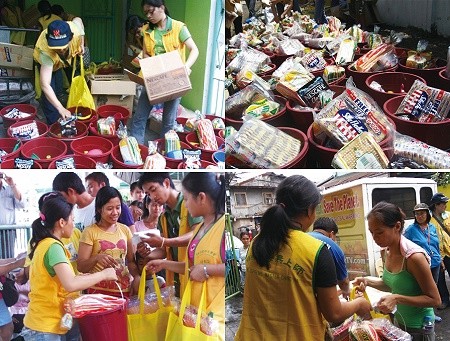 On Saturday May 15, 2010, a seven-hour fire of unknown origin devastated a residential area in Barangay Cupang, Muntinlupa City. Approximately 800 houses were razed, leaving 4,000 affected. On May 27, our local Philippine Association members arranged a relief operation to extend Master's loving concern and generous contribution of US$15,000 to those people. Much needed supplies including sleeping mats, mattresses, food and hygiene items that were distributed brought comfort and happiness to hearts of the recipients. Many wanted to know who Master is and expressed their thankfulness for receiving the timely and helpful relief items containing everything they needed.
Remaining funds were used to help more than 200 families in the regions around Metro Manila who suffered less damage. The relief team was grateful to Master for giving them the opportunity to share their love with the less fortunate.
Relief Rendered Twice to Typhoon Affected People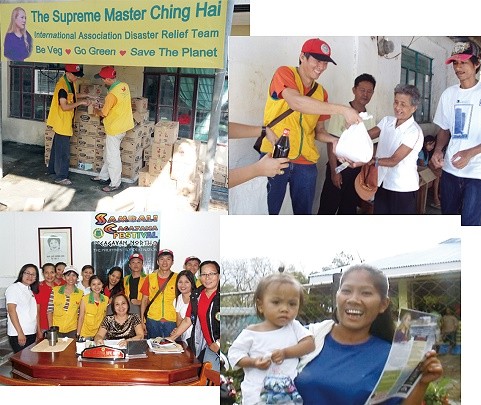 On October 18, Typhoon Megi struck the Cagayan Valley area in the Philippines, sweeping away many roofs and destroying crops. Deeply concerned about the victims, Master immediately allocated a fund of US$15,000 and asked our Association members to go and render support.
A relief team formed by our local members and those from Formosa immediately went to the affected area to assess the situation. Deciding to concentrate their efforts in Iguig, Penablanca, Alcala and other towns where help was urgently needed, the team quickly purchased the required materials, and together with Alternative Living flyers, distributed them to 3,620 victims. Those afflicted were grateful to Master for Her love and help. They said that the content of the flyers was very beneficial. An official from the Department of Social Welfare and Development even asked for more flyers to distribute to all the households in the area. With the remaining funds, the relief team purchased rice, biscuits and sweets for the orphanages in Solana Town and Cauayan City.
In early November, an incessant downpour once again brought on by Typhoon Megi gravely affected the livelihoods of 145,000 people in five provinces. The flood in the Cagayan region was unprecedented in its history, taking at least 11 lives. Upon knowing of the disaster, Master again allocated a fund of US$20,000 and asked our Association members to convey Her love and concern to those needing urgent help. Our relief team from Formosa travelled to the affected area in Cagayan on November 10 and distributed daily necessities to the shelters. A total of 6,582 households in 47 towns received relief materials that included rice, soy sauce, vinegar, salt, rice flour and sweets.
For three consecutive days during the relief operation, the Mayor of Tuguegarao City, Mr. Nicanor de Leon, and his wife accompanied our team to distribute the materials. Wherever they went, the Mayor always called upon the people to change their diet to save the planet. He introduced Master's message and ideal to help them understand that the greatest contributor to global warming is the meat diet. Many also agreed that the best way to save the planet is to adopt a plant-based diet.
Reaching Out to Landslide and Flood Victims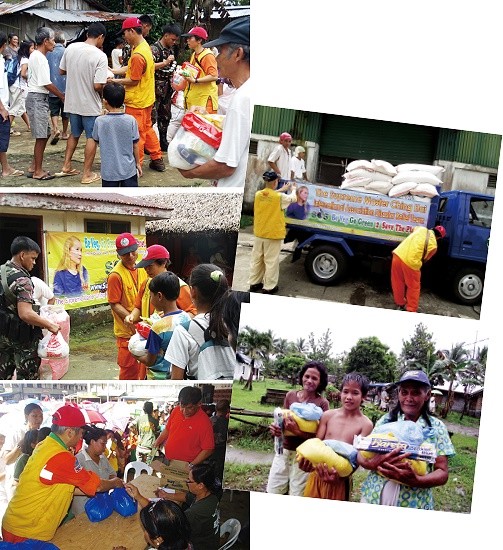 Near the end of December, heavy rains causing a landslide and flood in the eastern part of the Philippines affected 40,656 families and 208,443 people. With Master's loving contribution of US$15,000, our relief team from the Philippines and Formosa arrived at Legazpi, the capital city of severely devastated Albay Province, on January 12, 2011, where they provided relief packages containing food and hygiene supplies to each unfortunate family. The next day, the group travelled to the nearby towns of Manito, Santo Domingo and Malilipot to visit some 15 evacuation centers and distribute a total of 1,600 aid packages. They then took boats to reach two more shelters on a remote island of Bacacay and delivered relief materials to the needy and poor there.
The relief team sincerely thank the Regional Department of Social Welfare and Development (RDSWD), the Governor's office, the Provincial Social Welfare Department (PSWD) and the army personnel who helped them during this relief operation.
In early February 2011, Sulu Archipelago, a chain of islands in the southwestern Philippines, was hit by a week-long heavy rainstorm that triggered flashfloods, big waves and a storm surge. The water level reached up to 9 feet on Jolo Island, submerging most areas and affecting a total of 5,494 families. Upon hearing this news, Master immediately contributed US$20,000 and asked our Association members to convey Her love and offer urgent aid to the most vulnerable.
On February 13, a relief team formed by our local Association members as well as those from Formosa and Korea, flew to Zamboanga City and then boarded the ship to Jolo Island. While distributing SOS flyers and booklets on the ship, they met two passengers who were willing to introduce them to Jolo's Social Welfare Officer who could assist them with the relief operation. Over the next three days, with the enthusiastic support from local policemen, government officials and volunteers, the team was able to deliver relief packages containing much needed food, water and other supplies to almost 5,000 grateful families in numerous villages including San Raymundo, Chinese Pier, Asturias, Alat, Tulay and Takut-Takut.
The relief operation was covered by DXMM AM Radio Station on Jolo, giving our Association members the opportunity to talk to all the people on the island about climate change and the vegan solution. Mayor Hussin U. Amin also expressed interest in the vital information on global warming and said he would advocate this message as well. Our team members thank God for the wonderful arrangements and blessings while doing the work. They pray that all the Filipino people will soon turn to the compassionate, plant-based diet to prevent future calamities.
On March 18, heavy rain hit Leyte Province, Central Philippines resulting in a flash flood and mudslide that claimed the lives of an entire family of seven, while several more perished in Bohol Province. In total, seven central and southern Visayas provinces were affected.
Our Formosan and Philippines Association members formed a relief team and arrived in Leyte Province on March 28 with Master's loving contribution of US$15,000. Based on the assessment of local officials, they provided 3,100 food packages along with SOS flyers to two municipalities. While working, they met Mr. Alfredo D. Jaca, an announcer from the local DYBR Apple Radio station, who was very interested in obtaining more information regarding climate change. He was given a copy of Master's latest book, From Crisis to Peace: The Organic Vegan Way is the Answer. Two days later, a two-hour program concerning climate change and its vegan solution was aired on that local radio station.
Those Affected by Bulusan Volcanic Eruption Receive Loving Aid

Upon hearing that Mount Bulusan in Sorsogon Province in the Philippines erupted on February 21, Supreme Master Ching Hai lovingly offered a US$10,000 fund to assist with relief work carried out by our Formosan Association members. Despite severe weather conditions, the team finally reached their destination on March 6 and visited Mr. Jose F. Lopez, the Head of the Sorsogon Provincial Disaster Risk Management Office, who provided them with the latest report on the affected families.
With the help of volunteers from Search and Rescuers in Sorsogon, the Provincial Social Welfare Development Office, and the municipal governments, the relief team was able to deliver 4,500 food packages, each containing 3 kg of rice, soy sauce, vinegar and laundry soap, to the most vulnerable families in the municipalities of Irosin and Juban. On behalf of all the happy recipients, Mr. Lopez thanked Master for Her generous and continuous assistance extended to the Filipino people.

Expenditures by Supreme Master Ching Hai
for Relief Work in the Philippines
Description

Amount (PHP)

Receipt

Fire Relief:

Food (rice, bread, cereal, boxed lunches, cooking oil, soy sauce, vinegar, coffee, biscuits, brown sugar, sweets and salt), relief materials (sleeping mats, mattresses, soap, bags, buckets and dippers), transportation expenses for relief materials

702,690

P1

Typhoon Relief:

Food (rice, cooking oil, rice flour, soy sauce, biscuits, sugar, vinegar, salt and sweets), packing and transportation expenses for relief materials

1,521,237

P2

Mudslide and Flood Relief:

Food (rice, water, cooking oil, sugar, vinegar, salt, rice flour, soy sauce, biscuits, sweets and beverages), cleaning supplies (bath and laundry soap), packing and transportation expenses for relief materials

2,143,236

P3

Mount Bulusan Volcanic Eruption Relief:

Food (rice, vinegar, soy sauce, cookies) and soap

434,565

P4

Total

PHP4,801,728

(US$109,537)

*Throughout the relief operation, team members paid for their own food, transportation and accommodation expenses.

<<
>>

Refer this page to friends
To view the Humanitarian Relief Activities by the Supreme Master Ching Hai and Her International Association, please visit:
http://www.GodsDirectContact.org.tw/humanitarian
(The list can be sorted by year, country/region and type of events.)