| | | |
| --- | --- | --- |
| | Indonesia | |
Assistance to Those Devastated
by Disasters
By Indonesia News Group (Originally in Indonesian)
Since October 2010, a series of disasters have affected the lives of the Indonesian people. In response to their needs, Supreme Master Ching Hai lovingly sent funds several times to assist the relief operations by our local Association members.
Flood Relief in West Papua and East Nusa Tenggara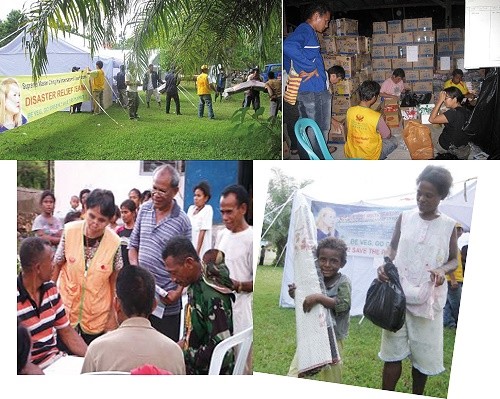 On October 4, torrential rains in the eastern Indonesian province resulted in sudden flash floods and landslides that damaged thousands of buildings, bridges and roads in five villages. Over 5,000 residents left their homes to stay in emergency shelters, at least 148 people lost their lives, with more than 100 missing and about a thousand others were injured.
Learning that the more than 4,000 refugees who had relocated to the District Military Command and Forestry Training Camp in the town of Manokwari were very much in need of food, on October 10, our Association members from Jakarta Center formed a relief team and with Master's US$10,000 loving contribution, about US$5,700 from our local fellow initiates and the assistance from the Indonesian Red Cross, they provided a nutritious vegan dinner for 700 refugees and distributed urgent materials such as sarongs, insect repellent, mats, baby kits, hygiene items and school supplies. The team also took the chance to share SOS flyers and explain the root-cause of global warming, the meat diet, to the local people. Many of them showed genuine concern about the climate crisis and were eager to learn how they could help.
On November 3, continuous heavy rainfall caused sudden flooding in Skinu Village, Toinasa District, South Central Timor Regency, damaging about 180 houses and affecting more than 350 families. A representative from our Jakarta Center quickly delivered urgently needed food, blankets and kerosene. The village head and the refugee coordinator thanked Supreme Master Ching Hai for all Her love and care.
Mentawai Tsunami Relief
On October 25, a 7.7 magnitude earthquake hit off the western coast of Sumatra, Indonesia. The tsunami which followed created destruction on several Mentawai Islands. It was estimated that about 400 people perished, 300 were missing, and nearly 65,000 affected. Supreme Master Ching Hai immediately sent Her deep condolences and prayers along with a US$10,000 contribution to assist the people in plight. Our Indonesian Association members also offered US$10,000 and formed a relief team to bring aid to the victims.

After consulting with Padang Red Cross Indonesia, the relief team purchased food, water, tents, clothing, kitchen utensils and medicine. They travelled by air and then by boat for days before reaching the port in Sikakap, Mentawai late in the evening on November 4, and then immediately delivered the much needed medicine to the Sikakap Clinic. The following day, with the cooperation from West Sumatra Disaster Management Agency, the team loaded all the supplies on two small boats and distributed them to the people in eight villages (Malakopak Monga, Sabiret, Eruparaboat, Small Muntei, Big Muntei, Purorogat, Muntei baru-baru and Asahan) in North and South Pagai in the Mentawai Islands. With God's grace, even though the boats broke down several times during the trip, they managed to repair them. The recipients were extremely grateful to Master for Her timely aid and sent Her blessings and love.
Mount Merapi Eruption Relief on Java Island

On October 26, Mount Merapi, one of the most active volcanoes in the world located on the border between Yogyakarta and Central Java, Indonesia, erupted after some weeks of increasing seismic activity. It was reported that this series of eruptions is the biggest that has occurred within the last 100 years. Over a period of three weeks, Mount Merapi unleashed approximately 150 million cubic meters of volcanic material from within its crater, affecting the districts of Sleman, Klaten, Boyolali and Magelang, displacing about 384,000 people and causing more than 680 casualties.
From day two of the disaster, our local Association members, supported by the Loving Huts in Yogyakarta and Surakarta, sent approximately 200 boxed lunches to citizens who had fled their homes. On November 5, when the area of danger expanded to 20 km surrounding the crater, the Yogyakarta Centre was also forced to move to a safer place downtown. Despite the risk, the next day, the Yogyakarta Center worked with volunteers from the Jakarta Center to carry out relief work aided by Master's loving contribution of US$15,000 and other financial assistance provided by fellow Association members from all over Indonesia.
At the request of the local Red Cross, our Association members opened two vegan public kitchens, one at Keceme Village and the other at Cebongan Village, to serve lunch and dinner to hundreds of displaced people. A few of the refugees volunteered to help prepare the meals and in the process, acquired new skills in cooking vegan food.

Association members also distributed 500 hygiene kits, 500 baby kits, 1,000 sarongs, 400 blankets and some new clothes offered by our Surabaya Center, to several refugee camps. In addition, they contributed IDR 2 million (about US$200) to Animal Friends Jogja, Jakarta Animal Aid Network and Centre for Orang-utan Protection to support their heroic deeds of rescuing and caring for wounded animals including monkeys, birds and squirrels.
In Deles Village, Klaten District, they gave another IDR 2 million to animal lover and environmental activist Mr. Sukiman Mochtar Pratomo, who was once featured on Supreme Master TV for his years of effort in growing fruit trees around the Mount Merapi peak to feed the monkeys. According to Mr. Sukiman, at the time of the biggest eruption, a huge rock avalanche descended directly towards his village, but miraculously changed course as if his village were protected by an invisible wall. They also brought bananas, maize, guavas and papayas for the monkeys.
From when the volcanic activity subsided up until November 26, our Association members continued their relief work distributing 1.2 tons of rice and textured vegetable protein to 250 families in the three villages of Banjarsari, Ledok Lempong and Sidosari.
All the fellow initiates were grateful for the opportunity to share Master's unconditional love with the afflicted people and animals. They wish the brave Indonesian people the strength to recover quickly from this ordeal and pray that they might strive to adopt the gentle, loving, vegan lifestyle to protect the Earth, themselves and their animal friends.

Expenditures by Supreme Master Ching Hai and Her International Association for Relief Work in Indonesia
Description

Amount (IDR)

Receipt

Flood Relief in West Papua and East Nusa Tenggara:

Food (rice, green beans, soy beans, baby food), vitamins, medicines, hygiene items, school supplies, baby kits, sarongs, mats, sports equipment, blankets, kerosene, and miscellaneous expenses (banners, air tickets, lodging, etc.)

161,950,100

A

Tsunami Relief in Mentawai:

Food (rice, green beans, soy milk, instant noodles, biscuits), water, clothes (sarongs, T-shirts, pants, shorts), medicines, miscellaneous expenses (trucks/boats rental fee, fuel, etc.)

164,618,000

B

Mount Merapi Eruption Relief:

Food (rice, flour, sugar, oil, beans, soy sauce, tofu, fruit, vegetables, seasonings, etc.) supplies (soap, blankets, towels, mosquito repellent, baby hygiene kits, buckets, notebooks, markers, etc.), cash contribution, miscellaneous travel expenses

159,436,566

C

Total

IDR486,004,666
(US$54,233)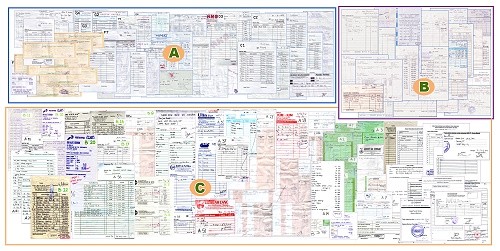 <<
>>

Refer this page to friends
To view the Humanitarian Relief Activities by the Supreme Master Ching Hai and Her International Association, please visit:
http://www.GodsDirectContact.org.tw/humanitarian
(The list can be sorted by year, country/region and type of events.)