Starting in mid-October last year, at least 13 central and northeastern provinces in Thailand were hit with floods following days of unrelenting monsoon rains. Nakhon Ratchasima Province faced the worst flooding in 50 years. Over 1.4 million people were affected by October 23 with thousands having fled to dryer areas and many acres of farmland being submerged. The central government dispatched troops, police and volunteers to rescue and evacuate residents, many via boat, as well as to deliver food to the inundated communities and to those stranded. From a popular tourist area known as Elephant Village in the central province of Ayutthaya, officials moved 92 endangered elephants to a safer location.
Sending Her sincere prayers and loving concern, Supreme Master Ching Hai contributed US$10,000 to assist the relief work carried out by our Association members from the Bangkok Center. On October 21, the team delivered about 500 servings of vegan food prepared by Loving Hut Nakhon Ratchasima to people in Pak Thong Chai District. The recipients were overjoyed to receive such a healthy and nutritious meal in their time of trouble.
On October 25, after preparing 2,000 emergency packages containing food, water, medicine, and global warming flyers, our team members divided themselves into two groups. One travelled to the Phimai District in Nakhon Ratchasima Province in Northeastern Thailand and the other went to Ayutthaya and Saraburi Provinces in the central region. With help from the vice governor of Nakhon Ratchasima Province, Mr. Somak Prinsutho, the first group distributed 1,000 packages to the affected families in Tamra and Nong Moung Villages in Tha Luang sub-district. In the central region, the second group distributed packages to 950 families in Tha Ruea District and to 50 families in Khok Bo Village in Ban Mo District.
The next day, four relief team members went to Kao Loi Village on Ayuthaya Island, where people had not received any aid for two weeks after the flood. To each of the 250 needy families, they gave rice, water, vegan food, SOS flyers and sweets for the children, all of which were received with much joy and appreciation.
In the same month, Southern Thailand also experienced severe flooding which caused serious damage. With Master's US$5,000 contribution and at the request of Mayor Wirot Tanhawan of Ranot District in Songkhla Province, our local Association members prepared 700 food and drink packages which they distributed to the villagers in that area on November 8. The next day, having consulted Mayor Prasit Situtjindara in Sathing Phra District, they delivered 2,100 roof tiles plus roofing hooks to the villagers there.
In December, upon hearing that four families in Pak Phayun District, Phatthalung Province were in great difficulty and had not yet received any aid in two months, our merciful Master offered US$5,000 to them for house repairs. When each family received 37,500 baht from our Association members, they were extremely grateful and asked to convey their deep heartfelt thanks to Master.
Sending Warmth to the Cold Weather Affected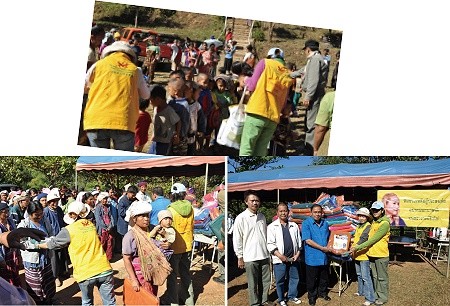 On December 19, the Thai Department of Disaster Prevention and Mitigation declared a winter disaster zone in 20 northern and northeastern provinces, where temperatures had fallen below eight degrees Celsius. Following instructions from the Interior Ministry, special relief centers were established, with affected provinces being provided with financial assistance. This followed a similar disaster declaration made in mid-November, when 12 northern and northeastern provinces were also struck with unusually harsh conditions.
Conveying Master's love, prayers and US$15,000 aid, our Association members from Bangkok and Chiang Mai distributed 2,000 blankets along with SOS flyers, plus sweet and soymilk for the children on January 14 and 15, 2011, to those in the neediest mountainous areas in Mae La Noi and Pang Mapha Districts, Mae Hong Son Province. About a week later, an additional 800 blankets were given to stranded people in Nakhon Phanom and Mukdahan Provinces.
We are thankful to Your Majesty, Your Royal Highness, the Thai and Burmese officials, and all others working to alleviate the conditions of the disaster-stricken. May Buddha protect the Thai people as we strive to lessen such weather intensities by fostering gentler, more eco-conscious ways.