Panorama of Events
Formosa
Plant-Based Diet, a New Trend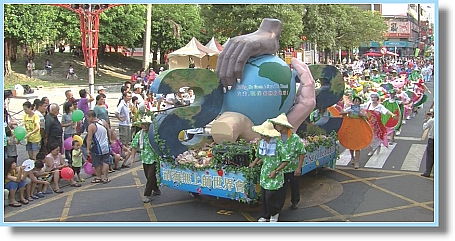 Report compiled by Formosa News Groups (Originally in Chinese)
[Formosa] The continuous outbreak of disasters worldwide has long made climate change a global concern. In Formosa, mitigating global warming with a plant-based diet has become more than a slogan as a growing number of people and organizations take action to save the planet.
Veganism on School Campuses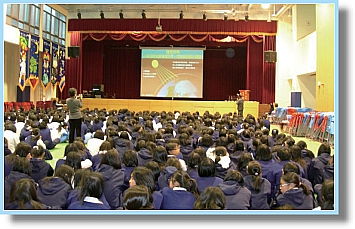 According to the Formosa Ministry of Education, approximately 86% of elementary and junior high schools nationwide have joined the effort to go veg and reduce their carbon footprint by providing plant-based lunches to students once or twice a week, or month. In Yunlin County, the government has been promoting this new vegan concept actively to the teachers and staff in schools, and schools have been learning from each other in this regard. The program has been very successful and has received more than expected support from the parents. In Taoyuan County, some 112,000 students and teachers in 112 schools are supporting the Meatless Monday movement, which will help reduce carbon emissions by 3,494 tons a year according to estimates.
Officials and Scientists Take the Lead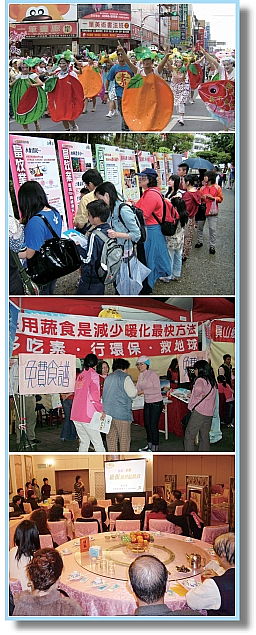 The support from government officials is one of the key factors that make promotion of the vegan diet as a solution to global warming a success. The long-time vegetarian Deputy Minister of Education, Mr. Lin Tsong-ming, has been a strong advocate of this diet. In a 2011 ministerial meeting, he spoke to more than 200 education officials on how to halt global warming with a plant-based diet, encouraging them to spearhead the effort. Taipei Mayor, Mr. Hau Lung-bin, is another earnest supporter who recently discussed the health and environmental benefits of veganism with reporters. He is now taking at least one vegetarian meal each day. Many other local government heads in Formosa also have made dietary changes. Kaohsiung Mayor, Mr. Chen Chu, Yunlin County Magistrate, Mr. Su Zhi-fen, and many others have adopted a pure vegetarian diet, setting an excellent example for people.
Mr. Lee Yuan-tseh, Nobel laureate for chemistry and former President of Formosa's Academia Sinica, is also a Meatless Monday supporter. He pointed out that a drastic increase in greenhouse gases could lead to the extinction of humankind on this planet in a hundred years. He said good health could be maintained by leading a simple lifestyle, eating less meat and more plant-based food. The smaller the meat-eating population is, the bigger the chance of survival for human beings on Earth.
Growing Veg Population Boosts Veg Food Sales
In response to the increasing demand for plant-based food, several prominent food companies in Formosa have turned to developing veg products. Many non-vegetarian restaurants have also added veg options to their menus, or simply changed to serve vegetarian or vegan food. According to Formosa's largest online vegetarian food outlet, there have been more non-vegetarian customers than vegetarian customers shopping online for its veg products.  This is concrete proof that the vegetarian population is increasing quickly.
Conclusion
To further publicize the importance of the plant-based diet, our fellow practitioners have scheduled hundreds of seminars each month in schools and private organizations throughout Formosa, plus the continuous distribution of informative material. The combined loving endeavors from Master and fellow practitioners have born fruit, as the non-meat-eating population in Formosa is expanding rapidly. We hope the whole world would soon adopt the sustainable and healthy plant-based diet in a joint effort to save our planet!
New Year Reunion under God's Grace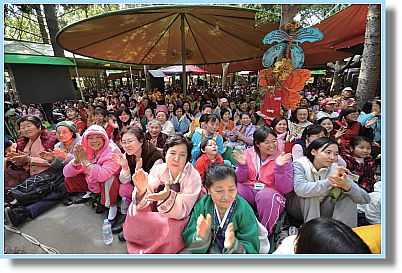 By Formosa News Group (Originally in Chinese)
[Hsihu] For most Chinese people, Lunar New Year is the most joyful occasion of the year. This year, there was an even more delightful surprise — Master kindly permitted our fellow initiates from around the world to gather for a reunion and group meditation at Hsihu Center during the Lunar New Year holiday. The arrival of fellow initiates beginning on New Year's Eve (February 2) added to the festive atmosphere. Over the next four days, some 17,000 fellow initiates and guests participated in the New Year's celebration and stood in long queues for the auspicious red envelope (containing lucky money) from Master.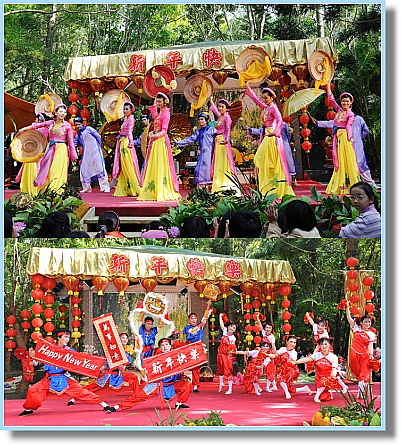 Celebrations started on the afternoon of New Year's Day with the activity "Greeting a Vegan Planet in the New Year, and Praying for World Peace" at the Forest Meditation Hall. A warm and joyful ambience pervaded all hearts as our fellow initiates from different countries presented more than 20 brilliant performances. It awakened wonderful memories of previous Lunar New Year celebrations that we had shared with Master.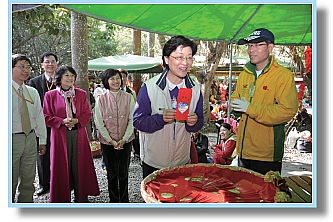 Madam Wang Ching-feng, Formosa's former Minister of Justice, happily receives the auspicious red envelope.
On the third day of the New Year (February 5), Madam Wang Ching-feng, a vegetarian and former Minister of Justice of Formosa, accepted an invitation to visit Hsihu. She was surprised to discover that this unique Center is in perfect harmony with nature and is absent of fancy construction; all the people here breathe in tune with Mother Nature. Observing the wholehearted smiles on everyone's face, she was convinced that this place is full of positive energy.
Madam Wang said that she has read many of Master's books and is aware of Her great compassion in saving sentient beings. She is certain that the vegan diet is a growing trend because it is beneficial to health and could save the planet. She strongly supports Master's call to Be Veg, Go Green 2 Save the Planet and appealed to everyone to respond in kind.
Over those four days, Loving Hut International conducted vegan cooking demonstrations, attracting large crowds eager to learn from the chief chef how to prepare delicious New Year dishes. An endless flow of people lingered before the exhibits of Master's publications, paintings, Longevity Lamps, Celestial Clothes, Celestial Jewelry, peripheral works of art, and Master's latest poetry anthology The Love of Centuries.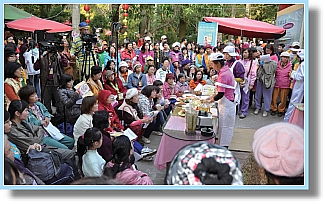 Cherishing the opportunity to recharge under the warm sunshine and from the three Spiritual Blessing Lines, our fellow initiates meditated in God's love and blessing in the Bamboo Grove, International Garden, Treasure Pavilion, Forest Meditation Hall, and near the Nectar River. While looking forward to a good start to positive change in the New Year, everyone sincerely prayed that the planet will become safer and better, thus realizing Master's dream of a peaceful, vegan world this year!
An Inspiring Award Presentation Ceremony
By Taipei News Group (Originally in Chinese)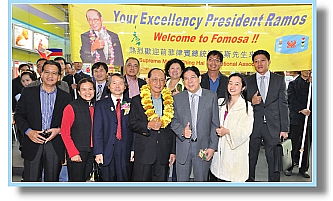 Fellow initiates warmly welcome Mr. Ramos and their accompanying friends.
[Taipei] On March 5, Golden Year 8 (2011), the Ramos Peace and Development Foundation, established by 12th Philippine President, His Excellency Fidel V. Ramos, presented the Environmental Protection and Humanitarian Award to Supreme Master Ching Hai in recognition of Her many years of advocating and implementing environmental protection solutions and the outstanding humanitarian work She has accomplished throughout the world. The award ceremony took place in a vegan restaurant in Taipei. VIPs present at the occasion included Mr. Ramos; Mr. Antonio Basillio, Philippine Ambassador in Formosa; staff members from the Ambassador's office; U.S. Government dignitaries; and other distinguished guests.
In his speech, His Excellency Mr. Ramos said that Supreme Master Ching Hai has always been a good friend of the Philippine people. Although the Ramos Peace and Development Foundation is not a big organization, they are engaged in many activities based on the principles of caring, sharing and daring. Apart from providing for their own people, they also support the needy in other countries, hoping to create a better future for the younger generation.
When presenting the award, Mr. Ramos read aloud the words engraved on the trophy. In explaining why the trophy was shaped like a big bowl, he said: "This is a big, big bowl. And it is to be filled up by the people of the world with fruits and vegetables. And I'm sure you will do it under Supreme Master Ching Hai's guidance and direction." In addition, he presented several books for Master that he had authored and personally autographed.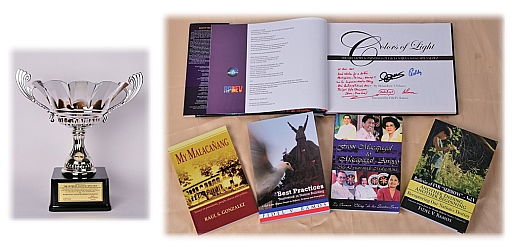 The Environmental Protection and Humanitarian Award
His Excellency Mr. Ramos presented to Master
along with some of his autographed books.

Owing to Her busy schedule, Supreme Master Ching Hai was unable to attend the ceremony in person, so the award was received by a representative of the Supreme Master Ching Hai International Association on Her behalf. He conveyed Master's thankfulness for this great honor, and presented to Mr. Ramos some gifts in return, which included Master's new book—From Crisis to Peace: The Organic Vegan Way is the Answer, a crystal rabbit, a traditional Chinese New Year couplet and a Longevity Lamp. In his letter of appreciation to Master, Mr. Ramos expressed his heartfelt gratitude. He mentioned: "While our work to serve our country and people is far from over and new challenges continue to confront us, it is comforting to know that there are friends like you, whom we can depend on and work with, towards the attainment of our common aspirations of enduring peace and shared prosperity in the Asia-Pacific region, and a better quality of life for all our people."
After the ceremony, a vegan meal of more than ten delectable dishes was served to the guests at the venue, who expressed great enjoyment of the wonderful food. Following that and to everyone's surprise, a three-layer vegan birthday cake was also prepared. All those in attendance sang "Happy Birthday" to celebrate His Excellency Mr. Ramos' 83rd birthday, which happened to be on March 18.
This event highlighted the noble aspirations of a great spiritual master and a wise leader who has brought endless benefit to the entire world. Her immense love and compassion for all have inspired people everywhere to strive together for world peace and human welfare.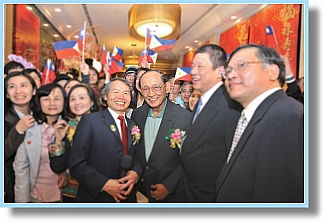 Mr. Ramos with fellow initiates attending the ceremony.
To watch the award presentation covered by Supreme Master TV, please visit: http://video.Godsdirectcontact.net/magazine/NWN1658c.php
\