Special Reports
"Supreme Master Television, in recognition of your 4th anniversary, the State Senate of California commends and salutes your constructive programming, as you and the artistic community commemorate the occasion of your milestone achievement."
~The Honorable Ron Calderon
California State Senator
By Supreme Master Television News Team (Originally in English)
| | |
| --- | --- |
| | With Master's boundless blessings and the warm-hearted support from the global viewers, Supreme Master Television rejoiced in another wonderful year of constructive programming on six continents. The 4th year anniversary on September 7, Golden Year 7 (2010), was commemorated with a vibrant concert replete with international flairs, entitled "Gifting Peace," hosted by the very vegan and very accomplished duo: 4-time NBA basketball champion John Salley and CNN/CBS legal analyst Lisa Bloom. |
With enthusiastic participation of esteemed individuals, the concert took audiences on a memorable journey to artistic realms through outstanding poetry, music, and dance. Supreme Master Ching Hai, having set aside Her precious time, graced the event via teleconference as Guest of Honor.
The program also featured Oscar-nominated actor Eric Roberts as guest speaker, and distinguished celebrity presenters included: Emmy Award-winning actress and vegetarian Lindsay Wagner (The Bionic Woman); vegan actress Trina Parks (Diamonds Are Forever); first male supermodel and British-Persian vegan Yogi Cameron Alborzian; actor Patrick Kilpatrick (Under Seige 2, Free Willy 3); founder of the Academy of Television Arts & Sciences Stunt Peer Group and vegan actress Spice Williams-Crosby (Million Dollar Baby, Star Trek V); and television host Brandi Williams (KTLA, E!).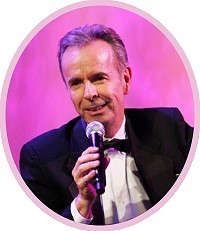 The highlight of the concert was the world premiere of songs adapted from Supreme Master Ching Hai's poetry. Enthralled by the poet's sublime verses, eminent American composers were inspired to set them in the magical language of music, and new masterpieces were lovingly brought into being. Extraordinary composers of these exquisite, creative offerings included 2-time Oscar winner Al Kasha, Oscar and 3-time Emmy winner Bill Conti, Grammy winner Bill Cunliffe, and Oscar and Grammy winner David Shire, all of whom dedicated their magnificent works as a special surprise to the poet, Supreme Master Ching Hai.

The splendid lyrics and melodious music were conveyed superbly by acclaimed musicians: multi-platinum recording artist Donna Lewis, performing her own magical compositions of Supreme Master Ching Hai's poetry; Tony Award winner Karen Ziemba; Grammy nominee Kashif; lyric soprano Leah Allers; Emmy winner and Tony nominee Liz Callaway; Tony Award winner and 4-time Grammy nominee Melba Moore; Grammy winner Melissa Manchester; all-time favorite Aulacese (Vietnamese) male vocalist Tu?n Ng?c; and pop diva Tr?n Thu Hà.
The Honorable Ron Calderon, California State Senator, who is also currently Chair of the Senate Select Committee on California's Film and Television Industries, a member of the California Film Commission, and Co-chair of the Joint Committee on the Arts, could not attend due to scheduling and sent his representative, Bob Jimenez, to present the Gold Senate Certificate of Commendation.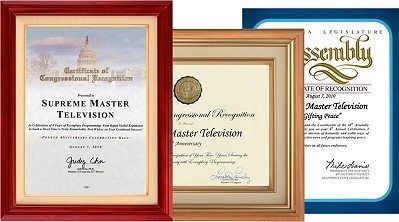 The Academy Award nominee and 3-time Golden Globe nominee actor Eric Roberts, who, along with his beautiful wife, actress Eliza Roberts, is a vegan and dedicated animal lover, made a special trip in the middle of promotions and attending premieres for the #1 box office movie The Expendables to introduce our Guest of Honor, Supreme Master Ching Hai. Speaking of Her elevating contributions through the remarkable venue of Supreme Master Television, he said, "So how did this relatively young, unique, global channel begin? It was through the inspiration and guidance of Supreme Master Ching Hai. And the channel has gone from strength to strength in its pure-hearted mission of offering the world informative and uplifting programming. . . . And on behalf of all artists and entertainers involved, I'd like to add that we're so glad to have this chance to be inspired by her poetry and bring it forth for a wider audience to enjoy through this concert. Indeed, Supreme Master Ching Hai is an extraordinary lady who gives and gives with compassion and grace."
Supreme Master Ching Hai answered the longing hearts of many audience members and agreed to a spontaneous question-and-answer session in which she shared Her insights on love, peace, and forgiveness, and what it can mean for ourselves, our gentle animal co-inhabitants, and our beautiful planet.
Actor Patrick Kilpatrick asked, "Supreme Master, I think we can all embrace your message of love and kindness and forgiveness. But in the case of violence and war, when we say it never has a place, don't these rights, even in the vegan world, have to be defended sometimes, in the most extreme circumstances?"
Master answered, "But the thing is, I would never agree to violence. It doesn't matter what circumstances. Suppose people come here and want to take my life, for example. And I have no other choice at all and I just let them, because I will have another life. In the universe, everything will take care of itself in time, if we just let it and if we adhere to the principle of love, meaning that we will not cause harm to anyone, even in self-defense. Because we forget, whenever we make war with someone, then that moment, we forget the principle of love, we forget ourselves, we cut a part of our love away from ourselves. And that's why we must always forgive, must always love, must always love thy enemy."
Thereafter, for Her prodigious endeavors to assist humanity as a world renowned humanitarian, artist, and spiritual teacher, Supreme Master Ching Hai was recognized with a Presidential Volunteer Service Award from United States President His Excellency Barack Obama, presented by The Honorable Mike Davis, California State Assembly member.
The award from President Obama reads:
To Supreme Master Ching Hai,
Congratulations on receiving the President's Volunteer Service Award, and thank you for helping to address the most pressing needs in your community and our country. Your volunteer service demonstrates the kind of commitment to your community that moves America a step closer to its great promise. Thank you for your devotion to service and for doing all you can to shape a better tomorrow for our great nation.
Barack Obama, President of the United States of America
Master expressed words of thanks in response. "Noble friends, including Mr. Davis and the government of America, we can never thank you enough for all your kindness and valuable support now and always. I can only say that I pray Heaven to bless you, your country, and all the persons you love and all the ideals that you cherish. . . . . May God bless you. God bless America."
"Dream in the Night" was the first song to be performed, adapted to music from Supreme Master Ching Hai's lyrical poem, set to music by composer Al Kasha and sung by Liz Callaway. Onstage, Mr. Kasha, a devout born-again Christian and ordained minister of his own church, had shared with the audience that he would become vegan from that day forward, which drew a big round of applause. Mr. Kasha later professed during an interview that he has read the Bible thousands of times and has it memorized by heart. Since receiving Master's Key of Immediate Enlightenment book, her message of love truly rings in his heart and he now considers it as his second Bible.
The next songs performed were "If" and "To Be Able to Love You" with poems by Supreme Master Ching Hai and music by composer Bill Cunliffe. Lending her incredible voice for these pieces was Ms. Melba Moore, a singer and actress praised for her ever-evolving repertoire. Ms. Moore looked gorgeous in a gold couture gown wearing the matching jewelry set "The Ancient Beauty," designed by Supreme Master Ching Hai. She shared a heartfelt message with the audience. "I hope that you can tell I'm extremely excited to be here. I feel like I'm amongst my own, people who are led by the heart, and the heart that tells them that God is first and we are creatures of God and we must love one another. So I'm very, very thankful to Supreme Master Ching Hai for letting me be a part of the chosen number."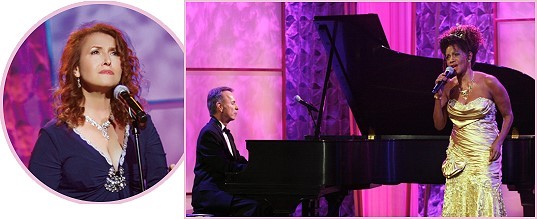 Ms. Manchester, who had brought along her vegetarian daughter to enjoy the concert, expressed, "I loved 'For the Afternoon Walk' because gratitude is a central pillar of my life. And to sing a song that says, 'Thank you, thank you, thank you, thank you, over and over, thank you for the hours, thank you for the days, thank you for the seconds, thank you for the nights,' it puts me, as a singing actor, immediately into a positive, sweet place. The place where I want to be, the place where I feel most connected with spirit. And the other song about loneliness was very touching because you really felt the isolation of emotion when you are in that sad, isolated, lonely place. And even the Supreme Master must have her moments. And that's what makes the divine human. And so to sing a song that really sculpts that feeling so beautifully, it's a gift for me as a singer."
Although he would be away on the East Coast at the time of the concert, our Association's longtime friend, composer Mr. Bill Conti wished to contribute his talents to celebrate Supreme Master Television's anniversary. He chose two poems written by Supreme Master Ching Hai; "It's Not Easy to Go" and "When You Said You Love Me" to set to music, which were sung by Ms. Karen Ziemba.
The younger generation in the audience was ecstatic with the participation of singer and songwriter Ms. Donna Lewis, who performed two songs which are her musical renditions of Supreme Master Ching Hai's poems, "Love" followed by "Faded Love." She then performed her own song entitled "Ireland."
Two more song premieres of Supreme Master Ching Hai's poems were performed by acclaimed Aulacese (Vietnamese) artists, Mr. Tu?n Ng?c and Ms. Tr?n Thu Hà. Interspersed between the song performances were vibrant dances which offered audiences a glimpse of the rich cultures around the globe including those from Africa, Japan, Spain, Indonesia, and Israel. Also performing their own songs was the charming vegan rock quartet "Oh Darling" whose melodies have been featured in television series on the "CW," "Lifetime," and "USA," commercials for Volkswagen, network promos for "Grey's Anatomy," and in the film "Road Trip 2."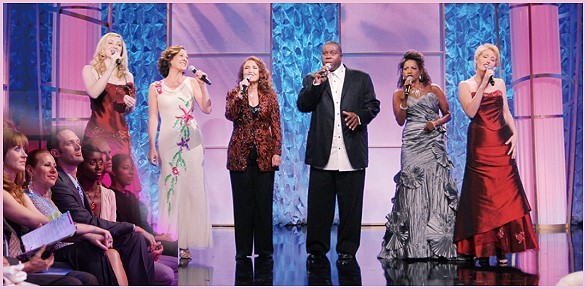 "Gifting Peace," the theme of the concert, was inspired by Supreme Master Ching Hai's poem "Let's Love." Though it was written many years ago, it conveys a timely message of hope and encouragement.
"Let's live just for each other
Let's live on for our future
Let's build Eden on Earth
Let's gift peace to each other"
Set to music by the renowned Mr. Al Kasha, the song "Let's Love" was performed by a dazzling constellation of artists. Returning to the stage were Ms. Liz Callaway, Ms. Melissa Manchester, Ms. Melba Moore, Ms. Karen Ziemba, Ms. Leah Allers, and Mr. Kashif. The union of the six harmonious voices stirred hearts and souls with their touching expression of Supreme Master Ching Hai's poem.
A gourmet vegan banquet was then enjoyed by attendees, lovingly prepared by restaurants run by our Association members, Loving Hut, Âu L?c Vegetarian Restaurant and One World Vegetarian Cuisine. Even after the concert, Supreme Master Ching Hai's precious poems, along with the composers' soaring melodies and the singers' phenomenal voices, continued to resonate in all hearts. We sincerely thank You, beloved Master, for gracing the event via teleconference with Your ever-loving, wise, and radiant presence.
As Supreme Master Television steps over the threshold into another year of broadcasting, we are ever grateful for Master's divine guidance, wisdom, and example of selfless love. We pray for the smooth success of Master's planet-elevating and lives-saving mission. May the Heavens, Saints, and Bodhisattvas in all directions protect You and keep You in the best of health and safety always.
"Love is the principle of the universe. It's the building block to anything that exists, now or in the future. If we are full of love, then we are more near to God."
~Supreme Master Ching Hai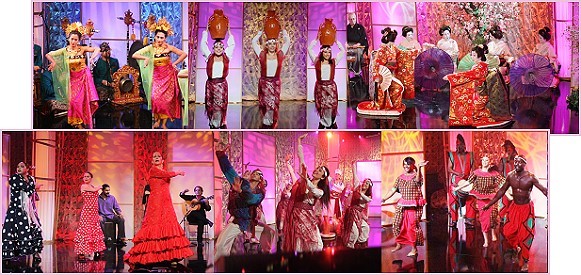 Guests Share Post-Concert Impressions with
Supreme Master Television
After the concert, many guests shared with Supreme Master TV their thoughts, insights, and impression of the event and Master's message of love and peace. Here are a selected few:
Lisa Bloom (Vegan, CNN and CBS legal analyst): The word "inspiration" is overused, but Supreme Master Ching Hai, you really are an inspiration because I'm a woman and I work in television here in the United States, and so often I feel that there's so much negativity and that we focus on things that really aren't that important, and we don't focus on what's meaningful like climate change or war or human violence. It's very inspiring to me that there's this entire network that's devoted to these issues, and it makes me think that one person can make a difference. Who would think that there could be entire shows devoted to vegetarianism and animal cruelty? So it's just really inspiring to me and moving, and I'm very happy to be a part of it today.
Spice Williams-Crosby (Actress, vegan, founder of the Academy of Television Arts & Sciences Stunt Emmy): Every celebration that I have been to that involves the Supreme Master has been beautiful, and every time I come, I experience something new that awakens my heart. And I never leave without a new awakening. It's always very enlightening for me.
John Salley (4-time US basketball, NBA champion, vegan): I've heard her on DVD, on tape. I have all her books, so she sounded exactly like I thought she was going to sound. I was happy she got some of the points across. What she said definitely made a lasting impression.
And I really appreciated her message about compassion. One of my favorite things is when she said, "There's no reason for war," and if somebody wanted to harm her in some way, first she would reason with them, but if there was no reason, she would submit because that would be the loving thing to do. And she knows this is just one body, she'll be back in the next one. So that conversation of reincarnation came in, which I really applaud.
Steven Lopez (Artist): The one comment that I really gravitated towards was that of having a choice to live, and also understanding that in the face of evil, you should not fear death because this is just one life form, and we've got many more to go. So many people are in fear of losing what this world is, that it can hinder us in being able to go to the Fifth Level. So for her to say that is refreshing, and it's just very powerful, because you don't get to hear that from many people whatsoever.
Patrick Kilpatrick (Actor, Under Siege 2, Free Willy 3): First of all, the Supreme Master, what a wonderful, genteel lady she is, and you just get her spirit all the way through, and the profound sense of love that she's emanating out.
She's a very articulate, very gifted lady, and her use of language, it comes so much from her heart, and I really enjoyed it, and I was very, very moved. I am kind of a warrior guy, so to feel her love and her presence is a really wonderful thing, and she serves as an inspiration for all of us. It's almost a Jesus, Christian kind of personality that she really puts forth, the turning of the other cheek, relentlessly putting through kindness. I loved her poetry and I look forward to getting to know her better.
Cary Brown (Vegan, 3-time Emmy-winning director and producer): The Supreme Master has heart and soul and love, and it shows. It shows in her words, it shows in her music, it shows in the way her voice sounds. We're lucky, we're very, very lucky. Congratulations and best wishes and may this be the start of a hundred years of vegan living.

To watch Supreme Master TV's 4th anniversary concert "Gifting Peace," please visit:
http://suprememastertv.com/4year/
http://suprememastertv.com/tw/4year/ (Chinese)