Dejanja ljubezni
Mojstrica je že od nekdaj izjemno zaskrbljena zaradi naravnih nesreč, ki se dogajajo po celem svetu. Kadarkoli izve, da se je nekje pripetila naravna nesreča, Ona takoj pošlje pomoč, tako finančno kot v obliki skupin oblikovanih za pomoč, da pomagajo žrtvam na prizadetih območjih. Na ta način prenašamo Mojstričino ljubezen do žrtev. Vsi lahko vidimo, da je Mojstričina brezpogojna ljubezen, tihi blagoslov pripomogla k občutnemu zmanjšanju učinkov naravnih nesreč širom celega sveta.
Ob spoznanju nesebične pomoči vseh vlad, organizacij in reševalcev, iz vseh kotičkov sveta, Mojstrica želi predati to sporočilo hvaležnosti:
"Hvala vam, vsej mednarodni pomoči, ki prinaša skrb in potrebne stvari prizadetim ljudem. Hvala vsem sodelujočim, pri pomoči, da so namenili svoj čas in osebno udobje; nekateri ste celo potovali daleč, po neugodnih poteh in pogojih, v želji, da bi prinesli ljubezen in pomoč ljudem, ki so to potrebovali. Naj vas Nebesa obilno blagoslovijo zaradi vaše velikodušnosti in plemenitega žrtvovanja."
Nikaragva
[Costa Rica] 20. oktobra, Zlato leto 4 (2007) so člani združenja iz Costa Rica in USA oblikovali skupine za pomoč žrtvam, ki so odpotovale v Nikaragvo, da bi pomagale žrtvam poplave. Takoj, ko je Najvišja Mojstrica Ching Hai izvedela za nesrečo, je Ona namenila US$20.000 za najbolj potrebne pomoči.

---
Sending Master's Love to Nicaragua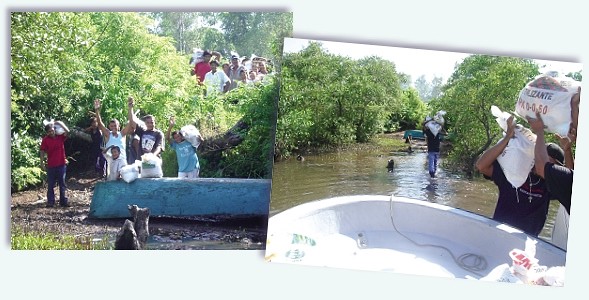 By Nicaragua Rescue Team (Originally in Spanish)
On October 20, Association members from Costa Rica and the USA formed a disaster relief team and traveled to Nicaragua to render aid to the flood victims. Heavy rain had fallen for 12 continuous days, with many homes and roadways destroyed, leaving countless people in desperate need of food, water and basic necessities. As soon as Supreme Master Ching Hai heard about the disaster, She immediately contributed US$20,000 to help those in need.
When the team arrived in Nicaragua, they contacted the government offices in the flood-affected communities to find out the number of families needing assistance and the supplies that would be most helpful. With the information they could obtain, the relief team prepared packages of rice, sugar, beans, flour, water, milk, oil, salt, spaghetti, instant noodles, cookies, matches and candles for each family. They worked together with the mayors of the counties and rented the appropriate vehicles to enter those areas.
Mayor Juana Teyllez of the County of Puerto Morazn was especially helpful. She accompanied the team personally to all five communities that they visited in her area despite long trips in the scorching sun. She wanted to check on the people as well as introduce Master in each area visited. Her touching words of appreciation about Master's love and compassion on several occasions moved the team to tears. Overall, 27 communities were visited and 1,307 households received much-needed food. The relief team intentionally chose to travel to the very remote communities over roads that were so damaged that access by even the government organizations had not yet been made.
At times the team members were tired after the many hours of traveling to reach these distant communities, but as soon as they saw the happy faces of the people, their fatigue disappeared. Even three weeks after the initial flooding, our Association members were still the first group to enter many of these areas to provide flood victims with food. In some places, the people chanted "Ching Hai, Ching Hai, Ching Hai!" because they were so happy and grateful that Master had sent food to them. It was touching to see that they hadn't lost faith in God despite their desperate situation; they knew that in time God would hear their prayers. They were also very interested in Master and her teachings so we barely had enough samples booklets for everyone. Upon receiving the booklet, one person read it aloud for more than an hour. After that, he came to ask what he could eat to become a vegetarian.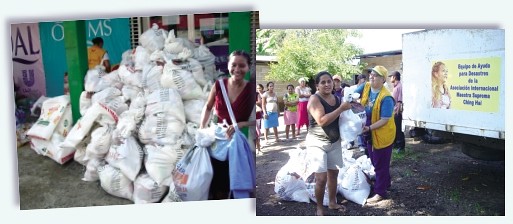 During the relief work, many lent the team a helping hand. A local journalist, Luis Alberto Umaa, accompanied us to all of the communities. In addition to helping obtain necessary phone numbers, he also contacted two local TV channels to report the help Master was rendering to Nicaragua, and he conducted a radio interview with Mayor Juana Teyllez about Master's timely, thoughtful and generous relief contributions. Another man charged a lower rate to bring our relief team to Chocolata Island because he wanted to help with the relief work. There were also two kindhearted men who came every day to help pack all the food for the next communities, even though they were also victims of the flood.
Another amazing experience was that wherever the relief team went, the rain would stop. Sometimes right before their arrival, the sun would come out, allowing them a smooth trip, even to the more distant communities, without getting stuck in the mud. The initiates are grateful to Master for giving them this opportunity to be the messengers of Her love, care and compassion. We pray that all affected by the flooding will soon be able to rebuild and restore their normal lives.

Expenditures by Supreme Master Ching Hai
and Her International Association
for the Flood Relief Work in Nicaragua
Description

Amount

Nicaraguan Cordoba)

Receipt No.

Food (rice, sugar, beans, flour, water, milk, oil, salt, spaghetti, instant noodles, cookies)
Matches, candles

372,366.74

N1

Flyers, banners

12,139.55

N2

Transportation, car rental, gas, accommodation, communication, etc.

45,828.01

N3

Total

C$430,334.30

US$23,375.03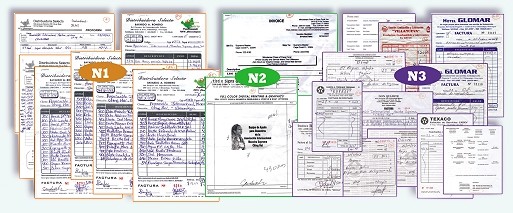 To view the Humanitarian Relief Activities by the Supreme Master Ching Hai and Her International Association, please visit
http://www.GodsDirectContact.org.tw/humanitarian
(The list can be sorted by year, country/region and type of events.)