Z globokim sočutjem za živali in skrbjo ob ponavljajočih se izbruhih bolezni, ki povzročajo epidemijo na živalih in ljudeh, je Mojstrica ponudila svetu temeljno rešitev problema, s tem, da je oblikovala prijateljski toda prepričljiv letak imenovan "Drugačno življenje", z namenom, da bi spomnila ljudi naj izberejo vegetarijanski način prehrane in prenehajo z ubijanjem, z namenom, da se prenehajo globalne medicinske krize in ohrani čuteča bitja na celem svetu. Prav tako je Mojstrica naročila vsem svojim učencem, da sporočijo to sporočilo vsem svojim bratom in sestram v vseh kotičkih sveta. Kot odgovor, na Njeno prošnjo, se Njeni učenci trudijo, po svojih najboljših močeh, da bi prenesli Njene besede ljubezni.
| | | |
| --- | --- | --- |
| | Amerika | |
[Austin] 3. novembra, Zlato leto 4 (2007) so učenci Mojstrice iz centra Austin predstavili javnosti Mopjstričino najnovejšo knjigo, na letnem knjižnem sejmu.

[Ohio] 13. in 14. oktobra, Zlato leto 4 (2007) se je Ohio center udeležil 19-tega letnega "Universal Light Expo".

[Florida] Florida Center joined Central Florida VegFest on October 27, Golden Year 4 (2007).

---
Supreme Master Ching Hai's Books Premiere at Texas Book Festival
By Austin News Group, Texas (Originally in English)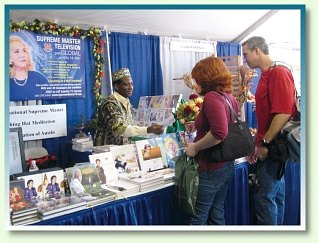 [Austin] On the weekend of November 3, Golden Year 4 (2007), our Association members from the Austin Center premiered Supreme Master Ching Hai's books at the annual Texas Book Festival. This event, drawing upwards of 45,000 visitors in recent years, was located within the beautiful grounds of downtown Austin's State Capitol Complex.
Making its first appearance at this festival, the Austin Center wanted to introduce to the public Master's various literary works, including the new books─Psi v mojem življenju and The Birds in My Life, in addition to promoting Supreme Master Television.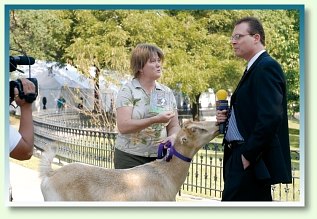 The response to the messages was extremely positive. The brilliant pictures of Master's birds and dogs captivated animal lovers of all ages. The visitors eagerly shared with the fellow initiates their experiences with their own animals and agreed wholeheartedly that our animal friends have noble qualities. One local couple, who had quietly rescued numerous dogs, said that their dogs were "just humans in a different type of body." A bird owner noted that her parrots were so sensitive to her moods that she had to be careful not to come home with a frustrated or sad frame of mind because the birds would mirror her own feelings and display some behaviors that she did not want them to exhibit. A little girl was immediately attracted to the vibrant colors of The Birds in My Life, and as she happily flipped through the pages exclaimed how cute, beautiful and playful the birds are. All the guests were given the Alternative Living and Supreme Master Television flyer, a DVD of vegetarian cooking shows and a copy of The Real Heroes. Many people sincerely commended the noble work of Supreme Master Television and hoped that the world would continue to have more positive news.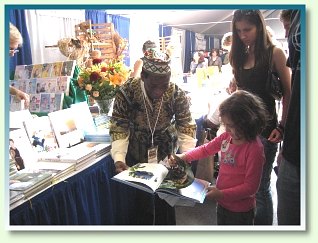 At the venue, reporters from Supreme Master Television were able to conduct an interview with Tacy Ellis, the author of the book Goat Tales: The Izzy Journals, which teaches people that all living beings are connected. Told from Izzy's viewpoint, the story unfolds Izzy's memorable life experiences and her growth as a loving member of Tacy's family. The author even brought a few of her rescued goat pets to the festival. The Austin Center and Supreme Master Television were very honored to share with Tacy Master's books Psi v mojem življenju and Ptice v mojem življenju. Tacy was very happy and looked forward to reading them. All the fellow initiates felt elated at having such an opportunity to spread Master's teachings and can't wait to participate in future festivals.

Sharing the Good News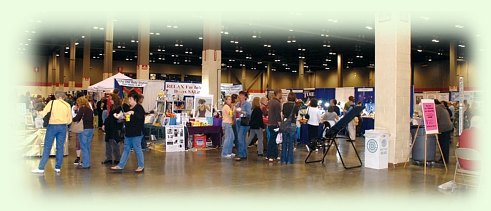 By Ohio News Group (Originally in English)
[Ohio] On October 13 and 14, Golden Year 4 (2007), the Ohio Center joined the 19th Annual Universal Light Expo, the largest of its kind in the Midwest, to spread the good news about the Alternative Living Vegetarian lifestyle and Supreme Master TV.
The many people who were attracted to our booth had a chance to view Supreme Master Ching Hai's lecture tapes and to browse through the spiritual books including the latest publications Psi v mojem življenju and Ptice v mojem življenju. A lot of them asked spiritual questions and were happy to hear about the all-positive television channel and Alternative Living lifestyle. Many people said things like "This is awesome!" and that they agreed with the compassionate concept of the non-killing diet. A lady from another booth said that she told her husband the day before that she wished they could hear about only good and encouraging news. Then , surprisingly at the expo, her wish was granted. Some people returned to our booth to pick up books or DVDs, to learn more about Master's teachings. One said that there was something about Master that made her feel she had to come back. A fellow initiate was overjoyed when a handicapped person who came to our booth and watched Master's video attentively, accepted a DVD that he had offered to her.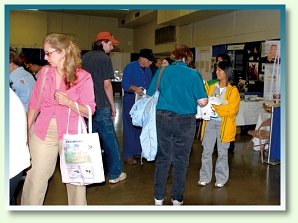 Mr. Ken Harsh, Chairman of the Expo's organizing committee, told us that he was happy that our group joined the Universal Light Expo to share and exchange ideas, and that our contribution made this expo even more unique. Our Association members were also very happy to have had the chance to share the message of a compassionate and positive lifestyle at the Expo. As more and more people are uplifted through noble living, our planet will be a beautiful and loving home for all.

The 2007 Central Florida VegFest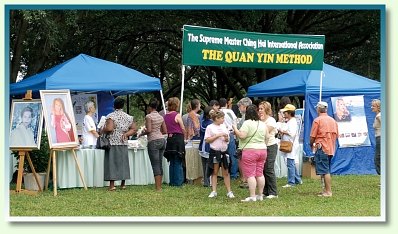 By Florida News Group (Originally in English)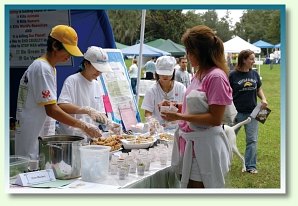 [Florida] Central Florida VegFest is an admission-free, family-friendly, alcohol-free and smoke-free event held annually in Orlando, Florida to promote vegetarianism. This year it was held at beautiful Loch Haven Park in Orlando on Saturday, October 27, Golden Year 4 (2007). Over 100 vendors joined this year, offering a diverse cross-section of vegetarian cuisine and lifestyle. Thousands of guests came to visit these unique and colorful exhibits on this warm day.
As a participant of this event, the Florida Center was allowed to set up two separate tents as their exhibition booths. One was dedicated solely to the display of Master's books, DVDs, CDs, News magazines, Celestial Clothes, etc. The other was beautifully decorated with Supreme Master Television banners and posters, and reserved for the distribution of information brochures, flyers, leaflets and magnetic stickers. A variety of delicious vegetarian food for guests' sampling was also nicely displayed in this booth. Between these two tents was an eye-catching banner bearing the title "The Supreme Master Ching Hai International Association, The Quan Yin Method of Meditation."
The delicious vegetarian delicacies attracted many passersby to sample the tasty food and very quickly, a long line of veggie enthusiasts appeared. The fellow initiates offered each guest a bag filled with Master's magazine, Alternative Living flyer, cooking show DVDs, and a Supreme Master Television promotional leaflet and magnetic sticker, which were well received. Looking at Master's picture on the magazine's front cover, one lady said to a brother initiate in amazement that she had seen Master 10 years ago. When asked if it was in her dream or in person, she refused to give the answer and walked away with a smile on her face!
The Celestial Clothes display booth also attracted a huge crowd, where many visitors enjoyed trying on and buying T-shirts with colorful graphic pictures of cute animals on them. Numerous guests volunteered to be interviewed by the camera crew, to express their views about Supreme Master Television. Some showed interest in spirituality by inquiring about the Quan Yin Method of meditation. The fellow initiates all greatly enjoyed being part of the overall activities of serving the public on that beautiful day full of excitement and positive atmosphere.

To keep pace with the planet's ongoing spiritual elevation, the local centers of The Supreme Master Ching Hai International Association are holding more and more video seminars and other Truth-sharing events.

You are welcome to join in these activities with your friends and relatives. For the latest schedule of our activities, please visit the following URL: http://www.Godsdirectcontact.org.tw/eng/latest_news/events-datebook.htm