Хубави хора и хубави събития
От новинарската група в САЩ (оригиналът на английски)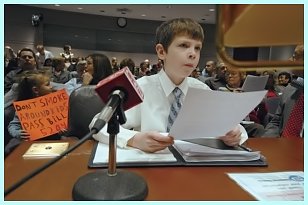 Джъстин Квадас апелира за забрана на пушенето в колите, за да се защитят децата в колата от тютюневия дим. "Ако не можете да ядете, да пиете или да говорите по мобилния телефон, как тогава ще можете да пушете? Това може да бъде също толкова опасно, дори повече". ♥♥♥♥♥♥ of East Hartford, Connecticut, USA, is working to get a bill passed by his state legislature that would ban smoking in automobiles, to protect children from second-hand smoke.
"If you can't eat, drink or talk on a cell phone while driving, how come you can still smoke? It can be just as dangerous, or more dangerous," Kvadas said.

Kvadas started a petition and got about 200 signatures. He began an e-mail campaign, wrote the governor, met with Mayor Melody Curry and caught the attention of state Representative Henry Genga.

Representative Genga drafted and filed a slightly amended bill that would ban drivers from smoking if there's a child in the car.

Early this year, Kvadas testified before the state legislature about the dangers of cigarette smoke and the need for legislation to protect children from second-hand smoke while they are riding in cars. About fifty of Kvadas' fellow students from O'Connell Elementary School filled the seats behind him, some waving hand-made signs with such affirmations as "Let Us Breathe" and "Don't Smoke around Kids."

"It's important to keep trying because you don't want kids to have to inhale all of the toxic and cancer-causing chemicals; it's bad for their health," Kvadas said. He also said that if that bill doesn't pass, he won't give up.

На 9 февруари, Златна Година 4 (2007), АВС нарече Квадас "Личност на седмицата".
Арканзас и Луизиана вече прокараха подобна мярка срещу тютюнопушенето, също Бангор и Мейн. Девет други щата обмислят да направят същото.

Източници:
http://abcnews.go.com/WNT/PersonOfWeek/story?id=2864236
17 http://www.courant.com/news/politics/hc-ctcarsmoke0207.artfeb07,0,6636664.story?coll=hc-headlines-politics