Награди за Блестящо световно геройство
Зион,
кучето-герой
Съставено от Суприм Мастер Телевижън, Епизод 183
Това е невероятна история по действителен случай за куче на име Зион от Колорадо, което спасява живота на момче, измъквайки го от реката. Заради трогателното геройство Зион получава специална награда за героизъм и други награди, признание за неговата безусловна любов и жертвоготовност.
| | |
| --- | --- |
| | |
| Зион, Челси и Райан | The hero dog, Zion, looking at the Shining World Hero Award granted by Supreme Master Ching Hai |
In Glenwood Springs, Colorado, USA, a 2 year old yellow Labrador dog named Zion was awarded the Shining World Hero Award by Supreme Master Ching Hai, in recognition of his unconditional love, sacrifice, loyalty and dedicated service to humanity. Zion was playing fetch with Chelsea, a 13 year old girl, by the roaring Fork River when Ryan was struggling in the water. Ryan was swept away by the current after the inflatable raft he was on got stuck on a log and overturned. Though he had a life jacket on, the water was freezing cold. While looking for the stick in the river, Zion heard Ryan's cry for help. He swam towards Ryan right away. Ryan grabbed hold of Zion's leash and was pulled safely to shore.
As soon as Supreme Master Ching Hai heard about this story, She was very touched and wanted to share it with everyone. So She gave Zion a gift - the Shining World Hero Award. In addition to the award, blankets, toys, vegetarian treats, vegan dog food and clothes designed by Master with the inscription: "Zion Hero Jacket, from Supreme Master Ching Hai with love" were also presented.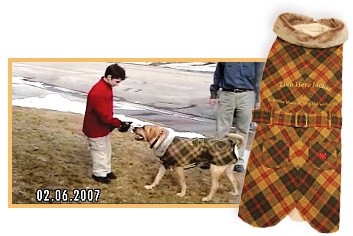 Zion, wearing the Hero Jacket designed by Supreme Master Ching Hai, playing with Ryan
When asked, "What does it mean to you now, when you look at him, that playful rascal over there?" Ryan replied, "He is man's best friend!" Indeed Zion's heroic deed is another example and reminder to all of us that animals have divine intelligence and deserve our best treatment and respect.