Report from Australia
Master's Love and Joy Spread to Beautiful Souls
By the Sydney News Group (Originally in English)
On the evening of December 22, 2005, twenty initiates from the Sydney Center distributed 148 Christmas gift bags to their city's homeless, who were happy and grateful to see the bright, colorful gifts and also very curious about Supreme Master Ching Hai and Her Association.
Each gift bag contained cookies, potato chips, drinks and personal hygiene items along with a Christmas card and a flyer introducing Master and the Quan Yin Method. After distributing the gift packs, the initiates also handed out bottled water and snacks.
Afterwards a sister-initiate who had one water bottle left noticed a man sitting apart from the rest of the homeless group with closed eyes sitting in the lotus position meditating with the Christmas card and Master's flyer right beside him. The sister quietly put the bottle of water next to the man and walked away feeling deeply touched by the beautiful scene.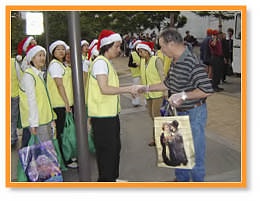 The same sister had these words to say about distributing gifts to the needy: "I feel so lucky to have met these beautiful souls as they seemed so pure and humble, so close to God. For that, I feel like I was the one who received a gift—the blessing of meeting these souls was the best Christmas present ever." ♥