Panorama of Events
Panama
Celebrating our Master's Day
by Sharing Her Love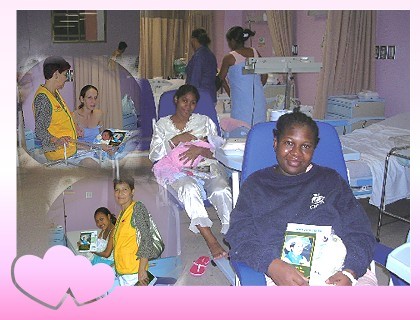 By Panama News Group (Originally in Spanish)
[Panama City] On October 31, Golden Year 3 (2006), we celebrated Supreme Master Ching Hai Day by dedicating Master's Love to the mothers and their newborn babies in St. Thomas Maternity Hospital in Panama City. We gave them gifts containing basic baby items such as blankets, shirts, etc., and introduced Master through our sample booklets and Alternative Living flyers, explaining to them that the vegetarian diet was the best for them and their babies and also the most noble, loving and healthiest way to live. They were very happy with this information and the gifts.
That night fellow practitioners joined together to celebrate our Master's Day; we were so delighted to see Master in the video of the retreat in Spain and then celebrate with a delicious dinner and cake. Afterward, we shared candies from a "piņata," a traditional way of celebrating occasions such as children's birthday parties. Everyone, young and old – all the children of God, went to catch and enjoy blessed candies!
We thank Master for Her Love and all the divine gifts She has given us and we wish the best health to Her.