Panorama of Events
Korea
Happy Ching Hai Day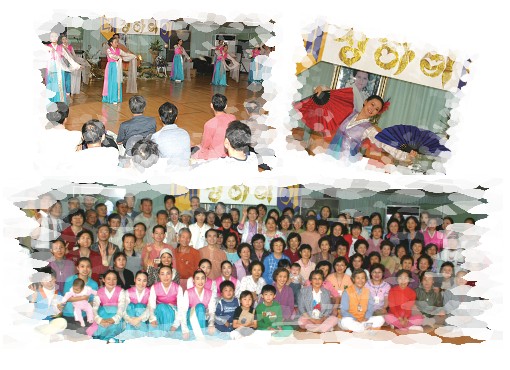 By Seoul News Group (Originally in Korean)
[Seoul] October 22, Sunday, Golden Year 3 (2006) after group meditation, the Seoul Center held the 13th Ching Hai Day celebration.
After watching the "Walk the Way of Love" DVD to remind ourselves of Master's shining example of helping others, we celebrated the Supreme Master Ching Hai Day with performances. An initiated sister, who is a professional traditional vocal singer, sang a song depicting a mother who worked hard to take good care of her children; it touched everyone reminding us of all of Master's efforts for Her disciples. There was a lot of applause for this beautiful song. A traditional dance group, which also performed, was very welcomed by initiates. The dance expressed the joyful journey into the inner light and sound and our appreciation to our beloved Master.
* Note: In 1993, October 25 was declared to be "The Supreme Master Ching Hai Day" by the then Mayor of Honolulu, Frank Fasi. The Hawaiian government also awarded the International Peace Commendation, and the Honorary Citizenship award to the Supreme Master Ching Hai, in recognition of Her contribution to promoting world peace and Her loving concern for humankind.
The following year, on February 22, 1994, the governors of the States of Illinois, Iowa, Wisconsin, Kansas, Missouri and Minnesota, USA also proclaimed February 22 "The Supreme Master Ching Hai Day" and presented the "World Spiritual Leadership Award" to Supreme Master Ching Hai.