"The Birds in My Life"
New Book Release Event that Stirs People's Hearts and Wins General Approval
By Taipei News Group, Formosa (Originally in Chinese)
Written and edited by Supreme Master Ching Hai, "The Birds in My Life" is a book of poetic and enchanting pictures and passages leading the readers to explore the pure and innocent sentient world of birds, and to realize that "all beings are one." To introduce this rare and fascinating book to the Formosan people, The Supreme Master Ching Hai International Association Publishing Company Limited held a new book release event on August 24, Golden Year 4 (2007) at three locations: the King Stone Bookshop, Chung Hwa Telecom International Conference Center, and the Love Ocean Cultural Plaza simultaneously.
Numerous honorable guests graced the event that day, including Ms. Su Xi-zi, Publisher at the Senseio Bookstore (photo 1); Mr. Zhang Lu-jiang, Superintendent of Lions Club 300A1 (photo 2); Mr. Helmut Nitzschke, renowned German film director (photo 3); Ms. Su Zhu-hui, former Superintendent of Taiwan Adventist Hospital (photo 4); Mr. Gu-min, Office Director, Education and Culture Commitee, Legislative Yuan /Former member of standing committee, IFLA, UNESCO (photo 5); Ms. Liu Xiang-lan, Director of R.O.C. Animal Welfare and Environmental Protection Society (photo 6); Mr. Ly Ji-ren, bird and ecology painter (photo 7); Mr. Yu Wei-dao, General Secretary of Wild Bird Federation, Formosa (photo 8); Mr. Zheng Yu-sheng, Chief Editor of Sphinx Magazine (photo 9); Ms. Chen Rui-zhen, founder of the Da-bei Life Preservation Promotion Center (photo 10); Miss Jia Hong-qiu, renowned dog protector and English teacher at Muzha Vocational High School (photo 11), and reporters from major media. It was a joyful occasion. The greatest surprise was that Supreme Master Ching Hai, who was attending a retreat in Paris with the European fellow practitioners, especially held a video conference with the participants at the venue.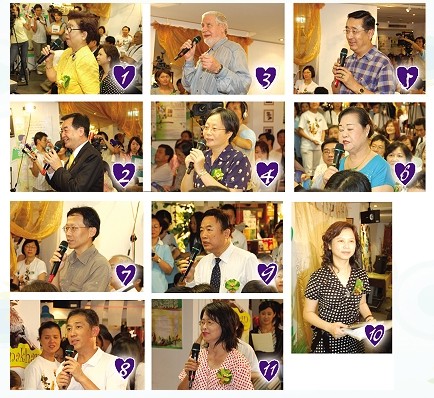 The book release event began with a delightful bird dance performed by a group of innocent and lovely young initiates wearing bird feather costumes. After that came the great surprise of Supreme Master Ching Hai on the videoconference. Upon seeing Her on the video screens, audience participants spontaneously burst out in continuous applause and cheering. During the videoconference, our beloved Master shared with everyone Her precious insights and the main goal of publishing this book. Later, when answering questions from the guests, Master mentioned how She took care of Her birds meticulously and treated them as Her family members and friends. Master also reminded everyone that before keeping any pets, we should first equip ourselves with the relevant knowledge and the love required to communicate with the animals. Master also shared with us the intimate moments of living with Her birds, as well as recipes from the daily meals enjoyed by Her twenty-three healthy, happy, beautiful, clever, and intelligent birds. Master then announced the near completion of another new book written by Her about the wildlife animals -"The Noble Wilds," which brought waves of cheering from the guests at the venue.
Many guests and reporters conversed with Master at the videoconference and expressed their views towards Master's new book. The famous film director Helmut Nitzschke from Berlin, Germany especially came to join the new book release and expressed how he was impressed by and benefited from Master's new book. He also encouraged everyone to unlock our noble compassion to treat all life forms around us with love, so that the world would be more peaceful and beautiful.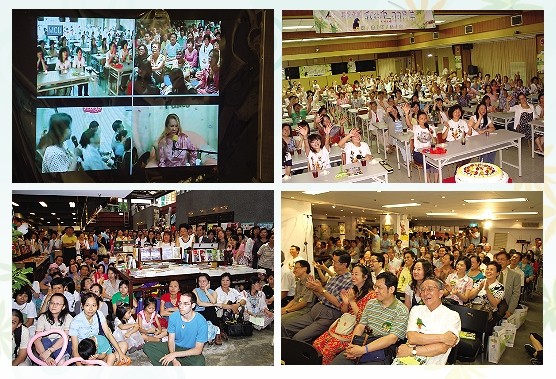 Supreme Master Ching Hai holding videoconference with guests at three new book release sites simultaneously.
The experienced publisher, Ms. Su-Xi-zi, greatly admired the placid and melodious message that flows from the book that bathed the readers in the luscious pond of life. She said that this book had brought to her great bliss and blessed feelings, and it was a rare good book that everyone should read. The Superintendent Zhang Lu-jizng of the Lions Clubs International District 300A1 said: "If all of us can have a heart as noble and great as Supreme Master Ching Hai, then we will be able to live peacefully with all sentient beings on Earth. I wish that Supreme Master's books will be popular in the whole world, and everyone will have the chance to read this book, and then world peace will come very soon." The Chief Editor of the Sphinx Magazine, Mr. Zheng Yu-sheng said that while humans communicate with language, we need to communicate with the dogs, birds, and other animals through telepathy; we have to feed and take care of them for life. He added that the living spaces of birds and animals need human efforts to be preserved. After reading about how Master communicates with the birds, he was awed by Master's love, and he said he would to pass on this love from Master to all Lions Club members.
Director Liu Xiang-lan asked Master a question about taking care of homeless animals. After Master replied, she thanked Master on behalf of more than 300 living animals being sheltered in the Animal Home, for announcing the message from their Animal Home free of charge on Supreme Master Television, thus reminding the whole world remember to love the animals. At that moment, Master promised a contribution of US$10,000 to support the Animal Home so that it could render better care to the animals.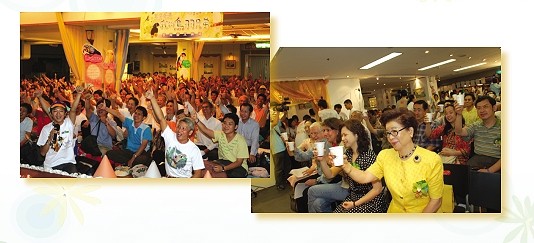 Guests at the venue together wishing the new book a "successful sale" and reaching "No.1 on billboard"  
On the same day, at the King Stone Bookstore, about 400-500 readers poured in from both sides of the main entrance rushing to buy the new book. Some came to line up outside at six in the morning. With their actions, they supported Supreme Master Ching Hai's appeal to respect and love the animals. For several days, many major news media reported the event and Master's new book. Television stations that broadcast news about the new book release included CtiTV, TaiwanTV, ChinaTV, SET TV, TVBS, GTV, ETTV, and EraTV. Many major press media also published prominent positive reports, such as the United Daily News, United Evening News, World Tribune, TSSDNews, the Government Procurement Gazette, MRT Life News and the UPaper. We are very grateful to the media for their earnest support in spreading the message of "respect life and love the animals." This is an initial step in unifying the living beings on this planet in God's love, and also a giant step for Earth in marching towards peace!
In the end, to celebrate the launch of the new book, the compère requested Master to cut the vegetarian cake "on air," and to drink a toast with the guests. Unanimously, all guests wished the new book "a successful sale" and "No.1 on the billboard." Master then wished that all the readers would enjoy a happy reading and very good luck! Amidst delighted cheering, the new book release was concluded successfully.

Large crowd gathered at the new book launch site
The general response was encouraging! Within three days after "The Birds in My Life" was put on the shelves at the three biggest chain bookstores - King Stone Bookstore, the BOOKS.com, and the Eslite Bookstore - the book had made it to No.1 in "Animal" category, and No.4 in "Natural Science" on the sales billboard of King Stone Bookstore, and No.2 at BOOKS.com. Receiving favorable comments from all circles, "The Birds in My Life"  is still selling very well. Many major book outlets in Formosa have already run out of stock, and more books are being printed to meet the demand. We are very grateful to Master for bestowing this precious gift on the world and pray that many in the world will enjoy it.

For more information, please visit our exclusive web site:
http://www.loveocean.org/birds/newbook.htm
For the latest media reports, please visit:
http://www.loveocean.org/
Other relevant blog sites are:
http://tw.myblog.yahoo.com/animals-caretaker
http://www.wretch.cc:80/blog/birdies
http://www.wretch.cc/blog/MyAmigoBirds
To order the book online and introduction, please visit:
http://www.thecelestialshop.com/shop/product_info.php?products_id=543
http://www.edenrules.com/en/product_2.php?prodnum=BY-E-03
http://www.smchbooks.com/new-eng/book-e/index.htm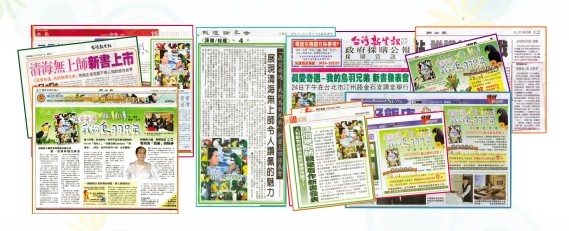 Many newspapers in Formosa prominently publicize Master's new book with positive reports