Feature Reports
"The Birds in My Life" Continues to
Shine throughout Formosa
Compiled reports by Formosa News Group (Originally in Chinese)
Foreword: After the August 24th release in Taipei of the new book The Birds in My Life, which was received with great enthusiasm by the media and the general public, our Centers in Formosa have continued spreading the news to every corner of the country. Thus, the message of "respect life and love the animals" has been placed deep into people's hearts.
Focal Point of the 2007 Animal Whoop Public Benefit Garden Party
On September 8 and 9, the Animal Protection Association of the Republic of China held a grand promotion garden party that was open to the public. Our Taipei Center also participated, to introduce the message and ideal of Master's new book, The Birds in My Life. The colorful and fun activities prepared by fellow initiates attracted a great deal of attention from the guests and brought surprise and delight to the event organizer.
One of our activities was a doggie fashion show, with more than 200 previously homeless dogs participating together with their adoptive human caretakers. Among these were about 40 healthy and lively vegetarian dogs that had been adopted by our fellow initiates, and they became the focus of the media.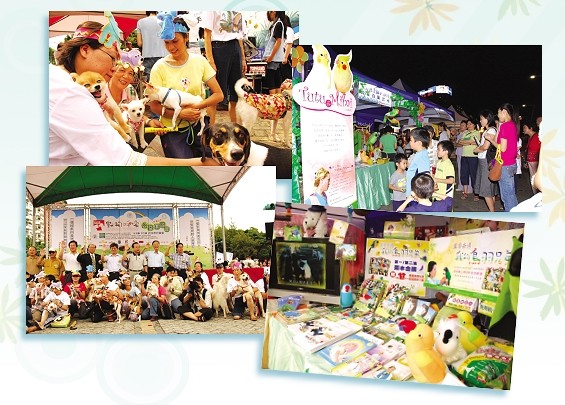 Several hundred human caretakers, together with compassionate supporters at the venue, made a powerful appeal for the animals: "Substitute pet buying with adoption; substitute termination with sterilization!" Head of the Taipei Municipal Institute for Animal Health, Mr. Yan Yi-feng especially arranged some time to come and learn more about how Master has been living with Her animals. He said, "Master is a world famous religious personage embracing advanced thinking and concepts. The way that She is treating animals with love is a manifestation of Her great compassion of treating all beings as one. We admire Her with all our hearts…Master's feathery friends and doggie darlings could have affinity with Her from previous lives; thus in this life they have such great blessings to enjoy the immaculate care given them by an enlightened Master…." His speech struck a responsive chord in the hearts of the audience, and everyone could be seen nodding with smiles.
Benefit Pet Supplies International, Ltd., contributed some all-vegetarian pet food (made from vegetable and fruits) to the animal shelters. The company manager, Mr. Chen Yu-li, visited our exhibition booth specially to find out more about what Master and our Association have been doing to advocate the vegetarian lifestyle and love towards animals. Moved by Master's compassion, he offered about 1,000 sample packets of vegetarian food for dogs and cats to be distributed, together with our informative materials for Alternative Living and Supreme Master Television. Manager Chen was very happy to be acquainted with the volunteer work of The Supreme Master Ching Hai International Association, and to work hand-in-hand to spread the concept of a vegetarian lifestyle, environmental protection and love for all beings.
The Excitement Continues at the Creative Art Summer Camp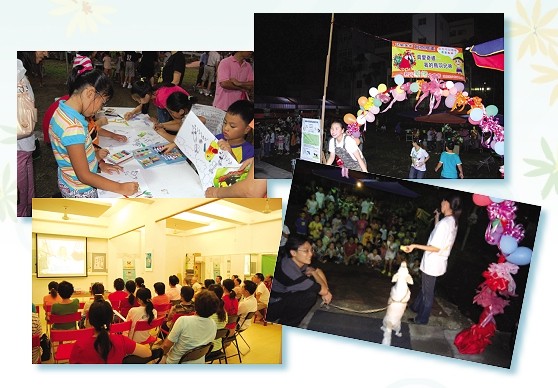 On August 26, Changhua Center held an activity called 96 Yuanlin and Pusin Community Creative Art Summer Camp, featuring a timely continuation of the excitement and discussion related to The Birds in My Life. The opening program was a Creative Drawing Design that used The Birds in my Life as the source of inspiration. The programs that followed included the teaching of vegetarian barbecue skills, a barbecue feast and a bonfire evening party. The final activity was a performance by intelligent dogs, which touched the hearts of the children with love to protect animals. In addition, we invited a fellow initiate who is a doctor to host a health vegetarian seminar, followed by a seminar on parenting hosted by a sister initiate who was teaching in the Department of Guidance and Counseling in the university. During the seminar, we played one of Master's lecture videos to illustrate the importance and skills of parenting education.
Advocating the Noble Ideal Together with an Animal Protection Group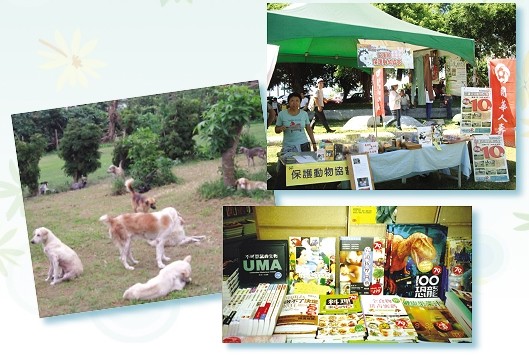 On September 1, fellow initiates in Hualien attended the 60th Anniversary Garden Party for the Keng Sheng Daily News, and contributed Master's books, The Birds in My Life and The Dogs in My Life, together with some related publicity posters, to the Hualien Animal Protection Association. The Association's president, Ms. Feng Shao-min, was delighted and immediately put up the posters as she displayed the two books in their exhibition booth to share with the public. Upon hearing from fellow initiates about how Master loved and cared for the animals, President Feng said with great emotion that she was so glad to know of Master's compassionate actions. She added that she really loved Master's books and had actually been hoping to write a book on similar topics.
On September 2, fellow initiates gave two big boxes of dog food and a cash contribution of NT$5,000 to the Hualien Animal Protection Association, for which President Feng repeatedly expressed her gratitude. She is now sheltering more than 100 homeless dogs and providing them with a hygienic and spacious environment. Most touching is that all of her dogs are fed vegetarian food.
Publicizing the New Book on the Radio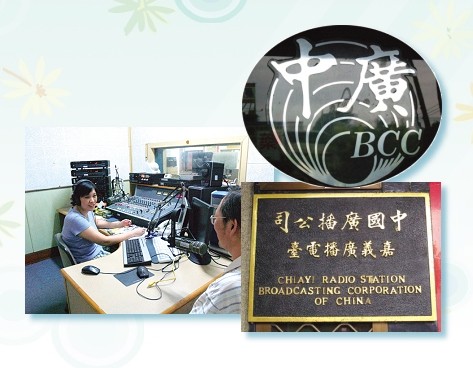 Fellow initiates in Chiayi and Yulin have been earnestly introducing Master's new book to their relatives and friends and putting up posters everywhere. They have also accepted interviews with the Chiayi BCC News Radio Station and the North Ilan Industrial UFO Radio Station, hoping to share with the citizens of Chiayi, Yulin and Ilan the elegant messages from our feathery friends that are so full of spiritual wisdom, and the touching stories of love about how they were adopted.
We are very grateful for the generous support of the BCC News Radio Station and the UFO Radio Station for helping us to introduce this rare and precious book to the general public.
Spreading the Message of the New Book at an Art Exhibition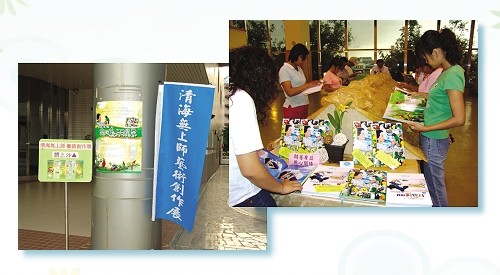 From September 1 to 16, fellow initiates in Tainan held an exhibition of Master's art creations at the National Tainan Social Education Center. Also displayed at the venue was Master's new book, The Birds in my Life, which was much loved by the general public, especially the children, who were so enchanted by the book's beautiful illustrations that they wouldn't put it down. An elderly gentleman could not withhold his feelings and told us: "The Supreme Master Ching Hai is really a fantastic person, truly incredible! This book is indeed a superlative work of our time!" Another visitor said with great feeling that this book had let him realize God's wonders in creating all beings, and that animals are truly the best friends that God has bestowed on all humans.
Following the elevation of human consciousness, the general public has become more receptive to the noble message conveyed in this book.