Love in Action
Midwestern States
Delivering God's Love to Flood Victims
Compiled Report by Midwest News Group, USA (Originally in English)
On August 21, 2007, thousands of people in the Midwest were flooded out of their homes after heavy storms caused rivers to rise up to 7 feet over the flood stage. Supreme Master Ching Hai was very concerned for the victims. She sent instructions for fellow initiates in the Midwestern USA to check the situation and help the people. Three disaster relief teams from the Midwest were formed and arrived at the affected areas to provide relief materials as well as to share Master's love with the victims to help restore their hope.
Minnesota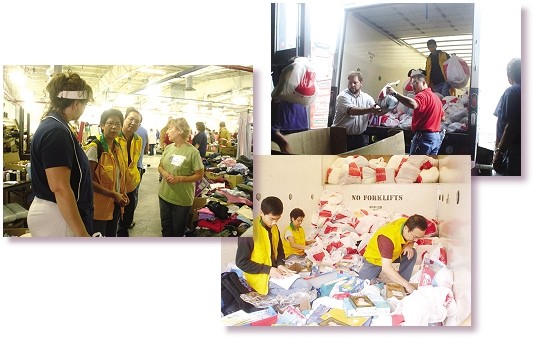 In Minnesota, thousands of houses were damaged and many people had to be evacuated to the nearby shelters in Rushford and Winona. In order to deliver the materials to the victims and shelters in the shortest time, on August 23, 2007 fellow practitioners rented a big truck, purchased the needed items, and packaged them while on the road, which was not an easy task. (See Appendix A) Before the truck arrived at the shelters, fellow initiates succeeded in packing 200 large bags with new bath towels, soap, toothpaste, toothbrushes, bottled water, the Alternative Living flyer and Master's sample booklet. The volunteer workers there were very touched when they received the relief items. On behalf of the flood victims, they thanked our organization for the love and care given to these less fortunate souls.
Wisconsin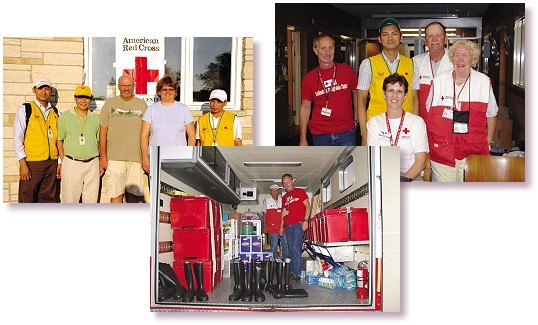 Through internet research, our Association members from the Illinois Center learned that Racine County in the next state, Wisconsin, suffered a great loss from the flood and was in urgent need of help.
On August 24, we purchased relief supplies, such as snacks, toothbrushes, toothpaste, drinking water, soap and towels; then worked together to prepare 300 relief packs. (See Appendix B) The following day, when we went to the Union Grove Red Cross shelter in Racine County, Wisconsin, the staff there gave us a warm welcome and lovingly mentioned that our comfort packs were much more than what they had expected. After accepting about 60 packs, they directed us to another shelter run by the Red Cross in Milwaukee; there we left another 70 comfort packs. The recipients showed a keen interest in our Association, so we explained a little about who we are and some of the other relief work that we had done.
On August 26, we drove 6 hours to a shelter in Viroqua, a small town in Wisconsin. More than 30 comfort packs were given to the staff, which will in turn be distributed to the victims. Without stopping, we continued to another nearby shelter in Soldiers Grove, where the chief of the fire station welcomed us. More than 50 comfort packs were left with him.
On August 27, many cleaning kits and about 50 comfort packs were contributed to the DeKalb, Illinois shelter for the people living there. We sincerely prayed to God that the victims would be able to quickly recover from their loss and resume their normal lives.
Ohio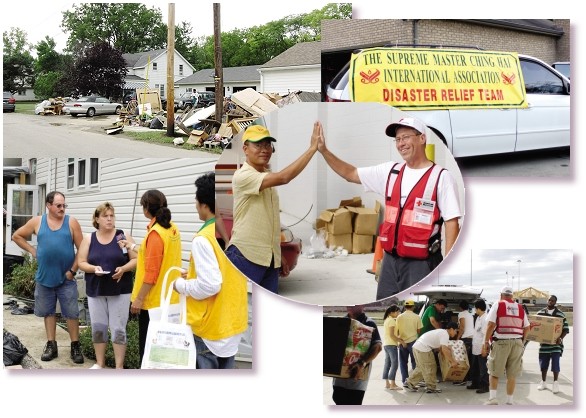 The initiates from the Ohio Center arrived at shelters in the flooded area on August 24, 2007 to provide personal necessities and cash funds for the people living there. (See Appendix C) After speaking with some of the people in the affected area, the relief team immediately went to purchase needed cleaning supplies and delivered them together with personal items and cash funds to the homes door by door along the river bank, where the most of damage occurred. The flood victims were very touched by the sincerity of the relief team. Many people said they were so surprised by our generosity and thought it must have been a miracle from God. One of the victims told us that usually he is always on the giving side, helping with disaster relief          himself many times including hurricane Katrina. Now he was on the receiving end. Both he and his wife were moved to tears because God had sent angels in bright yellow vests (the relief team uniforms) to lift their spirits at this difficult time. Witnessing God's love touched their hearts so deeply; the disaster relief team also shed tears.
At the end of the day, the relief team went to a shelter where the people in need came to stay or receive food and other needed items. When they learned that the shelter was short of supplies, the team members immediately went to purchase the needed cleaning materials to replenish their stock. After helping to unload the two vans full of supplies, the very grateful and delighted Red Cross members gave our team a "high five," a gesture of accomplishment and brotherhood. Everyone was happy as they worked together toward the same goal of one world of love and care.

Expenditures of The Supreme Master Ching Hai International Association's Relief Efforts Rendered to Flood Victims in the Midwest, USA
Description

Amount

Receipt No

Minnesota

Supplies (toothpaste, toothbrushes, bottled water, soap, towels)

2,300

A

Transportation expenses (van rental, gasoline)

300

Wisconsin

Supplies (towels, soap, cookies, cleaning supplies)

2,942

B

Financial aid

1,300

Ohio

Supplies (mops, bleach, cleaning materials, towels, soup, cookies)

1,000

C

Financial aid

4,000

Total

US$11,842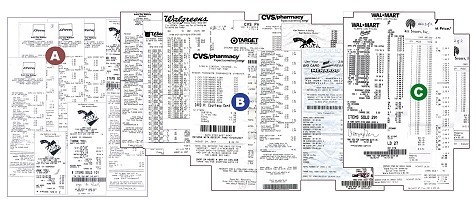 Oklahoma
Homeless Are Touched by Master's Love

By Oklahoma News Group (Originally in English)
On Labor Day weekend, September 1, Golden Year 4 (2007), Oklahoma fellow initiates celebrated the holiday by sharing Master's love and blessing with some homeless people in Oklahoma City.
After Saturday's group meditation, we prepared several loving dishes, including vegetarian fried rice, vegetarian egg rolls, vegan cookies and cold beverages for 190 homeless. We packed all the food along with Master's photos and our Association banner and arrived at the City Rescue Mission. We distributed the delicious vegetarian meal and everyone was so happy and touched to receive the hot food with cold beverage in a hot summer day. They told us that it tasted better than meat. We also gave them Alternative Living flyers, information about Master Ching Hai and the Quan Yin Method. One lady especially enjoyed information on the AL flyer that she asked for more copies to share with others. In appreciation, some of the homeless people asked us to send their love to Master and invited us to come more often.
Thank You Master for giving us the opportunity to share our love with the less fortunate people in Oklahoma City.