Love in Action
China
Conveying God's Love to Disaster Victims
in Various Parts of China
Compiled reports by fellow initiates in Mainland China
(Originally in Chinese)
Beginning early this summer, natural disasters occurred in many parts of China. Our fellow initiates all over China quickly formed relief teams and went to the disaster areas conveying material relief and Master's love to the victims. While rendering relief to them, fellow initiates also hoped that the general public would reflect deeply on the crisis of deteriorating climate changes, increasing drought and flood disasters. The time has come for everyone to change their lifestyle with determination and resolute action to solve the problem from the root! (For details of relief efforts in more than ten other provinces in China, please refer to our reports in News # 187, 188 and 189.)
Shanxi Province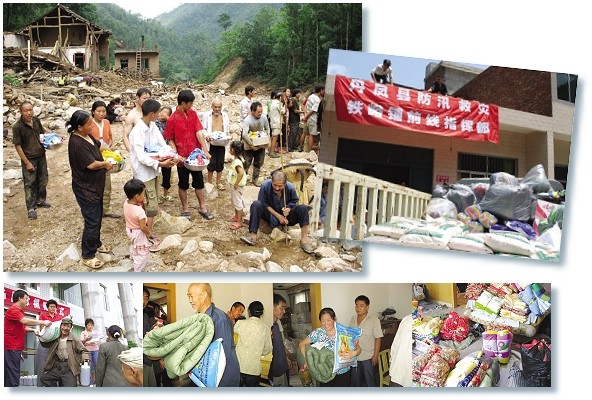 Since early July this year, many regions in Shanxi Province had been devastated by continuous torrential rain, serious floods and mud slides, leading to great losses in human lives and property. Upon knowing the situation, fellow initiates immediately purchased the needed relief materials and went to the affected areas together with relief cash and Master's love to distribute them to the victims. The places they covered included Zuoshui County, Danfeng County and Shangnan County in Xiangluo City, Ankang City, Yang County, Linyou County, Xianyang City and Foping County.
The situation in Danfeng County of Xiangluo City was especially critical, so fellow initiates went deep into the affected area to render relief twice in July and August. Towards the end of July, in addition to delivering part of the relief materials to the Disaster Relief Office of the Danfeng County, we also delivered foldable beds, cotton quilts, rice, dried noodles, salt and other urgently needed materials to the victims in the most devastated areas. In order to do that as quickly as possible, we carried the items on our shoulders and walked 30 km, thus overcoming the obstacles caused by damaged roads. We also distributed relief cash to the most stricken victims. Impressed by our extraordinary way of handling this disaster relief situation, the Huashang News and the Danfeng County Government Information Website reported our relief effort this time.
Towards the end of August, we again visited the victims in Danfeng County bringing with us relief materials such as rice, cooking oil, cotton quilts and clothing. The Town Mayor was deeply touched and said: "We are really very grateful! Your charitable actions provide a very good honorable lesson for us. We definitely will follow your example and embrace your sacrificing spirit to intensify our relief endeavor !"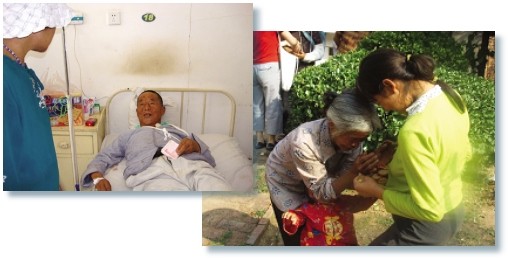 In Foping County of Hanzhong City, beginning in July, there had been four huge rain storms that created many serious disasters including floods, landslides and mud slides. Many people suffered great losses or even lost everything. In early September, we brought them some rice, wheat flour, cooking oil and other relief items. Now that it is mid autumn and getting colder, we bought 430 sets of thick quilts and requested the Civil Administration Department to distribute them to the victims.
In Shangnan County, when we were making a purchase of 400 cotton quilts, the shop owner was deeply touched by our charitable action. He contributed some money, asked us to extend his concern to the victims, and also decided to eat vegetarian food for three days. From this incident, we realized that our compassionate deeds can serve as examples for other people and influence them, thus bringing positive changes to society.
Gansu Province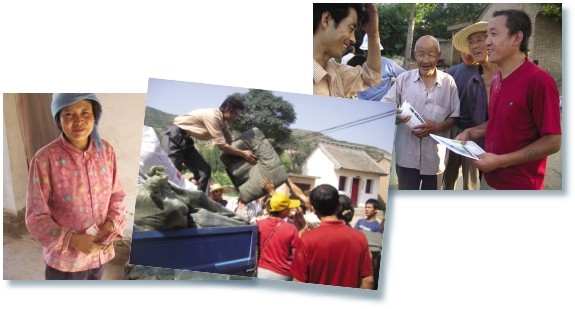 On July 24, 2007, Jingchuan County of Pingliang City in Gansu Province was hit by an extraordinarily heavy rain leading to severe floods. Concerned about the victims, Master instructed us to go and render relief. When we went there to investigate the situation, thanks to God's incredible arrangement, we met a taxi driver who just happened to have transported another disaster investigation team. Knowing that we were from a non-profit organization, he helped us a great deal and took us directly to households most affected by the disaster.
In addition to the relief fund and the 600 pieces of clothing contributed by fellow initiates, we purchased other relief materials including cotton quilts, rubber shoes, wheat flour, rice vegetable oil, soy sauce, vinegar and salt. We started distributing these items and relief cash at the mountain villages of Dangyuan, Hedao, Cheng-guan Town and Huang-chuan Town. The villagers were very touched and repeatedly asked us to leave our names and addresses, so that they could express their appreciation later. We told them that they should thank God, because it was God's love helping them through us.
On August 11, Wuwei area in Gansu was hit by an unusual storm of rain and hail. Disaster investigators informed us that the victims were urgently in need of financial aid to rebuild their houses, because the government had taken good care of their living necessities and provided other relief materials. Therefore, we raised a relief fund to be distributed to the victims helping them to rebuild their homes quickly.
Hunan Province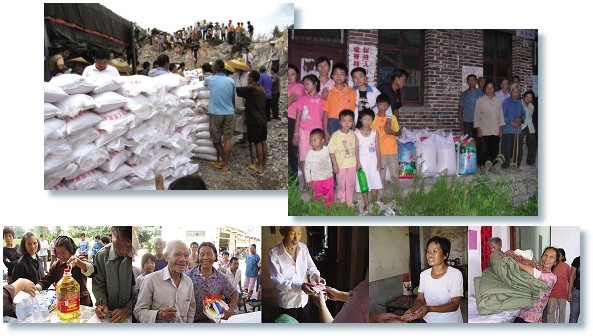 This year, the abnormal climate in Hunan had brought a rare phenomenon of floods and droughts occurring simultaneously. While there were rainstorms in Dao County, Jingzhou County and areas along the Lishui and Yuanshui Rivers, other places such as Lingxiang County in Changsha area, and Dao County and Ningyuan County in Yongzhou City were hit by severe droughts.
Besides that, nine places in Changde City area, including Linli County and Shimen County, were hit by rarely seen hurricanes and hale storms. After assessing the situation, we immediately purchased the required materials to be distributed to the victims in the affected areas. Relief cash was also given to destitute households affected by the disaster.
Affected by Typhoon Sepat, there was extensive heavy rainfall along the Xiangshui River on August 19, causing severe flooding in the Chenzhou and Zhuzhou areas. Bringing God's boundless love, fellow initiates went to render relief in Anren County, Tuling County, Ru County and Yongxing County. We especially distributed relief cash to victims whose houses were completely destroyed. The victims were extremely grateful for God's loving concern and help.
Yunnan Province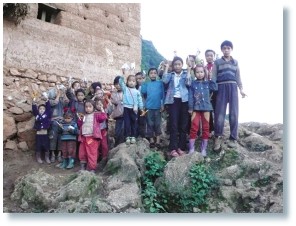 On July 19, a huge mud slide hit Xincheng Township in Yingjiang County, destroying crops, roads and irrigation systems. Continuous heavy rain for several days in Luquan County had caused floods that destroyed many houses. Apart from rendering relief to disaster victims, fellow initiates also went to Jinling County and Qundian County to help the needy people, including minority ethnic groups who were stricken by poverty and other miseries.
Luquan County is an impoverished area with inhabitants from many ethnic groups. Landslides often happen in that region. Since February this year, some villages have been suffering from drought, and then recently hit by floods. The victims were urgently in need of food. Fellow initiates had already conducted two relief operations in that area. In middle and late August, we further distributed clothing, food and relief cash to the destitute villagers.



Jiangsu Province
Comforting the Elderly with Veggie Dumplings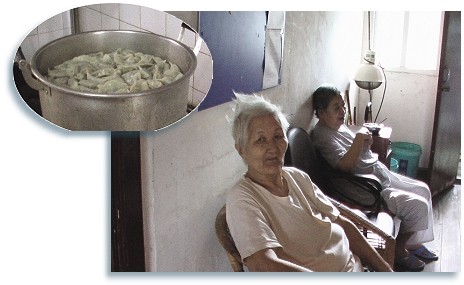 By fellow initiates in Mainland China (Originally in Chinese)
In August, Golden Year 4 (2007), to share Master's love with those in need, we brought some veggie dumplings to the old people in a retirement center in Jiangsu Province. There are about 30 seniors living in the center. Most are advanced in age. Though they receive professional care from the staff, their lonely hearts are still long for more human interaction and love.
That day, we brought the many gifts including veggie hams, dry veggie meat flosses, and veggie cakes and cookies. We also brought sufficient dumpling wraps and filling to make the dumplings right there in the retirement center. We chatted with them and took pictures for them. They were very happy and enjoyed being photographed. When the dumplings were served, they sat quietly savoring them. It was really an emotional moment seeing them so satisfied not only by the food but much more by Master's love and care. We all felt their hearts were full of joy and happiness although they did not express it. However, many of them kept asking for more dumplings and astonished the staff members with their good appetite. Some of their relatives were also touched and asked to taste our veggie dumplings.  
The staff members and the relatives of the senior expressed their gratitude again and again when we were leaving. Their faces were brightened with sincere smiles. Many fellow initiates really experienced Master's love while giving love to others. It made our brothers and sisters realize that giving is better than receiving, and entrusting everything to Master will yield the best result.