| | | |
| --- | --- | --- |
| | Korea | |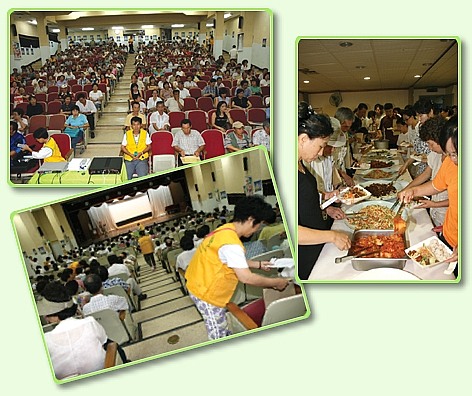 By Busan News Group (Originally in Korean)
[Busan] On Sunday August 26, Golden Year 4 (2007), the fellow initiates from Busan Center organized a Master's video seminar at the Busan Red Cross Hall, where Master met Korean disciples on one of Her previous visits. The conference was planned for the whole city of Busan and the Association members put in a tremendous effort to promote the event. Announcements were placed in densely populated subways for 2 weeks prior to the seminar. Upon seeing the posters, several people joyfully mentioned that they remembered Master from Her previous visits. One elderly gentleman even volunteered to have a poster put up on his main gate because he felt Master was such a special person. 
On the day of the conference, the hall was fully packed. All the guests were very attentive. One guest even said, "Last time when I attended the seminar, I could not understand what was being said, but now I can understand." Following the presentation, 102 people learned the Convenient Method, which left them with sparkling eyes and bright smiles. Among them, there were two reporters from Newsfocus Magazine, who came with the intention of covering the event, which they did, but also ended up learning the Convenient Method as they were deeply touched by Master's teachings. The guests were treated to a sumptuous vegetarian feast while watching the video "The Real Heroes." They were delighted and surprised to find that all the food was so delicious, especially the fishless salt Kimchi.
Thank You Master for blessing us to arrange this seminar, an occasion full of love and happiness.

---
Supreme Master TV Reaches out to All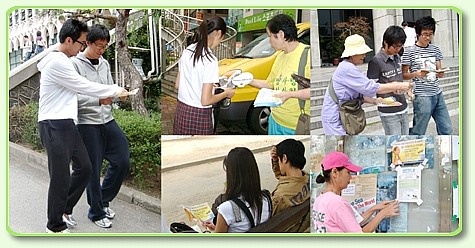 Reports from Seoul and Busan News Groups (Originally in Korean)
[Seoul] In addition to placing announcements in subways, buses, newspapers, magazines, etc., Association members continue to distribute Supreme Master TV and Alternative Living flyers directly to the public. They go out about 5 days a week and distribute about 4,000 flyers every week. They visit villages and share the message by giving flyers to people, placing them on cars, delivering to residential mailboxes and street newspaper stands, or posting on bulletin boards of housing complexes or schools. They also occasionally visit schools ranging from elementary schools to universities and share Supreme Master TV and the AL flyers with students, many of who pay great attention to the flyers.

---
One-Year Display of God's Loving Message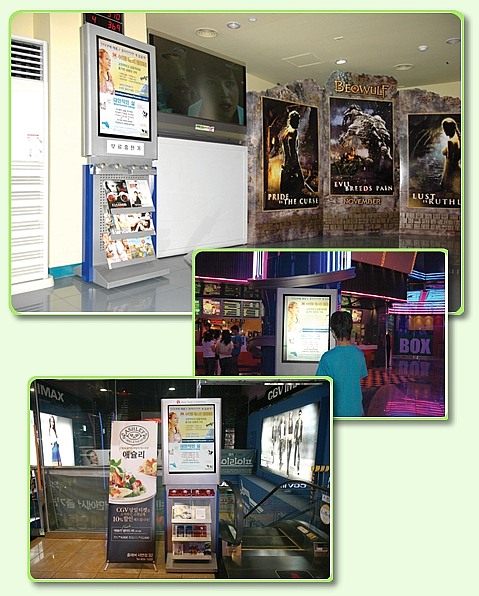 [Busan] The local Center started advertising the Supreme Master Television and Alternative Living message on the signboard of a moving machine used for recharging cellular phone batteries free of charge. The contract term of these ads is 12 months starting July 28, 2007. The citizens who visit the places with signboards – Seomyeon CGV located at Seomyeon, O2 Sinema at jangjun-dong  and S-funz Mega box at haeundae - are constantly attracted to them.

---
Noble Broadcasts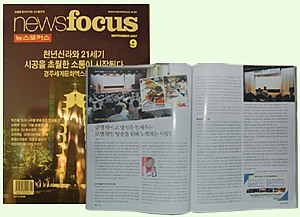 [Busan] Reporters from the News Focus magazine covering Master's video lecture in Busan on August 26, Golden Year 4 (2007) were so inspired by Master's lecture that they learned the Convenient Method. Their two-page article on Supreme Master Television in the magazine's September issue stated that it offers an alternative way to search for peace, noble aspirations, and positive ideas. While praising The Supreme Master Ching Hai International Association for its non-commercial activities to lead people to self-realization and humanitarian aid, the report published details on Master Ching Hai, the Quan Yin Method, and our volunteer activities.

---
Vegetarian Cooking with Mom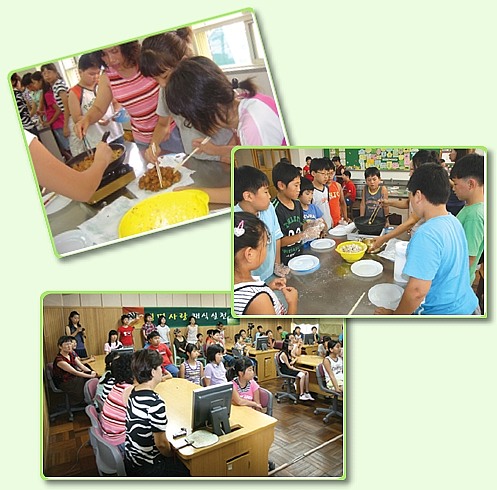 [Busan] On August 7 and 8, Golden Year 4 (2007), a lecture on the vegetarian diet and a cooking class were held at Webong and Sungcheon Elementary Schools, respectively. The events were part of the "school after schooling" program launched by the Busan Education Office.
The lecture entitled Vegetarian Cooking with Mom gave an in-depth analysis of the importance of the vegetarian diet. It attracted about 35 fifth and sixth-graders as well as teachers, parents, and students from a nearby high school. "I am gonna be a vegan," said some students at end of the video lecture. A discussion then ensued on ways to change the children's diet. A sister held a cooking demonstration of vegetarian chicken, which was later served as part of the lunch prepared by fellow initiates.
About 10 fellow initiates worked together to make the event a success. We thank Master for guiding us on this path of positive thinking and practice to preserve our beautiful Earth for a better future. We are also ready to serve as Master's instrument anytime.

---
A Rewarding Experience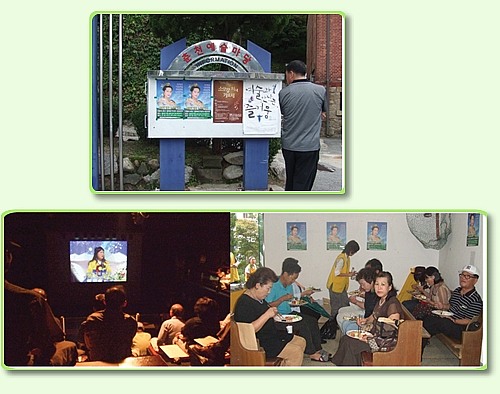 [Chuncheon] On Sunday September 16, Golden Year 4 (2007), a video seminar was held at the Bom Nae theater in Chuncheon by Association members.
Despite the rain, many people attended the seminar. After watching Master's video lecture, vegetarian foods were served to the visitors. Upon finding out there was no meat in any of the dishes they were surprised as it was their first time they ate delicious vegetarian foods. One guest even wanted to take some food to share with her mother. In the end, 8 people learned the Convenient Method of meditation. Thank You Master for making the second lecture in Chuncheon a successful one.

With deep compassion for animals and concerned about repeated outbreaks of epidemic diseases among animals and humans, Master has offered the world a fundamental solution to the problem by personally designing a friendly but convincing leaflet entitled "Alternative Living" to remind people to choose the vegetarian diet and stop killing in order to overcome global medical crises and save our fellow beings. Master has also instructed all initiates to share this message with their brothers and sisters in every corner of the world. In response, the practitioners have initiated an all-out effort to share Her words of love.
To keep pace with the planet's ongoing spiritual elevation, the local centers of The Supreme Master Ching Hai International Association are holding more and more video seminars and other Truth-sharing events.

You are welcome to join in these activities with your friends and relatives. For the latest schedule of our activities, please visit the following URL: http://www.Godsdirectcontact.org.tw/eng/latest_news/events-datebook.htm