| | | |
| --- | --- | --- |
| | Formosa | |
"The Golden Sailing Boat" Art Exhibition Featuring Spiritual Truth, Virtue and Beauty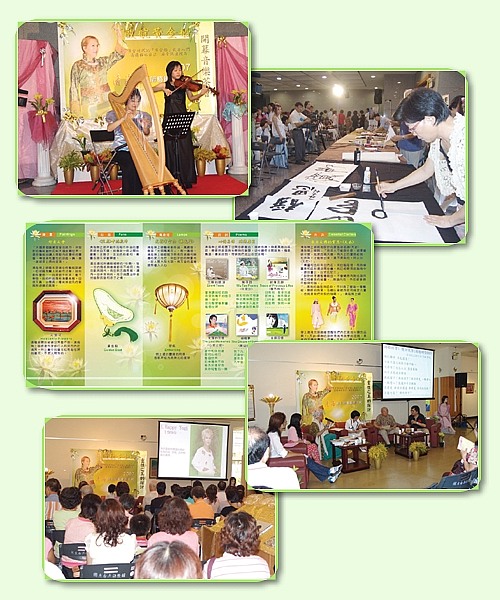 By Tainan News Group (Originally in Chinese)
[Tainan] From September 1 to 16, fellow initiates held an exhibition of Supreme Master Ching Hai's art creations at the National Tainan Social Education Center. The event, entitled "The Golden Sailing Boat," attracted numerous spectators, many of whom brought their relatives and friends to appreciate the truth, virtue and beauty of art and spirituality.
In a tea party that was held on the opening day of September 1, famous musicians from both Chinese and Western music in Tainan were invited to perform for the occasion. Twenty well-known calligraphers also demonstrated their magnificent art at the venue. Many honorable guests graced the event and dozens of television and other media also came to report on the activity. In his speech, Mr. Chen Jian-guo, Secretary of Tainan City government, highly praised Supreme Master Ching Hai as a spiritual Master with great talents and character. He said that he hoped this art exhibition would influence the society with Master's spirit of questing for truth, virtue and beauty, and thus would launch a benevolent trend.
On September 2, a seminar entitled "The Beauty of Spirituality" was held. Many experts and scholars from the art and cultural field used their expertise to guide the general public to explore the colorful and beautiful world of Supreme Master Ching Hai's poetry and other art creations. On September 16, in a program called "A Colorful World," Master's various art creations were introduced through different media such as a fashion show, a live music performance and a slide show. Everyone present was basking in an ambience of romantic fantasy.
Through these activities, the art creations of a living Master, full of spiritual connotation and positive energy, were introduced to the citizens of Tainan, thus establishing a very nice affinity with them.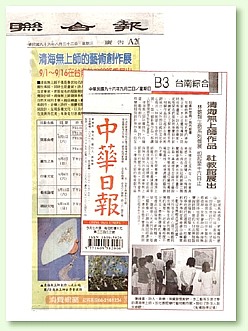 News articles in the China Daily News and United Daily News covering Supreme Master Ching Hai's art exhibition.


China Daily News photo caption: Recently, Supreme Master Ching Hai, who is gifted with talents in painting, poetry, music, jewelry and fashion design, and handicrafts, held an art exhibition at the Social Education Center. Numerous spectators were drawn to the exhibition. (Photo by reporter Zhao Quan-an)
---
Persistent Endeavors in Publicizing
Supreme Master Television
Compiled by Formosa News Group (Originally in Chinese)
God's grace has enabled Supreme Master Television to be broadcasted simultaneously through the Hotbird and Astra satellites since July 7, Golden Year 4 (2007). In Formosa, fellow initiates are also unremitting in their efforts to promote the news about Supreme Master Television in different ways, hoping to spread this positive energy to every corner of the world.
Announcements in the Most Popular Two-dimensional Media
Since July 24, the Formosa Centers have placed announcements about Supreme Master Television continuously in various major newspapers and magazines in the country. It was estimated that several million people would have the chance to learn about this latest message charged with God's love. From the various media, Health World magazine published four articles free of charge, and the Upaper also offered to publish our activity news and the Supreme Master Television information free of charge. We are very grateful for their generous and loving support in sharing the noble life style and positive news with the public.
Helping Other Countries to Spread the News
The Formosa Centers have also helped many foreign countries to bring this positive news to their part of the world. Their endeavors include: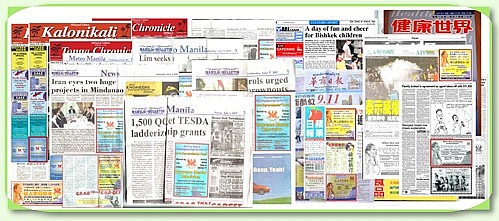 Several dozen announcements in the biggest newspaper in the Philippines, the Manila Bulletin.

More than ten continuous announcements in the biggest newspaper in Pakistan -- the Daily Express News.

The Commercial News and Kohsanteheap Daily in Cambodia

Kentipur Daily in Nepal

The Daily Ittefaq and Prothom-Alo in Bangladesh

Kuensel in Bhutan and the Bhutan National Television Channel

Sunday Times in Sri Lanka

Yediot Ahronot Newspaper in Israel

The three major newspapers in India -- Times of India, the Mumbai Mirror and the  

Bengalore 

Mumbai Mirror, as well as the Dainik Jagran Daily News printed in Hindi

Samoa News in the Pacific Island of Samoa

Solomon Star in the Solomon Islands; in Vanatu -- the Vanatu Daily Post

A French paper in New Caledonia -- Les Nouvelles Caledoniennes

Kaselehlie-Press in Micronesia

Cook Islands News; in Papua and New Guinea -- The National, and Discover

Borneo Bulletin and Media Permata in Brunei

Saipan Tribune in Northern Marianas

Marshall Islands Journal in the Marshall Islands

Fiji Times, Fiji Kaila, and Fiji Shanti Dut in Fiji

Islands Business, circulated throughout the Pacific Islands of Oceania

TV Safina, the Dajdzhest-Press and Charxi Gardun in Tajikistan

Biznes Reklama in Turkmenistan

The Times of Central Asia and Vecherny Bishkek (printed in Russian) in Kyrgyzstan

Georgian Times and Georgia Tbilisi in Georgia

Plyus and the Times in Kazakhstan

TV Markaz in Uzbekistan

the official newspaper of Oman in the Far East

Al Watan in Kuwait

Tishreen Daily in Syria

Le 'Orient de Jour in Lebanon

Al Raya in Dacca

Sharq Al Awsat in Saudi Arabia and Al Hayat reaching readers in thirteen countries in the region

AiF in Russia

Vechernij newspaper in Belarus

RIO Sens Zagalnomiska in Ukraine
In addition, we also helped our Center in Guam to place more than ten announcements continuously in the Pacific Daily News—the biggest English newspaper there, and the China News—the most widely circulated Chinese newspaper. The results were very good, inspiring a lot of people to call in asking for relevant information. Another newspaper that offered us free help was the Tonga Chronicle, the official paper of the Kingdom of Tonga, which was not only the most popular local paper, but also the customary newspaper for inhabitants on several adjacent islands. This time, the Tonga Chronicle even helped us to translate the Supreme Master Television news into the Tongan language, and published prominent announcements in their English papers twice, all free of charge. Their ardent and compassionate assistance deeply touched the fellow initiates. We would like to express our gratitude for their generous and loving support.
Announcements on Placards, Internet TV and Internet Web Sites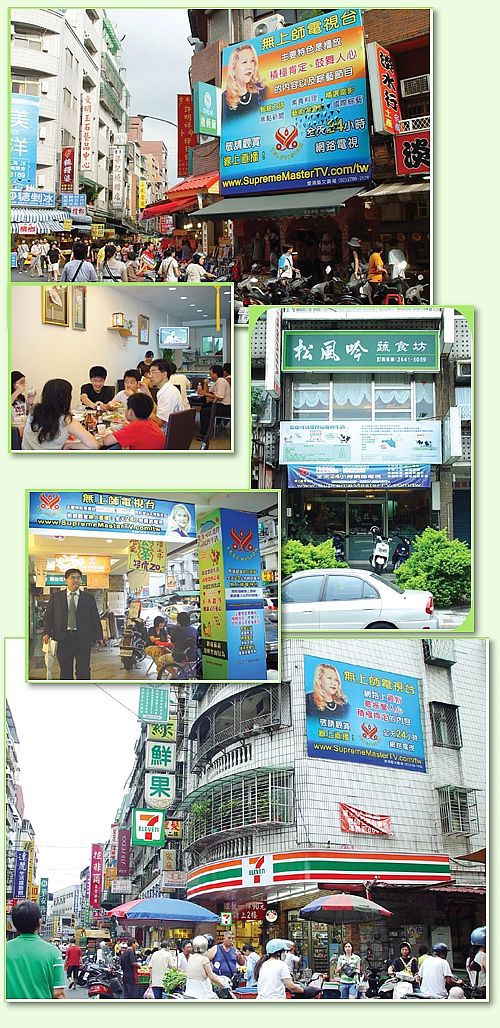 In Taipei City and Taipei County, fellow initiates continued to put Supreme Master Television placards and posters outside the shops located in heavily crowded commercial and scenic areas, and the responses received from the general public were positive. We also played the Supreme Master Television programs in vegetarian restaurants opened by fellow initiates by setting up Internet television sets. On the Internet, we continued to put the Supreme Master Television announcement in an eye-catching spot on the front page of http://www.dsopen.com/. Viewers can watch the program online simply by clicking on the announcement.
Distribution of Publicity Items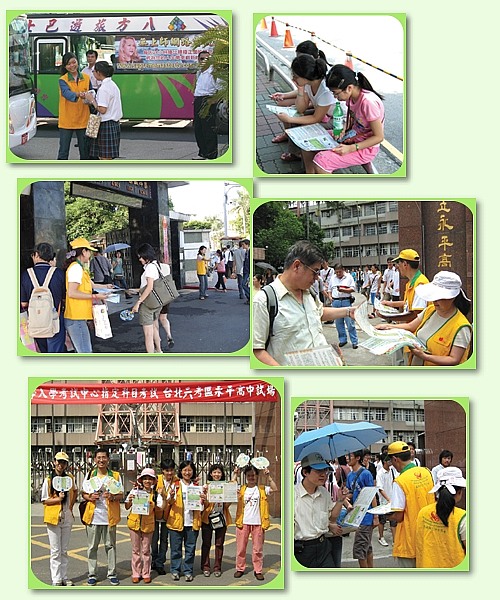 During the summer vacation, we went to the examination centers in various colleges throughout the country and distributed Alternative Living fans, document folders, multi purpose tablemats and Supreme Master Television announcement flyers. Announcement flyers were also distributed at the exhibition venues inside the World Trade Center.

With deep compassion for animals and concerned about repeated outbreaks of epidemic diseases among animals and humans, Master has offered the world a fundamental solution to the problem by personally designing a friendly but convincing leaflet entitled "Alternative Living" to remind people to choose the vegetarian diet and stop killing in order to overcome global medical crises and save our fellow beings. Master has also instructed all initiates to share this message with their brothers and sisters in every corner of the world. In response, the practitioners have initiated an all-out effort to share Her words of love.
To keep pace with the planet's ongoing spiritual elevation, the local centers of The Supreme Master Ching Hai International Association are holding more and more video seminars and other Truth-sharing events.

You are welcome to join in these activities with your friends and relatives. For the latest schedule of our activities, please visit the following URL: http://www.Godsdirectcontact.org.tw/eng/latest_news/events-datebook.htm