| | |
| --- | --- |
| | Shining World Compassion Award |
| | |
Recognizing a Noble Animal Welfare Worker
♥♥♥♥♥♥♥♥♥
By Melbourne News Group, Australia (Originally in English)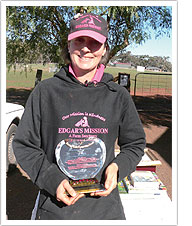 Ms. Pam Ahern, founder of the vegan sanctuary Edgar's Mission in Willowmavin, Australia, named the facility after Edgar Alan, a rescued pig now six-years-old. Believing in "the power of kindness," she quit her fulltime job to take on the responsibility of caring for these benevolent creatures. The establishment hosts over 150 abused or abandoned animal friends, including pigs, sheep, cows, goats, etc., some of whom serve as Ambassadors for Pam's work, sharing their rich inner lives, intelligence, and compassionate, loving natures with visitors. Pam also does media events with the animals so that the public can come to realize the noble qualities of beings typically regarded as sources of food.
| | |
| --- | --- |
| | Receipt from Ms. Ahern for Master's US$10,000 contribution |
The bushfires that struck the state of Victoria, Australia, in February, 2009, brought Ms. Ahern's work to Supreme Master Ching Hai's attention. And in May, hearing that Pam was tending to fire-affected animals, Master contributed US$2,000 to the Mission and granted her the Shining World Compassion Award.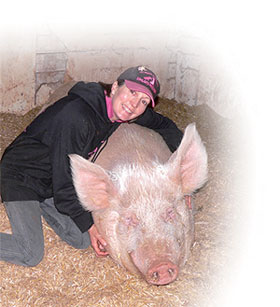 Ms. Ahern expressed her gratitude to Master in a letter, saying, "Through your most generous assistance, we will be able to help many more animals, and are indeed encouraged to continue our work in these difficult times. I thank you for recognizing not only my efforts but those of the many other people who also work to make the world a better place for all. Thank you for what you do and make possible." Touched by Pam's sincerity, Master added an additional US$8,000 to Her contribution. Our local Association members presented the Award and gifts to Pam on Master's behalf.
We sincerely thank Ms. Pam Ahern and the animal Ambassadors at Edgar's Mission, and hope that we can soon say "mission accomplished" with respect to saving farm animals' lives.

To watch Supreme Master TV's interview and coverage of this Award presentation, please visit: http://video.Godsdirectcontact.net/magazine/AW1092s.php

If you wish to know more about the beautiful things happening in our world, please check out our archives of awards presented over the years, including the Awards of the Month, at the following URL address:
http://award.godsdirectcontact.net