| | |
| --- | --- |
| | Shining World Compassion Award |
| | |
The Pajama Program: Providing Sweet Dreams for Children in Need
♥♥♥♥♥♥♥♥♥
By New York News Group, USA (Originally in English)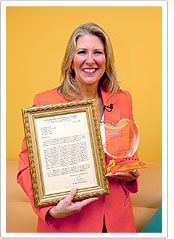 For many youngsters, bedtime is a happy, loving experience as they slip into cozy pajamas and listen to stories mom or dad reads them. But sadly, for some disadvantaged children there is no such nightly routine. A New York based non-profit organization—Pajama Program—helps the less fortunate children climb into warm pajamas and enjoy a nurturing book before going off to dreamland. The Program was co-founded by Alice Quirk and Genevieve Piturro in 2001 and since then, over 350,000 comfortable, new sets of pajamas have been distributed to less privileged children around the world. Now, the Program has more than 70 chapters and many volunteers in the USA and affiliate chapters overseas in about a dozen countries.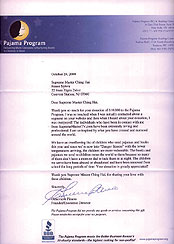 Thank you letter and receipt from Ms. Genevieve Piturro for the US$10,000 contribution from Master
About 10 years ago, the Program's executive director, Ms. Piturro, was working in a high-powered position in New York City, but she kept wondering if that was really everything that she should be doing in life. Later, she met a man who encouraged her to find her real life purpose and this man eventually became her husband. Soon, Ms. Piturro began volunteering at local shelters, group homes, and other facilities that cared for disadvantaged, orphaned or foster children. She noticed that none of the children had pajamas. They simply slept in their daytime clothes. She then asked herself how to give these less fortunate little ones the same sense of security she had felt at bedtime and she prayed to the Universe for guidance. One evening while she was riding home on the subway, the words "pajama program" suddenly popped into her head. Ms. Piturro realized that her mission was to ensure that the underprivileged children she worked with had new pajamas and good books for bedtime, thus providing not only material comfort but also giving emotional support to the youngsters.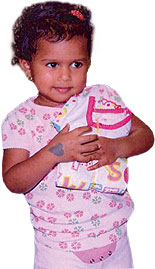 In recognition of the Pajama Program's benevolent work, Supreme Master Ching Hai honored this wonderful organization with the Shining World Compassion Award along with a kind-hearted contribution of US$10,000. To thank them for their noble, uplifting work, our Association members also presented Ms. Piturro and the Program with Master's international #1 bestselling books The Birds in My Life, The Dogs in My Life, and The Noble Wilds on October 31, Golden Year 6 (2009). Ms. Piturro was especially delighted with The Dogs in My Life, saying "I've always wanted a dog of my own, so I'll have to look through and pick one." She told Master in a thank you letter that she was very inspired by what Master has created and nurtured around the world. She greatly appreciated Master's contribution, because there was an overflowing list of children who need pajamas and books when lower temperatures arrived, and the children are more vulnerable.
May Heaven bless Ms. Genevieve Piturro and all the others involved in the Pajama Program, which brings nurturing and joy to young children in need. And may the comfortable pajamas, good books, warm hugs and love from the volunteers give the little ones sweet dreams every night!

Reference: http://www.pajamaprogram.org/dcball.html
To watch Supreme Master TV's interviews and coverage of this Award presentation, please visit: http://video.Godsdirectcontact.net/magazine/EE1346.php

If you wish to know more about the beautiful things happening in our world, please check out our archives of awards presented over the years, including the Awards of the Month, at the following URL address:
http://award.godsdirectcontact.net