| | | |
| --- | --- | --- |
| | Sri Lanka | |
Sri Lanka Comforted by Master's Love and Care
By Sri Lanka News Group
and Formosa Relief Team
(Originally in English
and Chinese)
In July 2009, gale force winds struck Chilaw, Sri Lanka, causing severe damage to the area. Upon learning of the disaster, Supreme Master Ching Hai contributed US$10,000 and asked our local Association members to conduct relief work. On August 20, with help from the region's Disaster Management Center and Divisional Secretariat, our relief team distributed much-needed clothing and essential food supplies to the affected families, who joyfully expressed their deepest appreciation to Master for the love and comfort She brought them.
A tornado struck Puttlam Town in Sri Lanka's Northwestern Province on October 3, injuring at least 14 people, uprooting trees, and damaging or destroying nearly 1,000 homes. After hearing about the unfortunate circumstances, Supreme Master Ching Hai lovingly contributed US$10,000 toward the purchase of relief supplies for the affected families. The local government also provided materials such as roofing sheets and tiles to rebuild damaged roofs. The people of Puttlam sincerely thanked Master for Her deep concern and unconditional love.
The relief team members would also like to thank Cargill's Food City, Chilaw Branch for supplying most of the dry food, preparing 300 relief packages, and helping them with their distribution effort.
Cyclone Ward struck the eastern part of Sri Lanka on December 14, bringing three days of torrential rain and subsequent flood disasters. In the Eastern Province, more than 80,000 households were in desperate need. A team formed by Formosan fellow initiates, carrying Master's love and Her US$10,000 contribution, arrived in Sri Lanka on December 28 to render relief to the most affected in the Ampara and Batticaloa Districts.
In the Ampara District, our team first contacted Mr. A.S.M. Ziyath, District Coordinator of the local Disaster Management Center, to assess the situation and the needs of the people. Thereafter, they purchased and packed the basic necessities, and efficiently delivered the materials to the affected area with Mr. Ziyath's assistance.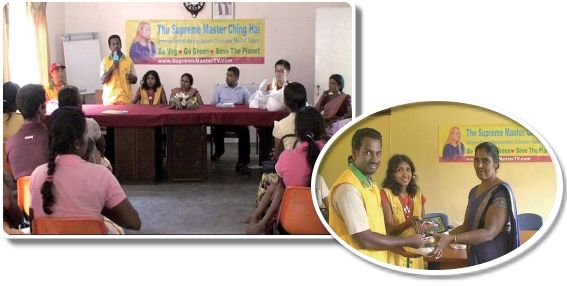 In the Batticaloa District, the devastation was even more extensive, and stricken households amounted to tens of thousands. After discussions with the local Disaster Management Center, they decided to concentrate primarily on providing relief to 877 affected households in the Mamunai West Division where the bridge leading to the outside world had just been repaired. With enormous help from the regional government, our team successfully distributed the relief material, the surplus of which was given to the local government to hand out to those most in need in other flood-ravaged areas.
During the relief operation, many people including government officials, bazaar employees and even residents in the affected areas were glad to receive Master's sample book and read it eagerly. May the local inhabitants quickly recover from the shadow of the flood disaster and resume their normal lives.

---
Expenditures by Supreme Master Ching Hai for Tornado and
Flood Relief Work in Sri Lanka
Description

Amount (LKR)

Receipt

Food (rice, wheat flour, tea leaves, biscuits, noodles, coconut oil, curry powder, red lentils, mung beans, sugar, salt, sweets, drinking water, malted milk, etc.)

Daily necessities (mosquito nets, bath towels, bed sheets, pillow cases, paper napkins, tooth paste, soap, detergent, bags, etc.)

A

Transportation for relief materials (vehicle rental, fuel, packing, etc.)

60,622

B

Miscellaneous expenses (photo and video expenses, labor, etc.)

12,730

C

Total

LKR3,405,789

(US$29,722)

*Throughout the relief operation, the team members paid for their own transportation, food and accommodation.
To view the Humanitarian Relief Activities by the Supreme Master Ching Hai and Her International Association, please visit:
http://www.GodsDirectContact.org.tw/humanitarian
(The list can be sorted by year, country/region and type of events.)