| | | |
| --- | --- | --- |
| | Afghanistan | |
Master's Aid Reaches Afghanistan after Severe Spring Floods
By Macao News Group (Originally in Persian)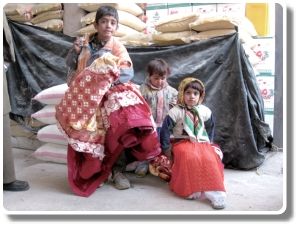 From April to May 2009 constant, heavy rains caused flooding in Afghanistan that affected more than 10,000 people, with approximately 150 losing their lives. The floods also damaged over 5,525 hectares of farm land and 4,200 fruit trees. Upon learning of the disaster Supreme Master Ching Hai provided US$20,000 in relief funds and asked that a team visit the region to render aid, expressing concern over the possibility of more flooding and a scarcity of food in the area.
As soon as conditions permitted, a team of our Association members arrived in the city of Herat, and with the help of United Nations Humanitarian Affairs officers, distributed materials to 550 families, including 392 in the town of Kohsan, central Kohsan District, where the situation was extreme due to flooding of the Hari River. Each family received 25 kg of rice, 4.5 kg of cooking oil and a blanket. The supplies were gratefully received and after our group left the region, the UN officers distributed the remaining items in villages of the Injil District.
Supreme Master Ching Hai delivered Her loving aid through a heartfelt wish to bring comfort to those affected by extreme weather. We pray that such conditions may ease as the world adopts a vegan diet and helps to curb global warming.
To view the Humanitarian Relief Activities by the Supreme Master Ching Hai and Her International Association, please visit:
http://www.GodsDirectContact.org.tw/humanitarian
(The list can be sorted by year, country/region and type of events.)