| | | |
| --- | --- | --- |
| | Yemen | |
Villagers Overjoyed to Receive Flood Relief

By Malaysia Relief Team (Originally in English)
In August 2009, heavy downpours in Yemen caused flooding that destroyed homes, took 17 lives, and forced many families to evacuate as rockslides collapsed buildings. The most severely affected villages were Rada'a, Baidha'a, Malhan in Mahweet Province, Dhuhran in Hajjah Province and Wadi Kaifa in the Najra District. After learning of the victims' plight, our merciful Supreme Master Ching Hai immediately pledged US$15,000 in aid and requested a relief team be sent to the affected regions.
On October 18, a group of our Malaysian Association members arrived in the devastated areas, to bring comfort to those who had lost family members and lacked food and shelter. Cash allotments ranging from US$50 to US$100, together with information on climate change, were distributed to 151 families. The villagers were overjoyed with the God-sent relief, which helped them repair their homes and meet their daily needs. They asked the team to send their heartfelt gratitude and love to Master.
Thanks to Master's compassionate arrangements and the help of local residents, the five-day relief effort went smoothly. May the pure hearted Yemen people soon understand the root cause of all disasters and turn to the vegan diet to live in peace and harmony.

---
Expenditures by Supreme Master Ching Hai for the
Flood Relief Work in Yemen
| | | |
| --- | --- | --- |
| Description | Amount (US$) | Receipt |
| Cash contribution to 151 families | 13,902 | A |
| | 1,098 | B |
| Total | US$15,000 | |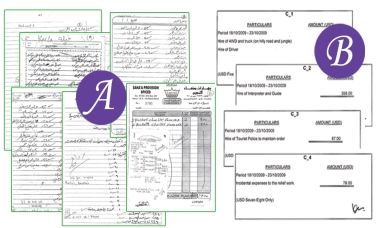 *Throughout the relief operation, the team members paid for their own transportation, food and accommodation.
To view the Humanitarian Relief Activities by the Supreme Master Ching Hai and Her International Association, please visit:
http://www.GodsDirectContact.org.tw/humanitarian
(The list can be sorted by year, country/region and type of events.)