| | | |
| --- | --- | --- |
| | Âu Lạc | |
Timely Flood Relief Operations during the Rainy Season
By Âu Lạc News Group (Originally in Aulacese)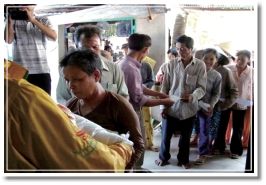 In the fall of 2009, a series of torrential rains had caused serious floods in many provinces in southern, central and western Âu Lạc. Supreme Master Ching Hai sent approximately a total of US$70,000 to our Association members there to carry out the relief work.
September Relief Work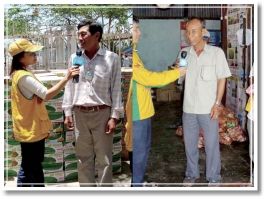 Local government officials appreciate Master's help.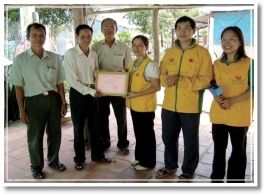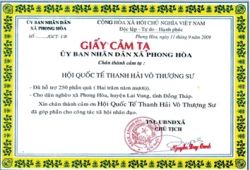 Certificate of Gratitude given to Supreme Master Ching Hai by the Phong Hóa, Đồng Tháp District Government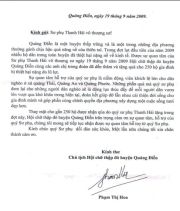 Thank you letter from the Viet Nam Red Cross, Quảng Điền District Branch
In September, heavy rains ravaged crops and fruit trees in remote areas of the Mekong Delta Region in southern Âu Lạc, causing great distress to local residents. After purchasing supplies, our relief team distributed Master's loving aid to affected households in the villages of Cà Mau, Hòa Thuận, Hòa Lợi and Xeo Phui, as well as in Rạch Giá and Cấn Thơ Provinces. The gift packages contained vegetarian food, relief items and envelopes of cash. Financial aid and 1.5 tons of rice were also contributed to hospitals in Cà Mau and Rạch Giá Provinces from Master's fund. One household was given over US$500 to rebuild their damaged home and others received some cash to help with less serious repairs.
Torrential rains also destroyed many homes and devastated hundreds of hectares of rice and crops ready for harvest in Huế, Thừa Thiên Province in north central Âu Lạc. On September 19, our team of Association members brought Master's love and support to the affected families with help from the Quảng Điền District Red Cross and Quảng Thái, Quảng Phước and Quảng An village officials. The relief supplies included rice and noodles as well as sweets to lift people's spirits. The team also provided five wheelchairs for the handicapped. The officials deeply appreciated Master's concern. Mr. Lê Văn Hải, Deputy Chairman of Quảng An Village, and Mr. Đặng Toàn Pu, said, "Thank you, everyone, very much! Thanks to these gifts, we now have more strength to stand up again, because we know that there are many loving, compassionate hearts of understanding and sharing in life."
October Relief Work
In early October, central Âu Lạc again experienced unrelenting rains, with serious destruction inflicted by Typhoon Ketsana, which displaced thousands, caused loss of life, and damaged homes, roads, crops and trees. The relief team went to Tam Nghĩa Village, Quảng Nam Province to hand out rice, soy sauce, instant noodles and blankets along with allotments of financial aid. Next, they traveled to Bình Minh Village, Quảng Ngãi Province, where most houses with mud walls and thatched roofs had been washed away and some families had lost loved ones. The situation was difficult but our Association members were able to distribute much needed supplies and money to help in the recovery.
The relief team continued on to Bình Thới Village, Quảng Ngãi Province where the damage was not that serious. However, some houses and livestock were also carried away by the water. After distributing gift bags and envelopes of cash to the affected households, the team set out for Gia Lai, Kontum Province, where together with our fellow initiates living in that area, they rode motorbikes to remote, heavily affected mountain villages that had yet to receive relief due to collapsed and flooded roads. They distributed Master's aid to families in three villages. Their last stop was the severely affected Lý Sơn Island, Quảng Ngãi Province, where relief items and money were given to the villagers.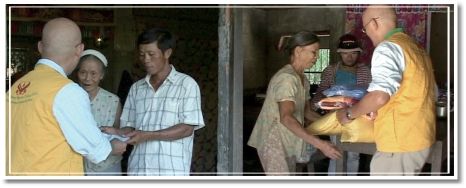 November Relief Work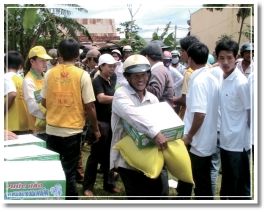 On November 2, Typhoon Mirinae, Âu Lạc's eleventh typhoon since the beginning of the year, struck the provinces of Bình Định and Phú Yên, again causing flooding in many areas and in neighboring provinces of central Âu Lạc. Immense damage was inflicted on people and property. Our relief team immediately journeyed to Bình Định, where many roads were flooded and the area could only be accessed by boat and truck. A hundred packages of relief supplies, containing vegetarian instant noodles, cooking oil, drinking water, sandwiches and envelopes of cash were given to the affected households. The Chairman of the District Front Committee expressed his appreciation to the team, and the people sincerely thanked Master, as they happily received their gifts.
Next, the team went to Vân Canh District, Bình Định Province where many houses, people and animals were taken by the flood resulting from the violent storm. They distributed 100 packages of relief items, each containing a blanket, one kilogram of rice, a liter of cooking oil, a bag of seasoning, bread and an envelope with financial aid. Again the local government officials warmly welcomed Master's gifts and actively helped in the distribution work.
In Phú Yên, where torrential rains had inflicted the heaviest damage, the relief team quickly prepared 100 blankets as well as boxes of instant noodles, drinking water and rice, and offered them to households that had lost loved ones and others in need. More aid packages were handed out in Phú Yên Province, An Thạch Village in Tuy An District and Gia Lai and Khánh Hòa Provinces.
Throughout the relief operation, our Association members shared Master's love and information on the consequences of global warming, such as the disasters the people had just experienced. The victims listened attentively, with some sobbing. All extended their thanks to Master as well as prayers to God and Buddha to provide Her with abundant health to assist the needy.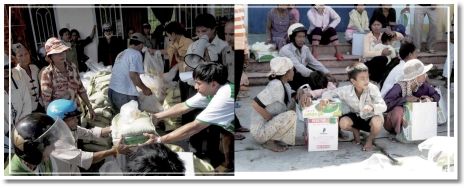 Local government officials facilitate the receipt of Supreme Master Ching Hai's gifts and assist in distributing these relief supplies to victims in Central Âu Lạc.
---
Expenditures by Supreme Master Ching Hai for Flood and
Typhoon Relief Work in Âu Lạc
Description

Amount (VND)

Receipt

Food (rice, noodles, cooking oil, sugar, dried veggie protein, bread and sweets), drinking water and supplies (curtains, warm blankets, etc.)

628,529,100

A

Cash contribution to the victims and the local government

622,874,000

B

Miscellaneous expenses (transportation, etc.)

16,000,000

C

Total

VND1,267,403,100

 (US$69,605)

*Throughout the relief operation, the team members paid for their own transportation, food and accommodation.
To view the Humanitarian Relief Activities by the Supreme Master Ching Hai and Her International Association, please visit:
http://www.GodsDirectContact.org.tw/humanitarian
(The list can be sorted by year, country/region and type of events.)