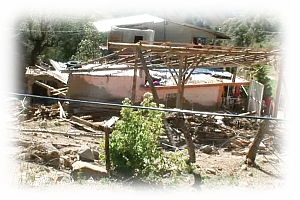 | | | |
| --- | --- | --- |
| | | |

Rendering Aid to Those Affected by Unseasonal Rain and Hurricane
By Texcoco News Group (Originally in Spanish)
Days of unexpected rainfall in February 2010 caused widespread flooding and landslides in Mexico, affecting more than 15,000 people in Michoacan State and resulting in at least 30 fatalities. Soldiers joined emergency crews to ease the situation, and President Felipe Calderon visited the most devastated states to address the damage.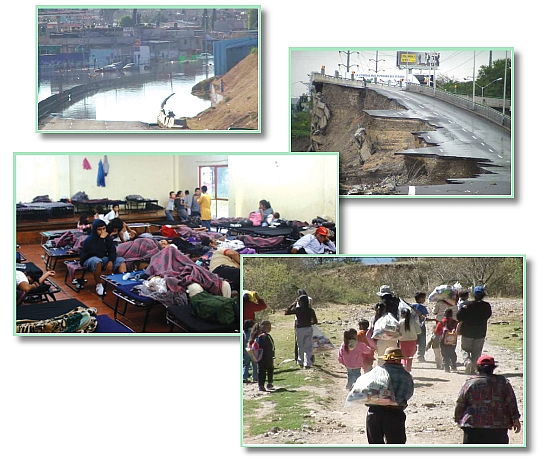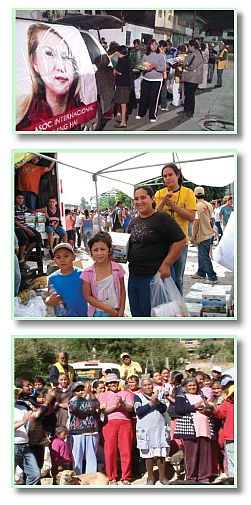 Supreme Master Ching Hai provided funds for the relief work conducted by our Association members in Michoacan and Mexico State s. On February 28, after traveling 1.5 hours, the team arrived in Angangueo community in the city of Zitacuaro, Michoacan, and spoke with Mrs. Eloina Hernandez, the Executive Director of the National System for Integral Family Development, who kindly informed them that 380 families were still in need of food and clothes for the children. The relief team immediately delivered emergency materials that included food, cleaning supplies and hygiene items to these vulnerable people, each of whom gave sincere thanks to Master, hoping one day they could meet Her in person.
Hurricane Alex Relief Efforts in Northeastern Mexico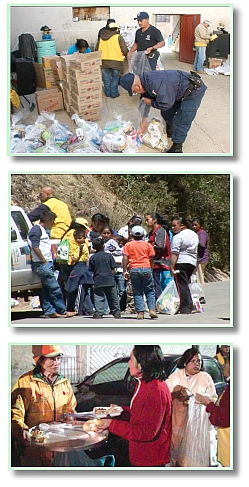 Hurricane Alex caused serious floods in northeastern Mexico in late June 2010. In Nuevo León State, there were 15 fatalities, and the floods heavily affected infrastructure causing 61,000 homes to lose power. Supreme Master Ching Hai conveyed Her deep condolences and prayers, as well as contributed US$15,000 to assist with the disaster relief work.
In July, a team of our Association members traveled through the on-going torrential rains to the inundated municipality of Anáhuac where 300 families were forced to evacuate. Officials from the city's Water and Drainage Management guided them to the shelter where most of the storm-afflicted were housed. With the kind help from the 7th Area State military Nuevo León personnel, the team was able to distribute vegan food supplies, shelter canopies, blankets, clothes, diapers, mattresses and other personal necessities.
The recipients were overwhelmed at Supreme Master Ching Hai's generosity, some of who could not hold back their tears as they thanked Her for remembering them. When informative SOS fliers on the vegan solution to stabilize such catastrophes were given out, the residents responded with a sense of comfort upon realizing they could actually do something to help the environment.

Expenditures by Supreme Master Ching Hai
for Flood and Hurricane Relief Works in Mexico
Descriptions

Amount (MXN)

Receipt

Food (Rice, beans, oil)

130,501

M1

Medicine

16,147

M2

Supplies (clothes, sleeping bags, canvas canopies, plastic boots, socks, scarves, blankets and gloves)

70,606

M3

Transportation fee

10,564

M4

Miscellaneous (labor fee, gas, etc.)

22,744

M5

Cash contribution

500

M6

Total

MXN251,062

USD19,847

* Throughout the relief operation, the team members paid for their own transportation, food and accommodation.
To view the Humanitarian Relief Activities by the Supreme Master Ching Hai and Her International Association, please visit:
http://www.GodsDirectContact.org.tw/humanitarian
(The list can be sorted by year, country/region and type of events.)