| | | |
| --- | --- | --- |
| | | |
Hundreds of Displaced Families Receive Master's Aid
By Douala Relief Team (Originally in English)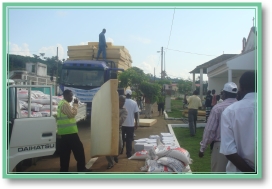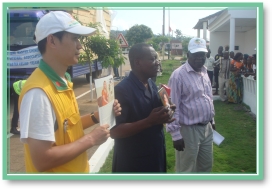 Mr. Josť Macaia (center) introduces Master's teachings to his fellow citizens.
On December 10, 2009, heavy rains destroyed more than 150 houses and damaged others in Buco Zau, Cabinda Province, Northern Angola, leaving nearly a thousand families homeless. Children were sheltered in school classrooms as many neighborhoods were inundated with water from the rising Luali River. With Master's loving concern and US$11,000 contribution, a relief team from our Douala, Cameroon Center arrived in Cabinda in January 2010, and with the help of a local official, traveled to the disaster area. They purchased much needed food, clothing, blankets and mattresses, and arranged for two truckloads of relief materials to be delivered. With the assistance of local social welfare workers, the materials were quickly distributed along with SOS flyers. Mr. Josť Macaia, the Deputy Municipal Administrator of Buco Zau, wholeheartedly thanked Supreme Master Ching Hai, as well as explained to the recipients that She cares for them very much and is helping them through God's love. Mr. Macaia also sent an official thank you letter to Master.
Thank you letter from the Deputy Municipal Administrator of Buco Zau and the Deputy Municipal Administrator of Mupa for Master's loving aid
A few months later, the Cameroon relief team also went to the city of Ondjiva, Cunene Province in Southern Angola to provide aid to those affected by a flood in March. As Mupa was the most severely affected town with all of their crops destroyed, the relief team purchased 10 tons rice with Master's US$10,000 contribution, and used a large truck arranged by Mr. Huang, the director of CRBC (China Road and Bridge Corporation), to transport it. When the rice arrived in Mupa, after a 3-hour journey, the team distributed it to the happy and grateful recipients along with God's love and SOS flyers.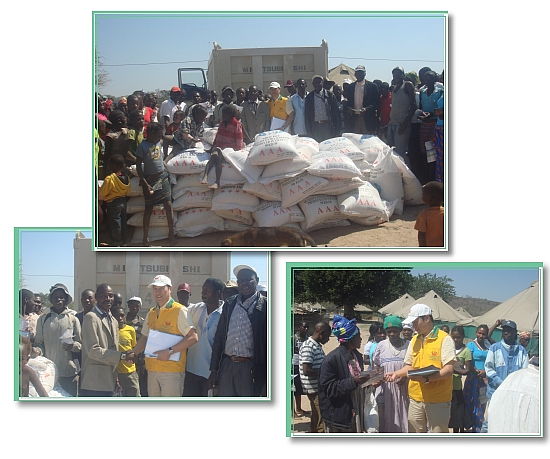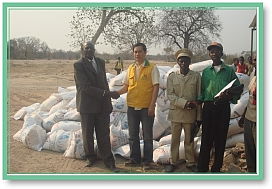 On September 24, due to another serious flood, the relief team returned to Ondjiva and purchased 11 more tons of rice with master's US$10,000 contribution. The kind-hearted local people again helped them deliver the rice to Mupa, where Mr. Gilberto O. Soares from the government office received the supply on behalf of the people. He sent a thank you letter to Master, expressing his gratitude. May more Angolans choose to adopt a healthy, eco-friendly, vegan lifestyle to avoid this kind of disaster in the future.

Expenditures by Supreme Master Ching Hai for Flood Relief Work in Angola
Relief Work

Description

Amount (AOA)

Receipt

The 1st relief

Food, clothing, blankets, and mattresses

1,027,225

A

The 2nd relief

10 tons of rice

953,000

B

The 3rd relief

11 tons of rice

975,000

C

Total

AOA 2,955,225

(US$31,105 )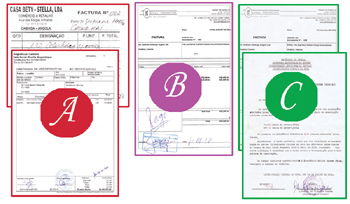 To view the Humanitarian Relief Activities by the Supreme Master Ching Hai and Her International Association, please visit:
http://www.GodsDirectContact.org.tw/humanitarian
(The list can be sorted by year, country/region and type of events.)