| | | |
| --- | --- | --- |
| | | |
Master's Aid Helps Flood Displaced People

By Benin Relief Team (Originally in English)
In August and September 2009, many villages in the Tahoua region of southeastern Niger were struck by devastating floods that affected 87,000 residents, damaged 12,786 homes, and left many villagers homeless.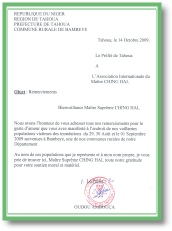 Thank you letter from Mr. Oudou Ambouca for Master's compassionate help
Hearing of the victims' plight, Supreme Master Ching Hai provided US$7,500 to purchase relief supplies. On October 14, a team of our Association members from Benin arrived in Niger to convey Master's love and to distribute food, blankets, dishes, mats and soap to the affected families. The people happily received the items which greatly eased their situation and provided comfort in a troubled time, while thanking Supreme Master Ching Hai for thinking of them.
In an official letter to Master, the Honorable Mr. Oudou Ambouca, prefect of Tahoua in Bambeye, sincerely thanked Her for Her gesture of love as well as moral and material support. God bless the people of Niger so that they may make a speedy recovery and enjoy a compassionate, harmonious, vegan lifestyle.

Receipts in the amount of FCFA3,285,500
(approx. US$7,500) for relief supplies in Niger
To view the Humanitarian Relief Activities by the Supreme Master Ching Hai and Her International Association, please visit:
http://www.GodsDirectContact.org.tw/humanitarian
(The list can be sorted by year, country/region and type of events.)